MGM's Century-Long Love Affair with 'Ben-Hur'
Written by Katie Marzullo. Published: March 17 2016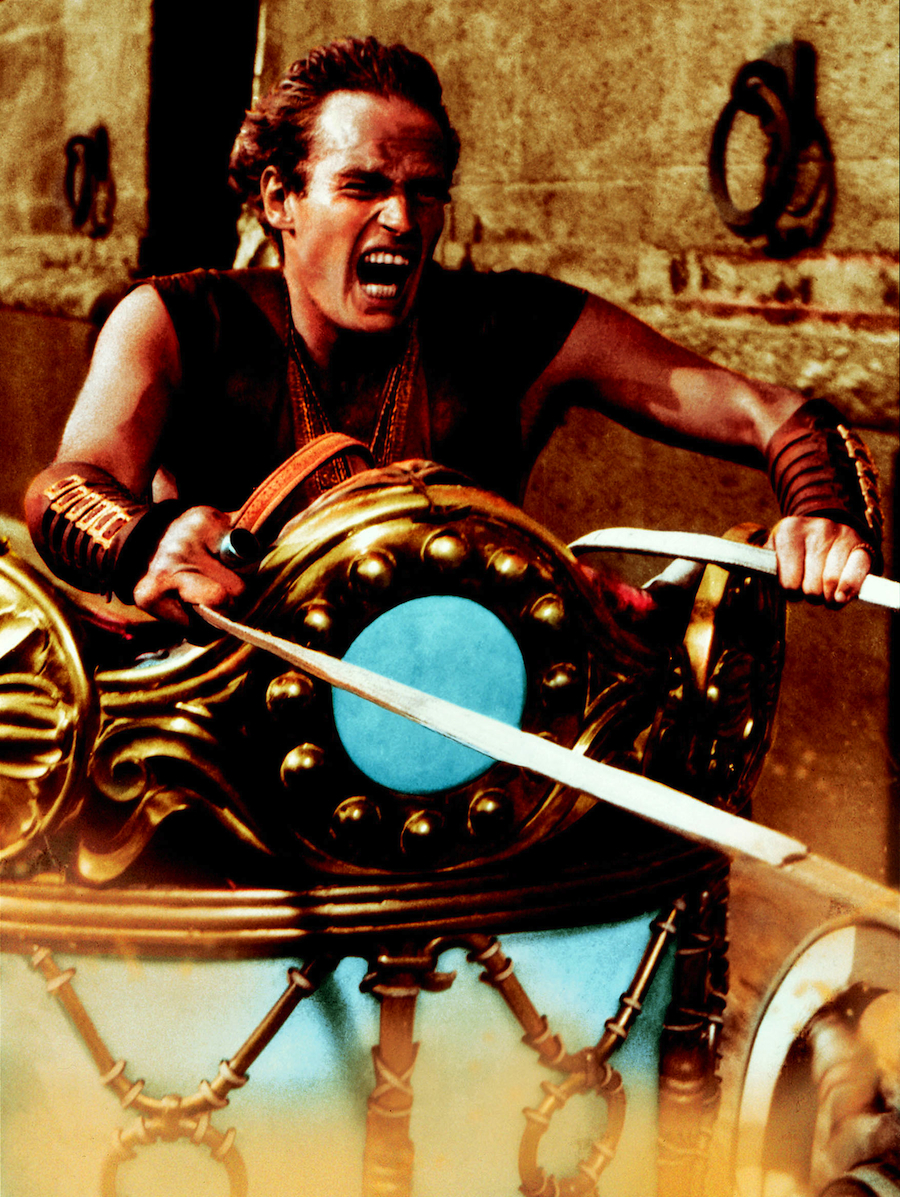 In 1925, movies were still relatively new, a novelty once thought a passing fad but fast becoming a more serious artform. Full-length narrative films in particular were only now springing up from the one-reelers that looked more like plays than the movies we know today. New techniques were being cultivated constantly, as visionary storytellers discovered innovative ways to use the medium. Everything was getting bigger, better, and more epic. And probably none so epic as Ben-Hur.
It was in 1925 that MGM studios released their Biblical masterpiece, based on the novel by Lew Wallace about a Jewish prince who is enslaved by the Romans after his childhood friend Massala betrays him. The filmed starred one of the great matinee idols of the time, Ramon Navarro (who looked just likeStephen Colbert; seriously, you won't be able to unsee it) and was so grand in scale that it even featured a ton of classic screen idols from the Golden Age of Hollywood in bit parts and as extras, including John Barrymore,Gary Cooper, Joan Crawford,Clark Gable, Mary Pickford, and many more. Suffice it to say, this film was a BIG DEAL. If the Academy Awards had been around back then, it probably would have won ALL of them.
In the 30 years following this cinematic triumph, filmmaking evolved considerably. For starters, sound was invented, so that was cool. But filming techniques and special effects were being perfected as well. The 1950s in particular was sort of a golden age for the "spectacle" film – basically the mid-century equivalent of today's summer blockbuster. Given all these sweet new tools at their disposal, MGM decided to revisit their crowning glory from the Silent Era and give it an all-new "modern" upgrade! Thus the 1959 version of the movie was released, and this time, it DID dominate the Oscars, winning a then-unprecedented 11 trophies in 1960. It seemed official that Ben-Hur was a key to box-office glory and acclaim for the studio.
So it seems rather surprising that it took another 57 years for MGM to resurrect their pet project. Better late than never, I suppose! Yep, with the advent of the now-ubiquitous CGI effects running rampant through Hollywood, the studio is once more revamping the story for today's spectacle-hungry audiences. Taking the helm this time around is Timur Bekmambetov, best known forWanted, Abraham Lincoln: Vampire Hunter, and the upcoming Hardcore Henry, and starsJack Huston in the title role. But the big question is, can this version even hope to aspire to the greatness of its predecessors? Or are we all Ben-Hur'd out at this point? The film comes out this fall but has received very little fanfare so far, with the trailer quietly released and featuring not much in the way of any real mystery as to the storyline, which everyone pretty much knows by now. So what exactly is the draw here?
I'm guessing they are banking all their success on the epic and infamous Chariot Race scene. Since its first incarnation in 1925, it's been this climactic battle that has had breathless audiences on the edge of their seats. Rumors of extras and horses being injured or even killed during the filming of this scene have haunted both movies over the last century. It's the one thing everybody remembers from the story, and it's the true litmus test for "how far we've come" in terms of moviemaking techniques and special effects. In 1925, and 1959, that was certainly a huge thing. But in 2016? Is there really anything we haven't seen at this point? Is an Ancient Roman chariot race in a remake of a Christian-themed film really going to have the same impact as, say, the Millennium Falcon dodging TIE fighters or the Avengers fighting off an alien invasion? I guess we'll find out in August.
Until then, check out the chariot races from the previous 2 films, followed by the trailer for the new one!
(Photo via WENN)
- Katie Marzullo, YH Staff Editor