Meet The Hot Young Drivers Making Their Mark At This Year's NTT IndyCar Series!
09-24-2021 by Katie Marzullo
  ( © IndyCar)  
This Sunday (September 26), the 2021 NTT IndyCar Series wraps up its 6-month long journey 'round the speedways of America with the Acura Grand Prix of Long Beach. This season has been a pretty exciting one, seeing a slew of young up-and-coming drivers make their mark on the sport in big ways. 
Four drivers in particular have been making the biggest waves in the IndyCar series these past few months -- Alex Palou, Pato O'Ward, Colton Herta, and Rinus VeeKay. Those are some pretty awesome names that we are going to be hearing a lot in the years to come. These drivers, all under the age of 24, come from all over the world to assert their dominance on the track, accounting for a total of 8 wins across the IndyCar schedule this year!
Let's get to know these four fine fellas a little better!
1. ALEX PALOU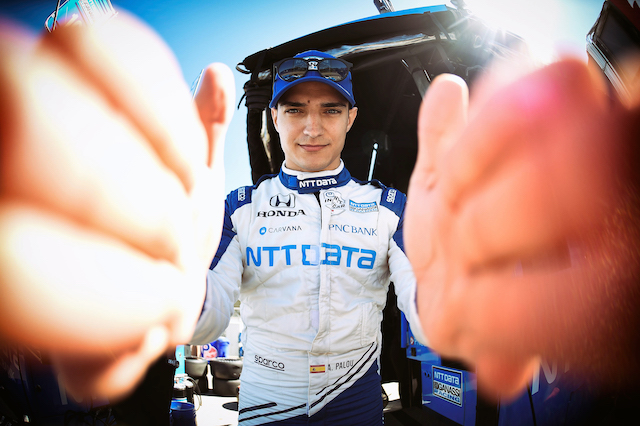 No. 10 NTT DATA Chip Ganassi Racing Honda
Hometown:Barcelona, Spain
Age: 24
Spanish racer Alex Palou goes into Sunday's Acura Grand Prix as the NTT IndyCar Series points leader by 35 points in just his second-ever INDYCAR season. And he managed to do this while not participating in SEVEN of the 16 scheduled tracks! His first win came in the series opener in April at the Indy Grand Prix of Alabama, making the entire racing world sit up and take notice right off the bat, and 2 more wins followed at the Grand Prix of Road America in June and the Grand Prix of Portand earlier this month. He placed second at the Indianapolis 500 to Helio Castroneves. Things look pretty good in his favor and he is definitely one to watch out for this Sunday!
Fun Facts:
- Celebrates race wins by eating fried chicken
- Went to school and trained alongside Olympic athletes at the prestigious Centre d'alt Rendiment in Barcelona
- Owns a coffee house in Spain with his girlfriend
- He calls his best racing performance "Gorilla Time" and has a gorilla painted on his helmet
- Treated himself to a new red Porsche after his first win in INDYCAR this year
- Says his favorite thing is "smiling"
2. PATO O'WARD
No. 5 Arrow McLaren SP Chevrolet
Hometown:Monterrey, Mexico
Age:22
If anyone is gonna give Alex Palou a run for his money this Sunday, it's Patricio "Pato" O'Ward, who is currently 2nd in the standings with 2 wins and 3 pole positions under his (seat)belt. He was also 2020's Indianapolis 500 Rookie of the Year, so he is definitely not one to be counted out! The Mexican-born driver took home his first win of the season at his hometrack during the Genesys 300 at the Texas Motor Speedway. 
Fun Facts:
- Enjoys sushi
- Loves EGGO waffles
- Is an avid boxer and uses it to train for IndyCar races
- Attended high school in San Antonio, Texas
3. COLTON HERTA
No. 26 Gainbridge Honda (Andretti Autosport)
Hometown:Valencia, California
Age: 21
This Cali king is tied with Pato O'Ward for wins and pole positions this season, so he certainly knows how to keep up with the flow of traffic. The man has racing in his blood, being the son of IndyCar Series Bryan Herta (who also serves as his current race strategist) and showed off his natural abilities early by becoming the youngest ever IndyCar Series winner back in 2019. If he's this good now, imagine how he is going to be in a few years with a couple more seasons under his belt. This legacy driver is only getting started!
Fun Facts:
- Plays drums in a rock band with his friends called The Zibs, which toured the West Coast in 2019
- Celebrates race wins by eating tacos
- Celebrity friends include former team owner George Steinbrenner IV, whose family owns the New York Yankees, and "Fresh Prince of Bel-Air" actor Alfonso Ribeiro
4. RINUS VEEKAY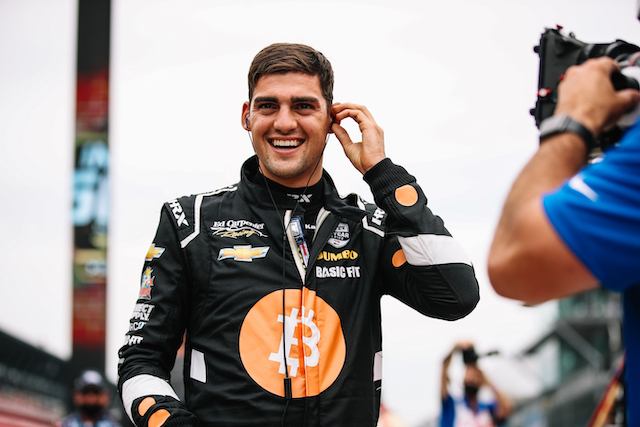 No. 21 Sonax Chevrolet (Ed Carpenter Racing)
Hometown:Hoofddorp, Netherlands
Age: 21
If this Dutch racer's cool af name isn't enough to get you to pay attention, then his driving skills definitely will! Rinus VeeKay became the youngest driver in Indianapolis 500 history to start on the front row this year, qualifying third at age 20, and he scored his first career IndyCar Series win this May at the GMR Grand Prix at the iconic Indianapolis Motor Speedway -- I mean, if you're gonna do it anywhere, that's probably the best place to do it, amirite?! Rinus's grit and determination were well-noted when he raced several courses this summer with a broken collarbone he sustained during a biking accident. Imagine how good he'll be when he's back to full condition! Rinus is also mentored by none other than Arie Luyendyk, so he's got that going for him as well.
Fun Facts:
- Celebrates podium finishes by eating a slice of cheesecake
- Purchased and wore a 10-gallon black cowboy hat all weekend during the NTT IndyCar Series' inaugural race in Nashville in order to fit in with the Southern vibe
- Is an avid cyclist, which he uses to train for IndyCar races
Get hype to see all these young rising stars in the racing world face off this Sunday in Long Beach!