Marion Cotillard Gets a Taste of "Hasty Pudding"!
Written by Felix Kay. Published: February 04 2013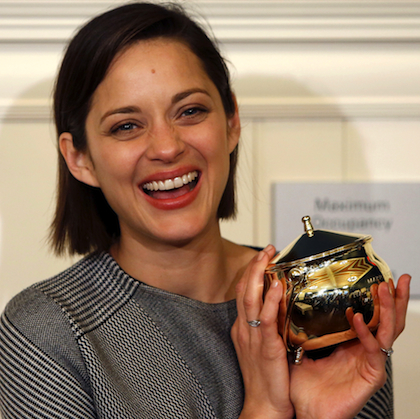 World-renowned, Academy Award-winning actress Marion Cotillard has appeared in films like Inceptionand The Dark Knight Rises and has earned Golden Globe and SAG Awards nominations for her recent role in Rust and Bone. So, I guess it came to no surprise that she was just named 2013's "Hasty Pudding Award" winner.
You might be wondering what the heck a "Hasty Pudding" is, and though the name sounds like a desert you would find on an Applebee's menu, I assure you it's not.
The Hasty Pudding Woman of the Year award is bestowed annually by the Harvard University theatrical student society known as The Hasty Pudding Theatricals, or by their street name "The Pudding", to all the cool kids.
The Pudding is one of the oldest collegiate theatrical organizations in the United States. They present original student-written and student-composed musicals with near-professional production and have become notorious for developing unique burlesque and cross-dressing musical productions. Since 1951, they have annually awarded the Hasty Pudding Woman of the Year to performers deemed to have made a "lasting and impressive contribution to the world of entertainment."
Happy to be presented with the award, the French actress was treated to a day of celebrations in her honor, which included a parade through Harvard Square followed by a celebratory dinner where members of the Hasty Pudding Theatrical organization preceded to roast the French actress -- all in good fun, I'm sure.
After a night filled with food and laughter, Cotillard now joins an impressive list of women who have received this award in the past, includingJane Fonda (1961), Meryl Streep(1980), Jodie Foster (1992), Halle Berry (2006), Julianne Moore (2011), and most recently Claire Danes in 2012, amongst others.
Fun Fact: the award and theatrical society borrow their name from the Hasty Pudding Social Club at Harvard, which was named after the first meal ever eaten at the club's inaugural meeting in 1795!
Marion recently dropped by the Studio with her Rust and Boneco-star to chat about the critically-acclaimed French language film; check it out here!
(Image via Bizu/WENN)
- Felix Kay, YH Staff