'Mad Max: Fury Road' Makes Impressive Award Season Showing (and Why That's a Good Thing)!
Written by Greg McIver. Published: January 07 2016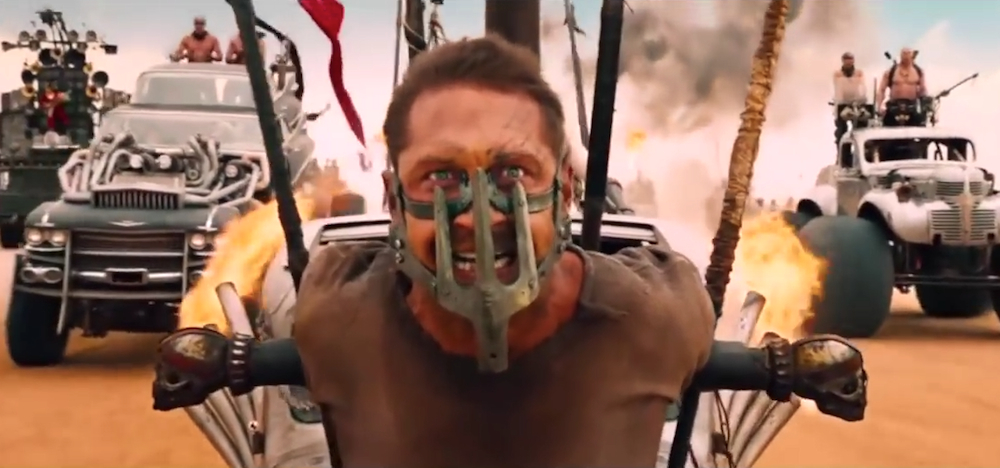 Awards Season is at hand and we are truly in the thick of it with nominations and ceremonies pouring out of the woodworks faster than... well, wood. And while this is indeed a fun time of the year for many, the more sane and rational folks know that, in the final analysis, awards don't necessarily mean anything. Michael Mann's 1995 film Heat is a masterpiece of filmmaking that scholars and cinephiles still talk about with excitement, and yet it has nary an award to boast about, nor does it need one. But in this kooky world of ours, awards are still relevant to many as they are the very building blocks of validation. In other words, it's really nice to know that the thing you like is liked by a lot of other people, and far be it for me to pretend that I don't feel that way from time to time. As the season marches on, there are many fine movies out there getting some fine attention in the form of some fine statues and certificates and I have no doubt I'll be writing about many of them as we get closer to the Academy Awards. But for this brief moment in time, I am, once again, going to direct my focus towards a film I have already heaped plenty of praise upon: Mad Max: Fury Road.
An insane two-hour car chase has rarely been the subject of this much awards attention in the past, unless of course you count The Director's Cut of Driving Miss Daisy, and yet George Miller's 4th look at a world gone mad has caught the loving eye of nearly every critic and living being with access to a ballot or two. It was recently awarded Best Picture by both The National Board of Review and The Online Film Critics Society, and has received many other accolades and nominations that I will not mention for the sake of propriety. Oh the hell with it -- it also won Best Picture from The San Diego Online Film Critics Society, was selected as one of the Films of the Year by The American Film Institute, and is also up for a few of them snazzy Golden Globes to top it all off. An Oscar Nomination or two is easily in the cards at this rate, and that is just fine and dandy by me. So, why has this all come to be and why are folks like myself so darned pleased by all this?
Well, again, it all comes down to validation to a certain extent, as it always will, but for me personally, it's about proving a point. It is a long-held theory by many folks out there that critics and cinephiles only like certain kinds of movies. This is somewhat true in that we like good movies, but outside of that qualification, I, and many folks like myself, aren't that picky in regards to what type of good movie we are watching.Fury Road is a fantastic film and one that proves that crazy/grand spectacle can be just as rewarding for true lovers of cinema as any quiet arthouse effort. But how can that be?! How can a maddening 120-minute race through the desert featuring deformed villains chasing a cadre of women (and one mad man) earn so much affection when other large and loud films are summarily dismissed as garbage?
Mad Max: Fury Road is not to be likened to just any old action movie. It is a carefully crafted vision brought to life by an incredible talent with as much care as could possibly be mustered by any artist. The vision in question just happens to be one of high-octane insanity that has swiftly redefined what it is to make an action movie. And yes, this is an action movie. It is an action movie with consequence and one fueled by furiously deep emotions and longings, and it's those things that truly fuel the action (get it?) and do so more efficiently than the precious gasoline that the denizens of George Miller's crazy world are constantly seeking. It wasn't enough to just throw a bunch of action onto the screen to entertain people for a couple of hours. No, in fact, Mr. Miller wanted you to be entertained for a couple of years as you look back and remember in awe the cinematic event you witnessed.
Now, thinking that all future blockbusters could be like Mad Max is merely a dream and a probably unfair one at that. But as Fury Road continues to earn win after win and nomination after nomination, I'd like to imagine that it burns brighter and brighter as a beacon of hope for moviemakers and movie watchers alike. If you are a filmmaker who prefers to dabble in spectacle, then know that your film can stand alongside any film classic. Mad Max and other films that have come before it, likeJaws, Gladiator, and Return of the Kingare the cinematic equivalents of having your cake and eating it too. Folks who are in it just for the fun and two hours of escape in a dark theater can easily have it, while other folks who are more invested in the art can ruminate on it and talk about it for years to come. It's a win/win situation, folks, and Mad Max is proof positive of that. Its success is a very good thing, and I hope filmmakers and audiences continue to pay attention to it now and for years to come.
(Screenshot via YouTube)
- Greg McIver, YH Contributing Writer