Lineup for First-Ever "Dancing With The Stars: Juniors" Announced!
Written by Brooke Sharland. Published: September 27 2018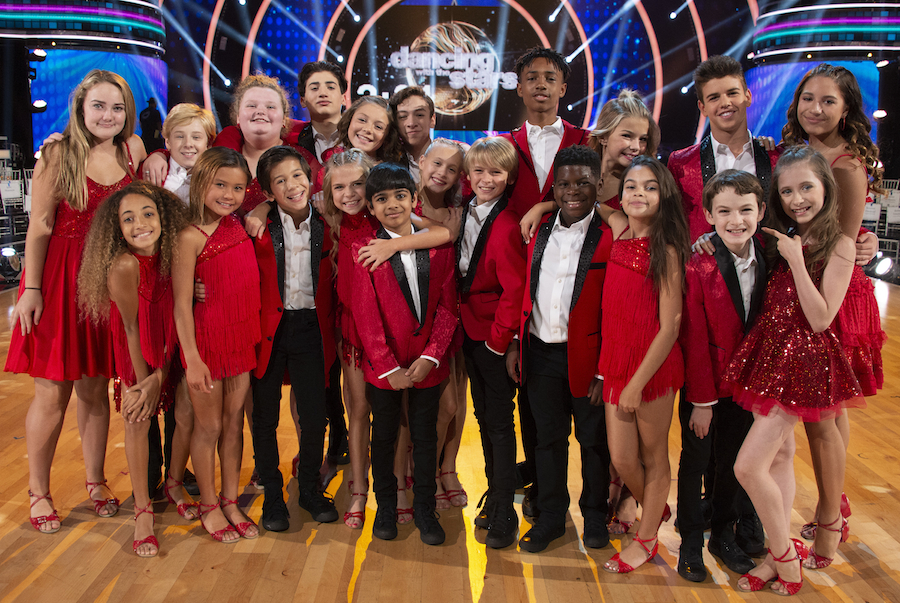 It's the "Dancing With The Stars" you know and love, but… smaller! Okay, so ever since we heard that an official "Dancing With The Stars" spinoff series, "Dancing With The Stars: Juniors", was coming to ABC, we've been super anxious to find out which young celebs would be taking the dance floor! Much like the original "DWTS", this show will pair young celebrities with a junior professional dancer. Each pair will get

one of the pro dancers on the regular ("grown-up") "DWTS" as

their own mentor, who will help them choreograph and learn new dances each week
The show will be hosted by "DWTS" Season 25 alums Jordan Fisherand Frankie Muniz, with judges Adam Rippon, Mandy Moore (the choreographer for "DWTS", not the actress), and Val Chmerkovskiy. Unlike "DWTS", this show is not filmed and aired live each week. Instead, "DWTS: Juniors" was pre-taped over the Summer. You might be thinking, "Wait, so how do we vote for our favorite cuties?" Well, unfortunately, you can't. In this spinoff, eliminations are reportedly done by tallying audience votes and votes from our three judges. The pair that receives the lowest combined total is eliminated. Don't worry, though, you can still support your faves on social media each week, and make sure to take part in the live voting for the "DWTS" regular season, airing Monday nights at 8PM on ABC!
Now, let's take a look at the cuties that will be entering the ballroom...!
Mackenzie Ziegler
(with Junior Pro Sage Rosen; mentored by Gleb Savchenko)
14-year-old Mackenzie Ziegler might be best known for starring in 6 seasons of TLC favorite "Dance Moms", but she's got so much more under her belt! Sister to dancer Maddie Ziegler, Kenzie is also a singer/songwriter and performed her new single "Wonderful" on Tuesday night's show. To top it all off, Kenzie just launched her own line of makeup, and she is also an author! Her book,Kenzie's Rules for Life, was released this past May.
Alana Thompson AKA Honey Boo Boo
(with Junior Pro Tristan Ianiero; mentored by Artem Chigvintsev)
Does a dollar still make Honey Boo Boo holler? 13-year-old Alana Thompson got her start competing in beauty pageants on TLC's "Toddlers and Tiaras". She then got her own spinoff show, "Here Comes Honey Boo Boo". She now stars in WEtv's  "Mama June: From Not to Hot". Let's see if she can bring her competitiveness from the pageant world to the ballroom!
Tripp Palin Johnston
(with Junior Pro Hailey Bills; mentored by Jenna Johnson)
Like mother, like son! 9-year-old Tripp Palin Johnston is the son ofBristol Palin, who competed on "Dancing With The Stars" Season 11, and is also the grandson of politicianSarah Palin. His mother came in 3rd on Season 11, so let's hope that dancing runs in the family! Fun fact: his partner, Hailey Bills, is the niece to the pairs mentor, Jenna Johnson, who just won "DWTS: Athletes" this spring with "DWTS: Juniors" judge Adam Rippon!
Ariana Greenblatt
(with Junior Pro Artyon Celestine; mentored by Brandon Armstrong)
Marvel fans will recognize 11-year-old Ariana Greenblatt as young Gamora inAvengers: Infinity War. She's also starred in A Bad Moms Christmas and Stuck in the Middle, and just finished filming Disney's The One and Only Ivan. Though we're dying to know if young Gamora comes back in the next Avengers film, we're excited to see her light up the ballroom!
Miles Brown
(with Junior Pro Rylee Arnold; mentored by Lindsay Arnold)
13-year-old Miles Brown is best recognized as Jack Johnson on ABC's hit show "Black-ish". He also just finished production on the upcoming indie film, Emmett. His partner, Rylee Arnold, is the younger sister of the duo's mentor, Lindsay! Lindsay won Season 25 of "DWTS" with "DWTS: Juniors" host Jordan Fisher, so she is the perfect mentor for these cuties!
Akash Vukoti
(with Junior Pro Kamri Peterson; mentored by Witney Carson)
Adorable Akash (I'm making that his nickname because LOOK AT THAT FACE) is best known as the youngest boy to compete in the Scripps National Spelling Bee. He's been competing in spelling bees since the age of 2, so let's hope some of that knowledge will transfer from his brain to his feet!
Hudson West
(with Junior Pro Kameron Couch; mentored by Hayley Erbert)
At 10 years old, young actor Hudson West is best known for playing Jake Spencer on "General Hospital", among many other roles on shows like "I'm Dying Up Here", "Modern Family", and "Grey's Anatomy".
Addison Osta Smith
(with Junior Pro Lev Khmelev; mentored by Keo Motsepe)
Also just 10 years old, Addison became the first girl and the youngest contestant to ever win "MasterChef Junior". Now, at age 13, she is writing her first cookbook! With Keo Motsepe as their mentor, these two are sure to cook up some amazing dance numbers!
Sophia Pippen
(with Junior Pro Jake Monreal; mentored by Sasha Farber)
9-year-old Sophia Pippen is the daughter of NBA LEGEND and OlympianScottie Pippen and entrepreneur Larsa Pippen. As the face for Oscar De La Renta Kids, Sophia loves all things fashion! She's an aspiring model and fashion designer. We can't wait to see her dazzle this season!
Jason Maybaum
(with Junior Pro Elliana Walmsley; mentored by Emma Slater)
Jason Maybaum, 10, is the ADORABLE and ever-so-charming Levi in Disney Channel's "That's So Raven" spinoff, "Raven's Home". Most recently, he starred in the Disney Channel Original Movie Freaky Friday, a modern musical reboot of a timeless film.
Sky Brown
(with Junior Pro JT Church; mentored by Alan Bersten)
Sky Brown is basically your new favorite skateboarding legend. Tony Hawk who? Sky is best known for skateboarding and surfing. The girl has skill! At just 10 years old, she's one of the youngest to compete at a professional skateboarding competition AND win a medal! She's a winner by nature, so let's see if she can bring that winning spirit this season!
Mandla Morris
(with Junior Pro Brightyn Brems; mentored by Cheryl Burke)
Mandla Morris, 13, is the son of one of the most iconic figures,Stevie Wonder. He's one of ten kids! Morris, much like fellow contestant Sophia Pippen, loves fashion! He is an aspiring fashion designer who loves to draw and sketch clothing. Not only that, but he takes after his superstar dad and loves music and plays piano. What can't this kid do? Ain't nothing "Superstitious" about it, we're ready to see Morris lay it all out in the ballroom this season.
We are SO excited to watch these kids compete this season! "Dancing with the Stars: Juniors" premieres October 7 at 8pm on ABC!
(Image via Eric McCandless/Getty Images)
- Brooke Sharland, YH Contributing Writer