Life After "Game of Thrones": What 6 Dearly-Departed Actors Have Been Up To Post-GoT
Written by Kevin Donaldson. Published: February 18 2015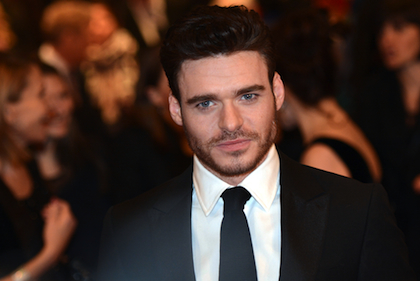 Hey "Game of Thrones" fans out there! It has recently come to our attention that show creators/writers David Benioff and D. B. Weiss are going to be straying from George R. R. Martin's book series, which "GoT" is based on calledA Song of Ice and Fire, even further this fifth season by killing off characters that are still alive in the book series. We don't know who will be (literally) getting the axe this upcoming season, but we do know that being a major character and then getting shanked by some other sociopath on "GoT" doesn't mean a permanent death sentence to one's career. In fact, a few actors who have felt the keen sting of GRRM/D&D's pen have gone on to find success elsewhere. We can't include ALL of them on this list, though, because it's a class bigger than the one you went to high school with...
Richard Madden (Robb Stark)
Seven Hells! What a blood bath full of complete anarchy did Madden go out on when he played King in the North, Robb Stark. Whether you read it in the books first or saw it on TV, his death at his uncle's wedding (AKA "The Red Wedding") is a scene that upset many fans, but at the same time it summed up a lot of the reasons why both the books and the TV show have gathered so many fans. Since getting killed off on "GoT", Madden seems like he's on a path to enjoying quite a good career. Right after getting killedm he starred in the Discovery Channel's first-ever attempt at scripted television in aRidley Scott produced miniseries called "Klondike". The six-part series followed Madden as Bill Haskell as he travels the American northwest to get to the Klondike Gold Rush in the 1800s. It's an adventure story full of many twists and turns. His next big film role will be in Disney's upcoming live-action version of Cinderella, where Madden will play Prince Kit, who is better known as Prince Charming. Being a main character, he happens to appear in the trailer below! Let's just hope his wedding to Cinderella turns out better than his uncle's....
Michelle Fairley (Catelyn Stark)
Robb wasn't the only Stark who saw the business end of a blade at the Red Wedding; his devoted mother Catelyn was on the chopping block too, and her death could be the most horrific of all the ones that appeared. SPOILER ALERT: In the books, Catelyn is actually resurrected from the dead and becomes a semi-zombie woman named Lady Stoneheart who can only speak by pressing her hand to her slit throat. It doesn't appear the show will be bringing her back, but that's okay for actress Michelle Fairley, as she's been quite a busy ghost since her "GoT' death. In fact, she's even nabbed a recurring role on the ABC series "Resurrection" (how ironic!) and was prominent in the latest "24" miniseries. But her biggest upcoming project is the feature film In the Heart of the Sea, where she will play the wife of real-life American sailorThomas Nickerson. The trailer is awesome, but I've had a hard time spotting her… maybe you can! If you do, let me know in the comments below:
Rose Leslie (Ygritte)
This crazy and wild redhead from North of the Wall may have lead Jon Snow away from his sworn oath to the Night's Watch at first, but, boy, was she fun to have around. Ygritte later got killed in the Battle on the Wall, and now actress Rose Leslie seems to be gaining some traction. She starred in the American horror filmHoneymoon, which garnered much critical acclaim and will now star alongside Vin Diesel and Elijah Wood in the upcoming film The Last Witch Hunter. In it, she will play a witch named Chloe, who, for reasons unknown right now, must team up with witch hunter Kaulder (Diesel) to take out warring witches who want to destroy humanity. No official trailer has been released yet, and no word of any feuds breaking out on set, which is a good thing. When you get Elijah Wood from the Lord of the Rings franchise and Rose Leslie from "Game of Thrones" together, it could very well end in a bare-knuckle boxing match over which fantasy series is better!
Jason Momoa (Khal Drogo)
Khal Drogo was a cool dude. He rode horses around everywhere, was a frigging King, and, as a gift, killed his wife's abusive brother by pouring melted gold on his head, which is where he also delivered one of his only English lines. Unfortunately, Drogo died because he took a wound to show off how tough he was; mix that with some witch magic, and he's left in a vegetative state and must be put out of his misery by his wife. (I can see why Rose Leslie wants to take out some witches.) After his days as Drogo, Momoa is enjoying some pretty good roles. He stars in the television series "The Red Road" on Sundance TV and is going to be Aquaman in the highly-anticipated upcoming film Batman vs. Superman: Dawn of Justice. Momoa has even pushed his acting talents towards comedy for the hit series "Drunk History" on Comedy Central, where he played football player Jim Thorpe in an episode. Take a look:
Thomas Brodie-Sangster (Jojen Reed)
Jojen Reed was a pretty interesting cat. He could see into the future and his sister went around protecting him, so he lived life like a vagabond king for a while. He also knew he was going to die, so no surprises there (though it was a surprise to book-readers, as Jojen, as if now, is still alive in the novels). If you're a young actor who knows your days on a TV show are numbered, what do you do? Well, you book a gig in a blockbuster franchise based on a series of young adult novels, of course! Just like his character could see into the future, so can Sangster, as he signed on to be in theMaze Runner series. The first Maze Runner film was released last September, and it's sequel, Maze Runner: Scorch Trials, is set for another September release this year. I wonder if he saw enough in the future to know it would be back-to-back September releases? Check out TBS's visit to the YH Studio last year:
Sean Bean (Eddard "Ned" Stark)
Oh, poor Ned Stark. When it comes to shocking deaths on "Game of Thrones", Ned was the OG. He went from being a main character in the first season/book, and looked like he was going to be there for a while. Alas, he had too much honor to play the game of thrones and got his head chopped off. This is also something that actor Sean Bean knows all too well, as it has become somewhat of a running joke that if he appears in something, he'll most likely be killed. Like when he was in another fantasy story called Lord of the Rings and was cast as the only member of the fellowship to die, Boromir. Since Ned Stark's death, though, Bean has been enjoying some more success in an already successful career. He's got a few movies coming up, like Ridley Scott's The Martian, and will be in a television miniseries called "The Frankenstein Chronicles", where he won't be dying but will be instead resurrecting the dead. What a perfect twist! He's also currently appearing in the sci-fi epic Jupiter Ascending.
Keep in mind, "GoT" fans, that these are just a few of the actors who have been killed off on "GoT", but they're certainly doing a lot of things these days, right? One actor that I hope gets more work that hasn't is Jack Gleeson. Sure, he played one of the most hated characters in history (King Joffrey), and people kind of resented him for it, but that's a sign that he is a darn good actor. He says he is taking a temporary hiatus, so maybe he'll be back again sooner than we think. To send you off, let's take a look at that time Batman saved Baby Joffrey from certain doom:
(Imagine what Joffrey would've done if a cop pushed his face out of the way...)
(Photo via Clemens Niehaus/Future Image/WENN)
- Kevin Donaldson, YH Staff