LGBTQIA+ Representation in Men's Pro Sports: Where We Are & Where We're Going
06-18-2021 by Heather Barette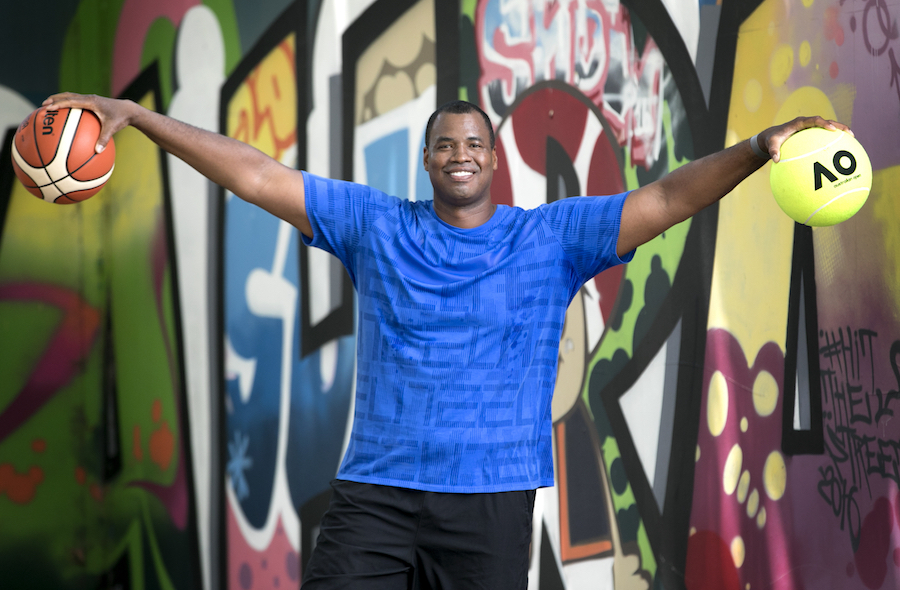 ( © Fiona Hamilton/Tennis Australia via Getty Images)  
It's Pride Month, which means the spotlight is shined on the LGBTQIA+ community. And while rainbow insignia can now be seen on just about everything, I wanted to take a look at one segment of American life that still lacks adequate LGBT+ representation: the sports world. Sure, our society at large has come a long way at showing allyship and support toward this community, but "gayness" is still not necessarily associated with male athletes, particularly those in the Big Four. We see a lot more representation in women's leagues, with such past and present stars as soccer's Megan Rapinoe, the WNBA's Diana Taurasi, and tennis's Billie Jean King leading the charge on social activism and awareness. And in other sports, we see representation all over the place, with diver Tom Daley becoming an Internet sensation during his medaling run in the 2012 London Olympics (remember they made that app after him?), figure skater Adam Rippon having wowed us all in the 2018 Pyeongchang Olympics, and UFC powerhouse Amanda Nunes holding her own as arguably the GOAT of MMA.
So, what can be done to up the representation in the four major sports – basketball, football, baseball, and hockey?
For one thing, I think the digital age we live in, while giving people of all different backgrounds, creeds, sexual orientations, gender identities, and so on, a platform to connect with others in their respective communities, has simultaneously made it harder for people to feel safe when revealing private or personal information due to the nature of trolling and cyberbullying. And the effects of that are no clearer than in the world of male professional sports. Per Outsports, there is currently not an active openly gay player in any of the four major sports combined. While a lot of that may be due to the outdated views of masculinity and queerness that have become synonymous with being an athlete, I wonder if the issue of LGBT+ representation in sports has more to do with outside the locker room than in the clubhouse.
Jason Collins, who became the first – and, to date, only -- openly gay NBA player in 2013, pointed out how, in the world of pro sports, "There is that fear of stepping forward." He went on to state that it is the responsibility of not just those directly involved with a given team or sports organization, but also of fans – particularly in this digital age – to "create that environment where those closeted athletes out there know that when they do choose to step forward, that they will be supported and championed, and continue to play the sport, continue to evolve, and not feel that they have to hide who they are."
Like Collins, I too believe that players feeling comfortable enough to live proudly in their own truths starts with not just those around them, but with the fans, whose shoulders it would fall upon to rally around the athlete in question if and when they were to officially come out. The Internet can be a hotbed of turbulence and strife, but how great would it be if a queer athlete experienced the flip side of that – people from all over the world coming together to show their love and unrelenting support for these larger-than-life athletes at their most vulnerable moment? I'd like to note here that, again, we've come a long way as a society in showing love and acceptance to the LGBTQIA+ community, with Pride symbolism at the corporate level pervading just about everything from clothing brands to school supplies, shoes, and just about everything else under the sun. But to me, what's even more impressive is that Pride Nights have become the norm throughout professional sports, a concept that would have been basically unheard of even a decade ago.
And even though there are no active male athletes who identify as LGBT+ in the NBA, NFL, MLB and NHL, everyday we see glimpses of change that I believe will only trend in the right direction. Basketball legend Dwyane Wade's unwavering acceptance of his daughter Zaya, who recently came out publicly as transgender, has been so wonderful to witness, and I'm sure such an inspiration for so many in the trans community. And in 2019, on the same night that one man proposed to his boyfriend during the Washington Nationals' Pride Night, Sean Doolittle – himself a long-time ally to the LGBT+ community -- could be seen with special Adidas cleats honoring both the queer community as a whole with the traditional rainbow flag, as well as the trans community and its flag.
Happy #Pride! To my LGBTQ friends and family - we love you, support you, and we're grateful for you. I'm proud to celebrate and stand with you because everyone deserves to feel safe and free to be who they are and to love who they love. Love is love. pic.twitter.com/RIv9Gvkket

— Obi-Sean Kenobi Doolittle (@whatwouldDOOdo) June 1, 2019
So yes, I think the future looks bright for male professional athletes, and society at large, who identify as LGBTQIA+, as this community has only continued to grow at an exponential rate. According to The Williams Institute, as of 2011, 3.5% of adults in the United States identified as gay, lesbian or bisexual, while approximately 0.3% of adults identified as transgender. Back then, that meant that 9 million Americans fell under one of these four categories, a number that is still akin to the entire population of New Jersey. But today, that number is even larger, as sources have estimated that up to 7% of adults currently identify as LGBT. And this doesn't even include other forms of queerness!
So where do we go from here? Well, to put it briefly, I think we follow the lead of Jason Collins and athletes who have yet to come out publicly. Of course, we remain patient and hope that closeted athletes will feel freer to live in their truths at some point in the near future, but that comfort starts with us, as we must do everything in our power to make queerness just as much the norm in sports as it is in many other walks of life. Coming out is ultimately a personal decision that should be done at a time when the person in question feels comfortable enough, but I hope we eventually live in a world where people always feel comfortable to be out and proud, no matter how old they are, where they live, what sport they play, or anything else. And for athletes that have yet to come out or that will continue to blaze the LGBTQIA+ trails for future generations, know this: We support you. We love you. We are proud of you. And we still think you're a world-class athlete no matter who you love or what you identify as.
The progress we've seen so far excites me, and I can't wait to see what the future holds for LGBTQIA+ athletes in the years to come. Happy Pride, everyone!