'Let Them All Talk' Stars Meryl Streep & Lucas Hedges Make an Unlikely Duo!
12-27-2020 by Tyler Bey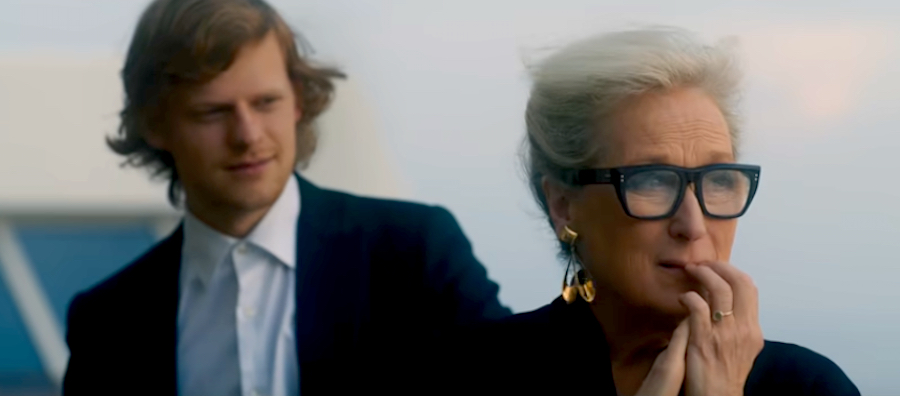 ( © HBO Max)  
Sailing from New York to London, an ensemble of acquaintances accompany Alice (Meryl Streep) on a cruise to accept a prestigious award for her fiction writing. A trio of once best friends Alice, Susan (Dianne Wiest), and Roberta (Candice Bergen) are reunited for the first time in 30 years while sailing across the Atlantic. The unusual pillar holding them all together is Alice's nephew, Tyler, played by the dynamite newcomer turned heavy-hitter Lucas Hedges (Lady Bird). 

Filmed on the actual Queen Mary 2, creator Steven Soderbergh captains the real-life voyage into the vast blue depths — yes, they actually sailed across the ocean for this film. Further embracing the unknown, a large bulk of the dialogue was unscripted, which reads entirely true with the script's naturalism. 
The story is piloted by the verbose Alice, who struggles to flesh out the manuscript for her much-anticipated upcoming novel. While the film on paper may seem too constricted to have any circumstantial nuance, Lucas Hedges and Meryl Steep make an unlikely duo that, together, fills the movie with gratitude, love, and life. 
The sensational British actress Gemma Chan (Crazy Rich Asians) also has a meaty role in the film. As one of the few PoCs in this film, seeing her in a substantial amount of scenes working with quality material is a relief in a film that's led by an almost all-white cast. 
Candice Bergen shows once again why she's a Hollywood champ, playing the cunning antagonist with masterful subtlety. The film itself, saturated with its dramatic score, has an element of suspense imbued as characters tip-toe around their true desires. Let Them All Talk becomes a lot like The Pink Panther in a way, with the jazzy score and the metaphorical evasions. By the end, a few questions still linger, but most of everyone's true souls are revealed and magnified.
If you're a fan of watching high-class acting, whether it be from our industry's most seasoned and robust talent or actors still budding in their careers, Let Them All Talk will certainly be a movie worth checking out. Catch it streaming now on HBO Max!