Lessons Learned from the L.A. Food & Wine Fest
Written by Katie Marzullo. Published: August 26 2013
Over the weekend, I attended the Los Angeles Food & Wine Festival for the 2nd year in a row. More specifically, I attended the Grand Tasting event, which is basically like Comic-Con for foodies and winos. Setting up shop at the L.A. Center Studios downtown, some of SoCal's finest chefs and vineyards came out to share their wares, pouring glass after glass of wine and whipping up small bites from their fancy restaurants. It was a smorgasbord of sights, smells, and tastes, and it is definitely not for the feint of heart… or stomach.
Among some of the delectable delights of which I partook, there was a distinct pork theme – every part of the pig cooked in every conceivable fashion. BBQ pork cheek, braised pork belly, crispy pork loin, cured speck, and, of course, bacon. But there was also fish & chips, poached eggs, shaved ice, Irish Whiskey cheddar cheese, waygu beef on toast, duck confit, and more. There was also fried chicken skin. Yes, just fried chicken skin. I could very well have just gone home after that, to be honest.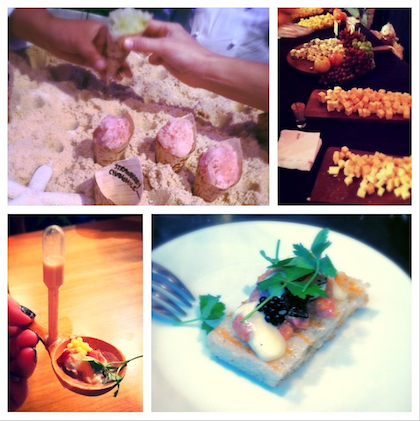 So, in case anyone reading this is planning to attend this event next year, or a similar event in the near future, please peruse these 8 helpful tips to learn from my experience…
Tip #1: Wear loose-fitting pants. Don't be fooled by the portion sizes; small bites are fine, but 80 of them in one hour can really add up. Besides, you will not only be eating but drinking, A LOT. Even if you don't partake of the many, many wine options, you'll be heading to the complimentary water often, and that'll make the ol' waistline expand too.
Tip #2: Wear comfy shoes. And not necessarily because of the walking. That's part of it, yes, but there's nothing so awkward as having a belly bursting with food and drink and trying to navigate a cute pair of heels at the same time. Screw it, break out the flats!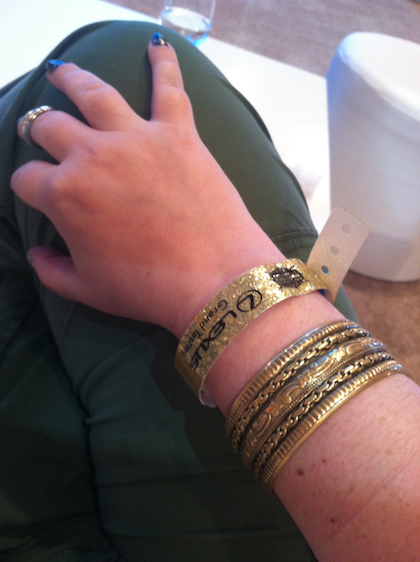 Also, be sure to coordinate your outfit to match your admission bracelet.
Tip #3: Pace yourself. There are a lot of samples to get through, but don't worry, the chefs have plenty to go around (they are professionals, they know what they are doing). If you see a long line at a booth, don't huff and roll your eyes. The waiting will actually allow some time for your last bite to digest a little. Breaks are good!
Tip #4: You don't have to eat the whole thing!!! I know it's tempting to finish that entire pork belly slider, but you need to save room for the ceviche and banana pudding! You know how wine connoisseurs savor the drink instead of just gulping it down? Apply the same practice to the food – take a bite, savor it, then move on. If you just HAVE to have that second bite because it is just too good, fine, but don't go crazy.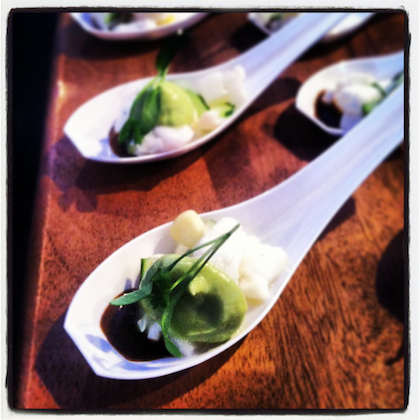 Tip #5: Visit the photo booth early. Who wants to have their picture taken AFTER you're a bloated, sweaty mess? Furthermore, who would want to see it??
Tip #6: If you're buying tickets, get the VIP pass. It's an extra $40, but you get to go in early AND you can chill out in the VIP lounge. If you're not a VIP, you're not allowed to sit down, apparently.
Tip #7: Bring a friend. Nothing sadder than stuffing your face all alone, so if you know someone willing to dish out the ca$h for tickets, drag them with you so you can be miserable together.
Tip #8: Hold on to your fork. The great thing about the LAFW Fest is that they serve their goodies on REAL plates with REAL silverware. Most booths provide forks, but they can go fast if people are constantly cycling through them. Just keep one and carry it with you until you're done. You can also use it to (gently) jab people who are just standing around blocking walking paths.
I hope that was helpful! And yes, even though I was the walking dead afterwards and immediately passed out on my bed for a 2-hour nap when I got home, it was all worth it!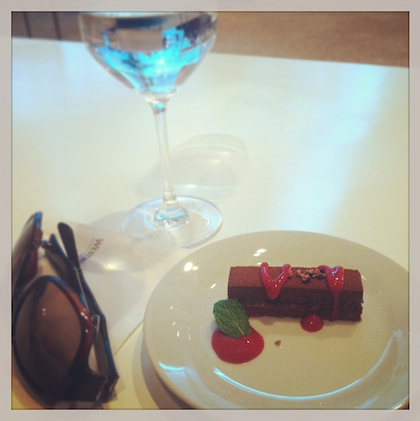 - Katie Marzullo, YH Staff Editor