LEGOLAND® + Ferrari + Nick Cannon = 1 Awesome Grand Opening!
05-20-2022 by Lesley Robins
  ( © LEGOLAND California Resort)  
What do you get when you mix LEGOLAND® Parks, a global leader in family entertainment, with Ferrari, the world's most recognizable luxury sports cars brand? The answer: The world's first LEGO® Ferrari "Build and Race" interactive attraction, which officially opened at LEGOLAND® California Resort on May 12! And the fact that kid-at-heart Nick Cannon and his family were in attendance, you know something hot was happening! Of course, we had to say hello to our friend, Nick! 
Featuring a life-size Ferrari F40 model developed by the LEGO® Group, Build and Race puts guests in the driver's seat as they make their way through the "garage" to the "racetrack" using their creativity and imagination to build, test, and race their own LEGO Ferrari. "Ferrari is renowned for manufacturing cars unique in terms of performance, innovation, and design, setting the standard for luxury and excellence within the automotive world. We have millions of young guests who can be inspired from this to create their own unique cars in this one-of-a-kind testing and racing facility," said LEGOLAND California Resort President Kurt Stocks.
"We are excited to build upon our existing relationship with the LEGO Group by combining our leading brands within this transformative entertainment attraction. The Build and Race experience has been designed to engage with both Ferrari and LEGO lovers of all ages, aligning with Ferrari's strategy to reach out to its younger fans," said Director of Location Based Entertainment & Esports for Ferrari Annabel Rochfort.
Let's break down how it works. Build and Race features three zones -- First, a LEGO pit crewmember greets guests as they enter the attraction, sharing Ferrari fun facts, race history, and showcasing themed LEGO race gear and awards. Once inside the garage, guests next have the opportunity to sit in that life-size Ferrari F40 model and have their photo taken. (The model took more than 3,800 hours to build and measures 14 feet long, 6.5 feet wide, 4 feet tall, and is more than 3,000 pounds!)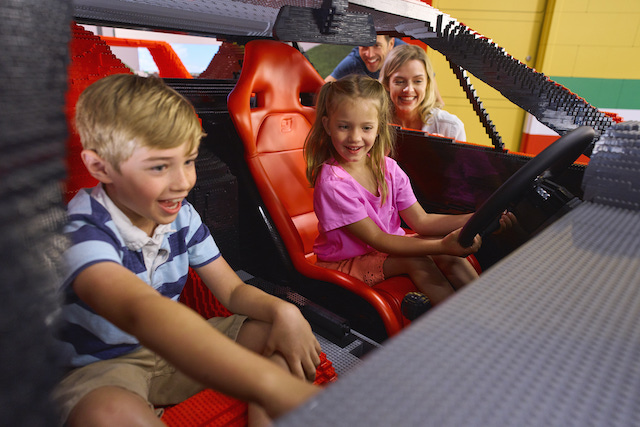 ( © LEGOLAND California Resort)
Then, guests get to build their own LEGO Ferrari car to race at one of three race tracks, which include the test zone, steering test track, and speed test track, all the while the sounds of burning rubber, engines revving, and fans cheering fills the air. For the younger car enthusiasts, there is a DUPLO® build zone as well, where the little ones can design their own creation out of bigger bricks!
And the fun doesn't stop there. Head further into the "garage" and guests can create a custom digital Ferrari racecar. Drivers can digitally scan their vehicle and further customize their Ferrari along with their minifigure racing driver. Once complete, the cars are digitally projected on a large LEGO racetrack based on Pista di Fiorano (a private racetrack owned by Ferrari mainly for development and testing purposes) and guests can compete with other cars digitally for the fastest race lap.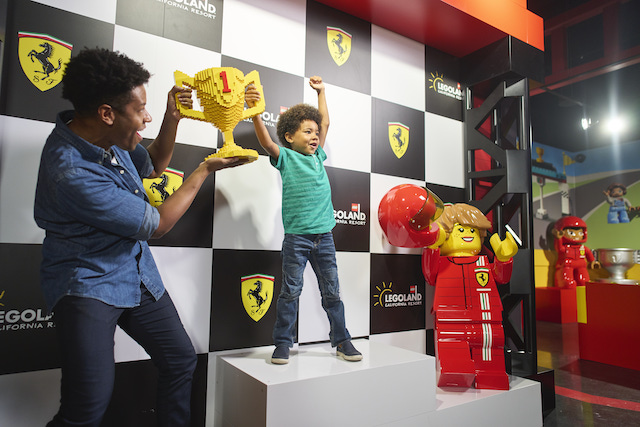 ( © LEGOLAND California Resort)
Kids, start your engines!
Build and Race is included in the price of admission to LEGOLAND® California Resort. For information, visit www.LEGOLAND.com or call 760-918-LEGO (5346).