Lego Releasing 'Jurassic Park' Video Game Just in Time for 'Jurassic World'!
Written by Kevin Donaldson. Published: March 20 2015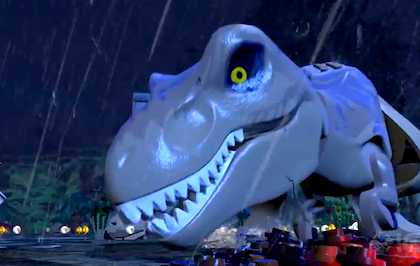 Every '90s kid's dream has just come true -- if you like to play video games!
In honor of the first Jurassic Park sequel in nearly 15 years, Lego has wised up and made a video game for the upcoming movieJurassic World. The video game, Lego Jurassic World, won't stop at just including the storyline ofJurassic World… it will also incorporate the other three movies before it as well (Jurassic Park, Lost World: Jurassic Park, and Jurassic Park 3… in case you're a little new to this dino-fueled franchise).
The game looks like a lot of the other Lego games by having plenty of fun humor and the option of creating this world how you want to with Legos. What sets it apart are the inclusion of original audio from the actual movies, and I'm not exactly sure by the trailer if anybody gets eaten, but it looks like they might. Speaking of the trailer, how about you check it out? Specifically pay attention to the "Clever Girl" scene in the middle:
Even though they were Legos, I was still scared by all thoseman Lego-eating dinosaurs. (You were right, Mom! I'll never be brave enough to watch any of these movies all the way through, or sleep with the lights off…) No matter what, this game looks like it's going to be a lot of fun. And it's coming out in June of this year, just in time to get you ready for Jurassic World, which also means that if you never saw the other movies, then you can play this game to play catch-up. (But in all seriousness, you should at least watch Jurassic Park, because it's great.) Speaking of checking out the original movies, some lovely folks have created a comparison video between Lego Jurassic World and all of the Jurassic Parkmovies:
New fans and old fans are going to love this, but, most importantly, the '90s kids. Look out for Lego Jurassic World to drop around the same time as Jurassic World (the movie) on June 12, 2015. (I'd tell you when the game is coming out, but a release date hasn't been announced yet.) If I haven't sold you on checking out any of the old movies first, then take a look at one of my favorite parts, which I referenced earlier:
(Screenshot via YouTube)
- Kevin Donaldson, YH Staff