Lea Michele Goes Pink for #FasterThan Breast Cancer Awareness Campaign!
Written by Nicole Koch. Published: October 14 2014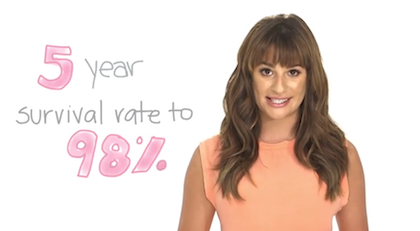 I can't believe it's already October! The year (like always) is flying by super fast, which means the best holidays are coming up. Halloween is the next major holiday of the year, and as exciting as that sounds, I can think of another compelling reason to love October: it's Breast Cancer Awareness Month!
One of my favorite actresses, Lea Michele, has launched a new breast cancer awareness campaign. She must be crazy busy, being a TV star, singer, and best-selling author. However, she always makes time for self-breast exams.
The 28-year-old has teamed up with Evian and the National Breast Cancer Foundation for the #FasterThan campaign, which strives to educate people in a fun and creative way, on how quick and easy it is to perform the life-saving routine.
Michele shared with the media that her advocacy for early detection is very personal to her, since she has many friends and family members who have been diagnosed with the disease.
"When breast cancer is found in the localized stage, you increase the 5-year survival rate to 98%," she says in the video. That's almost 100%. Amazing.
The #FasterThan campaign urges participants to first complete a self-breast exam and then tell the world through social media what they did it #FasterThan, using that hashtag! All of us hashtag lovers, this is right up our alley!
In the video, Michele is wearing an adorable pink ensemble and claims that her self-breast exams are #FasterThan her vocal warm-ups, a curtain call, and even a commercial break.
So, what are you waiting for? If Lea Michele can do it, so can you.
To learn more, visit evianfasterthan.com.
(Screenshot via YouTube)
- Nicole Koch, YH Staff