Latest "Stranger Things 4" Trailer Hints At Eleven's New Life In California!
11-08-2021 by Melissa Morales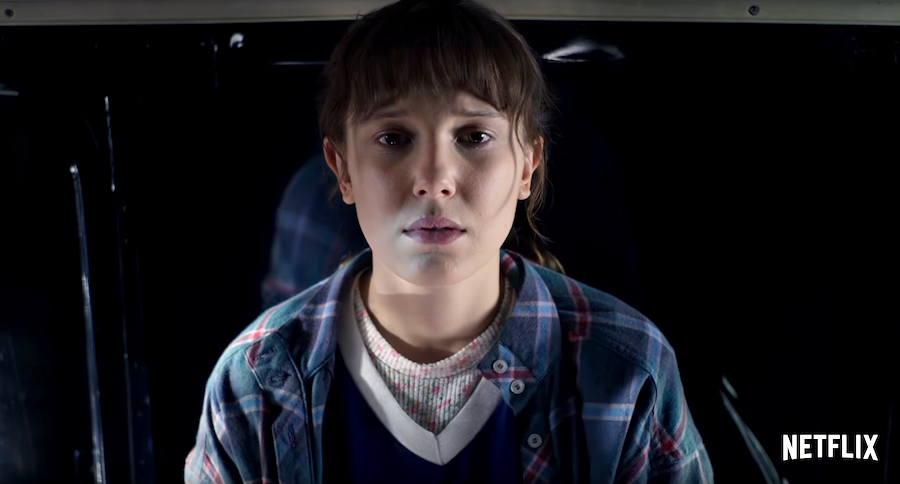 (Netflix)
It's almost here! The final teaser for "Stranger Things" Season 4 was just released this past weekend (November 6th) and honestly, it was absolutely amazing!
Titled "Welcome to California", the teaser shows us Eleven's (Millie Bobby Brown) new life in California, seemingly fine so far except for some annoying students at her school. Besides that, everything is great as she recollects her experiences to her long-distance bf back in Hawkins, Indiana, Mike (Finn Wolfhard), in a letter as she awaits to see him during Spring Break. But, of course, there's always a twist when it comes to "Stranger Things". As soon as she says, "We will have the best spring break ever," the entire vibe shifts.
The music turns darker, with a creepy doll, someone shooting inside a home, cars racing fast, explosions, fires, attack helicopters, an eerie room, and Eleven being held back by some people. What. Is. Happening?! So many chills!
This teaser in particular reminds me of the second teaser for Season 4, titled "Eleven, are you listening?" In that teaser, we get a flashback to the laboratory where Eleven was created, and a group of children are playing and being watched by "papa", who we know from Season 1 as Dr. Martin Brenner (Matthew Modine). Supposedly, he died in by the Demogorgon; however, in Season 2, a lab employee told Eleven that he's still out there. From the fourth and recent trailer that was just released, I won't be surprised if he makes a return in this season, or if other people try to capture Eleven to experiment on her powers.
Of course, we can't forget about the very first and third teaser that was released for the fourth season! In the first teaser, "From Russia with love", spoiler alert: Hopper is still alive! He's in Russia, working with other men as the music escalates towards the end of the teaser. I can't wait to see him reunite with Eleven again! Time to begin taking out my tissues!
In the third teaser, titled "Creel House", we are introduced to a family who live in a house that has an absolutely dark past. There are strange things happening as the family moves in the 1950s, and then we cut to the current timeline of "Stranger Things" in the 1980s where the gang investigates the house, searching for clues. How does this connect? I have no clue, but I can't wait to puzzle it all together when the show starts!
On the same day that the final teaser was released, Netflix also released the episode titles for its 9-episode season:
1.The Hellfire Club
2. Vecna's Curse
3. The Monster and The Superhero
4. Dear Billy
5. The Nina Project
6. The Dive
7. The Massacre At Hawkins Lab
8. Papa
9. The Piggyback
All the titles are very interesting but I'm especially excited to watch "The Monster and the Superhero" and "The Massacre At Hawkins Lab". I definitely feel like Eleven will have more backstory about her time in the laboratory from these two episodes.
"Stranger Things 4" debuts in the Summer of 2022. If that feels like such a long time away, then I think it's time to binge-watch all of the past seasons and before you know it, the premiere day will be here!