Lady Gaga Responds to Katherine Langford's Shout-Out During Our Interview!
Written by Monica Oda. Published: April 14 2017
Celebrities fangirl too? Of course they do!
When "13 Reasons Why" star Katherine Langford visited the YH Studio recently (along with co-star Dylan Minnette), she revealed her biggest inspiration for getting into acting -- none other than Lady Gaga!

Check out the full interview below!
Gaga has been named as a role model by many folks over the years, not just in showbiz but just in life in general. At this point, such declarations would seem like white noise to most superstars. But not Mother Monster!
A Gaga fan account shared a short clip of our interview earlier this week that went viral after Lady Gaga herself noticed and responded with a simple message: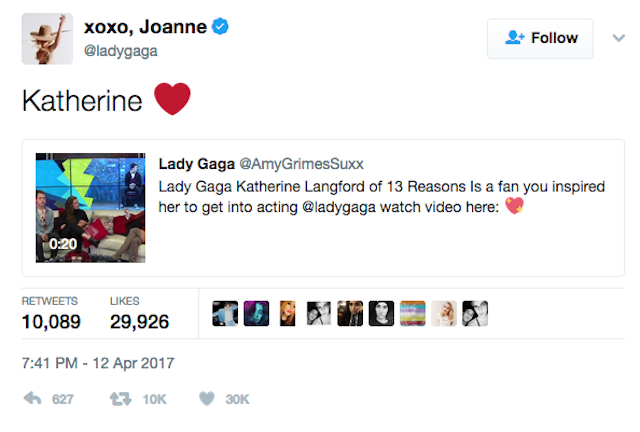 Imagine how SHOOK Katherine was when she saw that her idol noticed her on Twitter!
Her costarDevin Druid, who plays Tyler Down, tweeted back saying "OMG KAT'S GONNA FLIP", and she sure did.
Katherine reacted on Instagram Stories with multiple posts later that day, saying "she knows who I am. I'm shook as f**k" and "still shaking."
We're so happy for you, Katherine, and we're so glad we could play a small part in bringing you together with your idol!
(Image via Adriana M. Barraza/WENN)
- Monica Oda, YH Contributing Writer; additional reporting by Katie Marzullo, YH Staff Editor