Justin Long Gets Long in the Tooth in the New Trailer for Kevin Smith's 'Tusk'
Written by Sarah Osman. Published: July 30 2014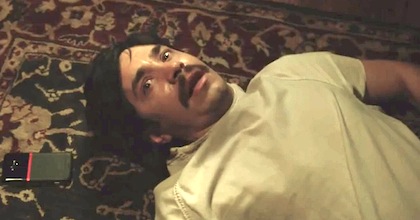 Over the years, Kevin Smith has given us some truly unique and strange pieces of cinema. His latest achievement isTusk, a horror-comedy in which Justin Long is turned into a walrus. Ever since I first mentioned this eccentric film, I have been DYING to see the trailer, and now it has finally been released, and it does include a backstory for Long as well as how exactly he becomes a walrus. Check out the trailer below:
If you don't feel like watching the trailer, here's the general gist: Wallace Bryton (Long) is a podcaster (that's a job?) who specializes in interviewing oddballs. He sets out for the vast and frightening wilderness known as Canada to interview Mr. Howe (Michael Parks), an old sea captain who lives in a dilapidated mansion, who tells Bryton of his voyages. Somewhere in the midst of trading tales, Howe decides that he wants to transform Bryton into a walrus (as you do). The film does an interesting job of providing actual scares (I don't know about you, but I don't fancy the idea of being turned into a walrus) and hilarious lines ("I don't want to die in Canada!"). This is certainly Smith's most original venture in years, and may be the most original film released this year. The idea was conceived during Smith's own podcast. My big question is, why a walrus? Why not a platypus? Are walruses just the right amount of weird?
When I previously reported on this film back in April, Johnny Depp was attached to play an inspector, but there's no site of him here. He's still listed as "rumored" on IMDb, so I guess we'll have to wait and see until the film comes out if he's actually in it or not. On the plus side, Haley Joel Osment!
Tuskwill hit theaters this September. Will you go watch it?
(Screenshot via YouTube)
- Sarah Osman, YH Staff