Just When You Thought They Couldn't Get Any Dumber... First Trailer for 'Dumb & Dumber To'!
Written by Katie Marzullo. Published: June 11 2014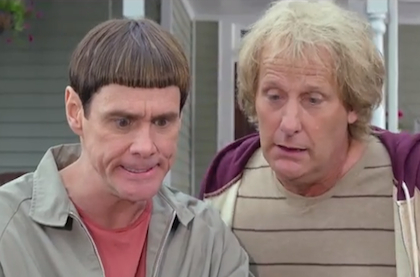 Shenanigans are afoot, you guys…
Earlier this week, Jim Carrey and Jeff Danielsdropped by "The Tonight Show" on the occasion of the 20th anniversary of their endlessly quotable '90s comedy Dumb & Dumber and to also personally reveal the first trailer for the long-awaited sequel, Dumb & Dumber To (which has been rumored/in development/in the works for what seems like ages now).
I was a high school freshman when Dumb & Dumber first came out, and now that was 20 years ago. But even still, it feels like hardly any time has passed at all since Harry and Lloyd last set out on their adventure to Aspen, CO, to find Mary Samsonite (née Swanson). The boys faced many trials and tribulations that would ruin most friendships – unemployment, pets heads falling off, driving a a sixth of the way in the wrong direction, French-tickling Fraida Felcher, Mary touching Harry's leg, etc. – but through it all, they remained the best of pals, and the sequel seems to pick up right where they left off.
Right off the bat, we can spot some recycled gags, like the breath freshener, the haircuts, and "Aw Lawk It Aw Lawt!", but it seeeeeems like it'll be just different enough to be an actual continuation of Harry & Lloyd's goofy story as opposed to a redux of the original, like all the Hangover sequels are. In this new flick, Harry finds out that his tryst with the aforementioned Fraida Felcher (here played by Kathleen Turner) yielded a daughter, now 23 years old and possessing something that Harry needs more than unconditional love – a kidney. So, the boys hop in the shaggin' wagon and set off to find her.
Comedy flicks typically feature all their funniest material in the trailer, but I hope that's not true in this case. While I did find myself tittering here and there, some of the jokes (like the phone call bit at the end) fall a little flat. But here's hoping this is just a tease and that the Farrelly Brothers have saved the best stuff for the theatres.
Well, we'll find out for sure on November 14 when the film is released. Until then –YOU'RE IT, NO QUITSIES!
(Screenshot via YouTube)
- Katie Marzullo, YH Staff Editor