Joshua Logan Moore: A Rising Icon
Written by . Published: September 27 2010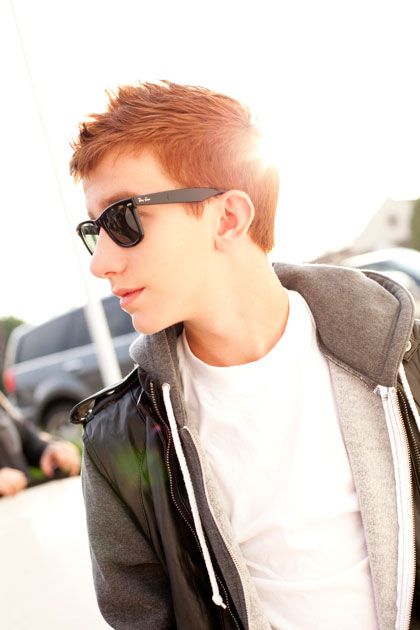 Joshua Logan Moore is the epitome of a "Young Hollywood" star.
Starting off with stand-up comedy and theatre, Moore has been able to transition into featured films, commercials, and now TV. You may have seen this young actor on your home TV screen every Sunday at 9pm on ABC in the hit drama series "Desperate Housewives" as he shares the screen with Eva Longoria Parker, Felicity Huffman, and new edition Vanessa Williams.
At only 16 years old, Moore has been compared to a younger version of Tom Hanks orRon Howard.
Recently, I was able to talk to this young actor about his acting experience, his biggest movie star crushes, and the everyday life of Joshua Logan Moore, better known at Parker Scavo on "Desperate Housewives." Seven seasons have gone by since Logan's big break on TV, and it has sure been a wonderful journey to say the least for him. Check out my conversation with Joshua...
----------------------------------------------
YH: What are we going to be expecting from Parker Scavo on this season of "Desperate Housewives"?
JLM: What is Parker not up to, is the question. As you know, Vanessa Williams moves into our house in this season. So there's some drama going on there. But Parker, maybe breaking out of his shell, getting into girls, but I won't tell you everything...
YH: What can people expect from the Scavo family this season?
JLM: Well, we have a new baby sister, so that adds somewhat of a stressor into the Scavo family. Going from four kids to now five and now that Vanessa Williams is staying with us makes it a "crisis time" for our family.
YH: How is it working with the new addition, Vanessa Williams, and also working with Felicity Huffman?
JLM: Vanessa is super cool. The first couple days, she kind of kept to herself, but when she opened up, she was so fun and such a great addition on the set. With Felicity, she is really modern and is super intelligent, so she's always fun to talk to. We have a pretty good group of people on the set.
YH: Brian Austin Green is also a new member on the set. Have you been able to interact with him yet?
JLM: I've met him once. But you know what, the most exciting part about having Brian Austin Green on set is the possibility of having Megan Fox on the site, which would be awesome.
YH: Is that one of your Hollywood crushes?
JLM: Totally!
YH: Who else are some of your Hollywood crushes?
JLM: Ellen Page,Emma Stone... you know what, I know she's a little older, but I kind of started to like January Jones.
YH: What are you most looking forward to this season?
JLM: Hopefully some more story lines for Parker.
YH: How did you get started in this acting industry?
JLM: Well, I started doing theatre when I was around five or six years old and then took a break for awhile until I was about eleven and started to take some acting classes, which led to me doing some stand-up comedy around Texas. I ended up coming out here and auditioned for some agencies. I got picked up and started to do some stand-up comedy around L.A., which led me into commercials to small movie parts to now TV.
YH: What are some of the movies have you been in?
JLM: I was in Changeling, which was directed by Clint Eastwood. I was the little kid in the chicken coup that actually ended up getting murdered, unfortunately.
YH: I heard you like to play the guitar. Would you be interested in the music industry one day?
JLM: Yeah, definitely. I play a lot of instruments. I would love to get into music and see what happens there.
YH: Who are some of your favorite artists?
JLM: I listen to so much music that I go through different phases. Which usually goes back to classic rock. Anything from Jimi Hendrix to Pink Floyd and Led Zeppelin.
YH: Besides filming DH, do you have any other plans or projects coming up soon?
JLM: I've been auditioning a lot for voice overs and plays and was recently in a short film calledTouchback. I would love to get back into some plays.
YH: You have been called the younger version of Tom Hanks and Ron Howard. Do you want to progress your career into something like theirs?
JLM: Tom Hanks starting with comedy and then moving onto lead dramatic films is definitely something I want to do, and even going into producing like Ron Howard.
--------------------------------------------------
As you can see, Joshua Logan Moore has been doing a lot and has many more exciting opportunities coming his way. The new season of "Desperate Housewives" has just begun. Make sure you check it out every Sunday at 9pm EST and see what Parker Scavo is up to!
Brittany Johnson is the one who always has the inside scoop when it comes to anything in the entertainment world. She is ablogger and covers the hottest events in the D.C. area. You can follow Brittany for all the scoop here: @B_Lucky17.