James Gandolfini: The OG Hollywood Anti-Hero
Written by Sarah Shatz. Published: June 20 2013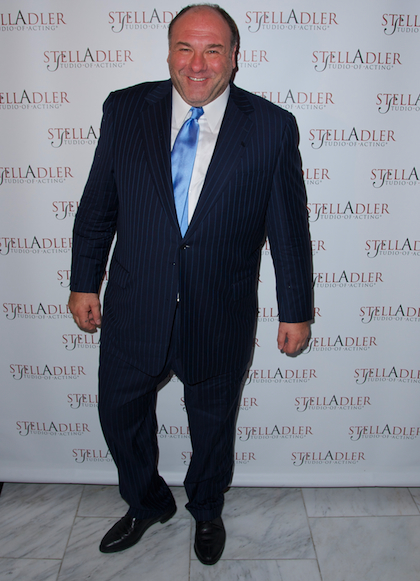 Yesterday evening (June 20), the public received the news of James Gandolfini's tragic death. The loss of the 51-year-old actor as a result of an unexpected cardiac arrest shocked and surprised us all. Gandolfini's death not only impacted the lives of of his colleagues, but also those who followed his career, as Mr. Gandolfini was on track to become a true Hollywood legend.
The Original Gangster that he was, James Gandolfini left an indelible impression on Hollywood and all his fans. Being an actor wasn't just his job — it was a part of who he was. From True Romance to Zero Dark Thirty, James continuously transcended the screen, capturing the imaginations of all who watched him.
To many, the names James Gandolfini and Tony Soprano are synonymous. Despite James's ultra-realistic portrayal of the New Jersey mobster in HBO's "The Sopranos", his real-life disposition was quite the opposite. By all accounts, he was sweet, humble, self-reflective, and admired by those who worked around him. He had a deep understanding of film that went beyond his role as an actor; he understood the art of writing and directing and worked closely with those involved to create the best final product possible. He was truly a team player.
Gandolfini's role as Tony Soprano became the paragon of TV and movie gangsters. "The Sopranos" engendered the genesis of other anti-hero cable TV shows and became the processor for the likes of "Dexter", "Weeds", and "Breaking Bad". Initially ambivalent that they would cast a Tony that was someone more "suave", James took his character and made it his own. He was an actor that was very clear about his intentions and claimed that nothing on the screen was ever accidental.
Yesterday, New Jersey Governor Chris Christie dubbed James Gandolfini a "true Jersey guy." And that's exactly who he was. No matter what, James always held to his roots and took on blue-collar roles reflective of his upbringing. In his 2004 appearance on "Inside The Actor's Studio", James stated: "You are you, and you just have to use what you have," and that's exactly what he did. We laughed with him, we cried with him, and sometimes we were even a little scared of him!
R.I.P. James Gandolfini -- your legacy and contributions to TV and film are truly special and shall not be forgotten. 
(Image via Alberto Reyes/WENN)
- Sarah Shatz, YH Staff