James Franco Heading an All-Star Cast for Lastest Film Adaptation
Written by Kevin Donaldson. Published: February 06 2015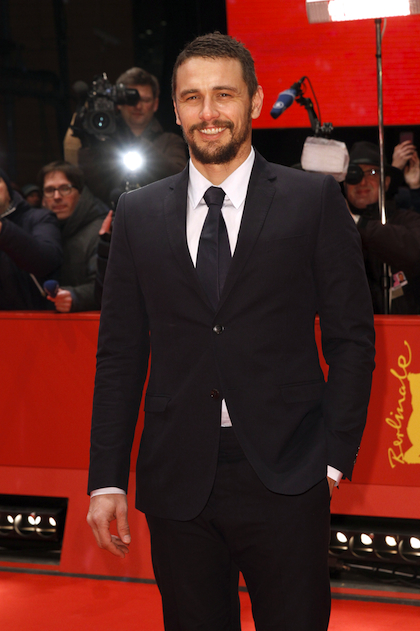 James Franco has been known to the public mostly for his work as an actor, an artist, a teacher/student, and for being just downright quirky (according to my mother). What a lot of people don't realize is that Franco is also a director. Most of his movies star himself and are normally adaptations; As I Lay Dyingand The Sound and the Fury were both based onWilliam Faulkner novels. Now Franco is going to take a crack at remaking one of John Steinbeck's lesser-known works, In Dubious Battle.
In the past, Franco appeared on the Broadway stage alongside Chris O'Dowd and others in the theatrical version of Steinbeck's most well-known work Of Mice and Men. If you didn't hear about it, Franco and O'Dowd played the main roles of two drifter friends, George (Franco) and Lennie (O'Dowd):
O'Dowd may have gone on to win a Tony, but now Franco is making a film adaptation of one of Steinbeck's stories. (That's kind of like winning a Tony, right?) Not to mention, the cast that Franco gets to work with on In Dubious Battle is off the hook. Franco has cast Robert Duvall, Ed Harris, Danny McBride, Bryan Cranston, Vincent D'Onofrio, andSelena Gomez (whom, we assume, will NOT be wearing a bikini most of time like in her and Franco's last movie together,Spring Breakers. Can't be sure to say the same for McBride, though...).
I don't know about you, but that is one stacked cast. Unlike Franco's other directorial efforts, this could be some indication that In Dubious Battle will have a wide cinematic release. Everyone in in it has some serious clout in Hollywood, and most of them have award recognition to back it up. Franco himself is also an Academy Award nominee and, as expected, has cast himself in the lead role.
Now that you've heard about James Franco the director, let's check out his previous two joints to get an idea of what we might be in for:
(Photo via Marcus Golejewski/Future Image/WENN)
- Kevin Donaldson, YH Staff