Indie Comedy 'Worst Friends' Features Some Old Friends
Written by Katie Marzullo. Published: November 06 2014
There's a cliché y'all have no doubt heard time and again – that Hollywood is a "small town". Everyone knows someone else through this contact or that contact, and there are Six Degrees of Kevin Bacon, etc. After almost a decade living here, I can vouch for this fact, and it extends far beyond the physical boundaries of L.A. itself.
You see, two of my academic worlds collide in the new dark indie comedy,Worst Friends, a film that explores the fine line that often exists between friends and how that line is tested when something traumatic happens to one that prompts him/her to have to depend on the other. When Jake (Richard Tanne) gets hit by a car and suffers massive injuries, he turns to his childhood friend Sam (Noah Barrow) to help him recover. Sam in turn enlists the assistance of a physical therapist (Cody Horn), who, for her part, appears to be more interested in encouraging Sam to see to Jake's needs. It would seem like this would be a perfect opportunity for Jake and Sam to bond, but when Sam's old high school crush Zoe (Kristen Connolly) re-enters the picture… well, all bets are kind of off.
The film was co-produced by Tanne himself, who also chipped in on the original story. It just so happens that Tanne is an old film school classmate of mine, and the real-life accident in July 2010 that inspired this film is actually something I remember quite well. It was a devastating incident, but it was one that led directly to this film project. While recovering in his home state of New Jersey, Tanne reconnected with filmmakers and former chums from SUNY Purchase Film Conservatory, Barrow and Ralph Arend, and the concept for a feature film was born.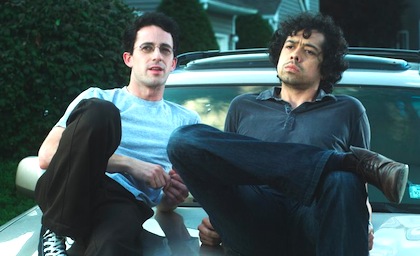 "We realized that by having my accident be a part of the story, I could incorporate my current injuries into my character," Tanne explained. "I could perform the entire film from my wheelchair, wearing my cast, and under the influence of pain meds. It all served the reality of the story."
The project was four years in the making, depleting the personal funds of all involved and acting as a sort of catharsis as well, bringing some old schoolmates closer together in ways they couldn't have predicted. That's what filmmaking is truly all about, though, isn't it? (It is.)
But wait, what does that have to do with my aforementioned academic worlds colliding, I assume you are asking? Well, not only does this film feature a former fellow film school alum of mine but also a former Theatre classmate from my days at Rollins College in Florida –Deanna Russo. You'll probably recognize her from the recent "Knight Rider" reboot and/or from SyFy's "Being Human". I recognize her in head-to-toe silver paint from the Rollins production of Blithe Spirit, but that's just me. Deanna, also a Jersey native, makes an appearance in Worst Friendsas Larry Fessenden's character's lady friend Cassandra.
Deanna says of her involvement: "I got to stay with my mom, borrow her car, steal her accent. Well, I laid it on a little thicker than she does, but my mom is a notorious gum chewer. I did incorporate that element, and being that I am not a gum chewer, I'm confidant the Academy will acknowledge my daring acting risk."
Totes Method.
So, I guess what I am saying is, I can personally vouch for at least two of the people involved with this project, each sprung from a different stage of my academic career. I dunno what other incentive you need to check out this film, quite frankly. You can find it on VOD on just about every cable provider, including iTunes,Amazon, and Google Play, and you can follow them on Twitter and like them on Facebook.
Support indie filmmaking, folks! Take it from me, these are real people with real talents who are making real things happen, but they can't do it unless YOU give them some love!
(Photos via Level 33 Entertainment)
- Katie Marzullo, YH Staff Editor