IFC Making Series Based on Fred Armisen "SNL" Character!
Written by Kevin Donaldson. Published: May 28 2015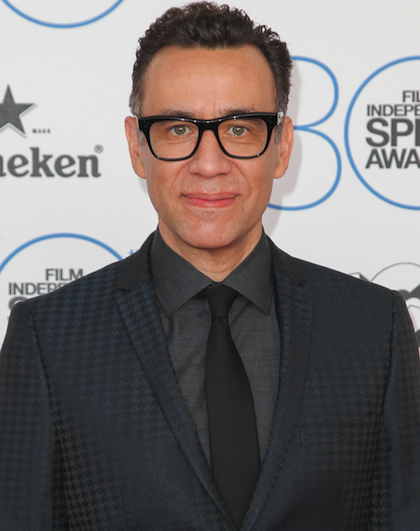 One thing I know for certain about IFC is that they love themselves someFred Armisen, but who doesn't, really? That quirky quiet guy who looks like he stalks coffee shops and book stores is actually quite loud and hilarious when he gets going. And now, one of his characters from his days at "SNL" called Ian Rubbish, the front man for the band Ian Rubbish and the Bizzaros, is getting a six-part mockumentary about his days of leading his band.
Other folks set to be involved with this project include former "SNL" head writer Seth Meyers, who, although I don't know for certain, I am pretty certain helped write almost all the rubbish involved with Ian Rubbish. The other person confirmed to be involved is one of my favorite people to see on screen,Bill Hader, who, if you forgot, played one of the members of the Bizzaros. No word on if Armisen's "Portlandia" bestie and real-life Sleater Kinney punk musicianCarrie Brownstein will be featured in the project, but I don't see why not.
Each of the six episodes will clock in at about a half hour, so when it's all said and done, this could be viewed as one three-hour movie, making it essentially a punk version of one of the greatest mockumentaries of all time, This is Spinal Tap. Alas, we won't know for sure about anything else until the show premieres on August 20, which is just right around the corner!
Until this yet-to-be-titled Ian Rubbish and the Bizzaros mockumentary is released, you should catch up on their fictional music that has some pretty damn good production value for something that doesn't necessarily exist:
Yup,Armisen Rubbish really did tour! But without his favorite bandmate Bill Hader…
(Photo via FayesVision/WENN)
- Kevin Donaldson, YH Staff