ICYMI: Tom Holland Has A Big Mouth But We Love Him For It!
Written by Kyla Killackey. Published: June 29 2018
I present to you Tom Holland – Lip sync battle hero, actual Spider-Man hero, and ultimate spoiler of all Marvel spoilers.
Tom is quite well known for his inability to keep his mouth shut when it comes to big movie secrets. He's become something of a liability to Marvel Studios, and because of this, has a history of being kept in the dark about what is actually happening in the movies he's acting in. For reference, please enjoy this video of Benedict Cumberbatch trying his very best to make sure sweet Tom doesn't spill any major beans about Avengers: Infinity War:
Well, Tom was back at it while attending Seattle's Ace Comic-Con. He shared an Instagram story with his 10.3 million followers that I'm not certain we were all supposed to see. The purpose of his video was actually to tell people that, unfortunately, there were no new details on the Spider-Man: Homecoming sequel... instead, he ended up showing everyone a very clear new detail.
Tom was just so excited to show us the new script he got that he accidentally also showed us the new title!!!!!!! I've taken a picture of the exact moment for further investigation: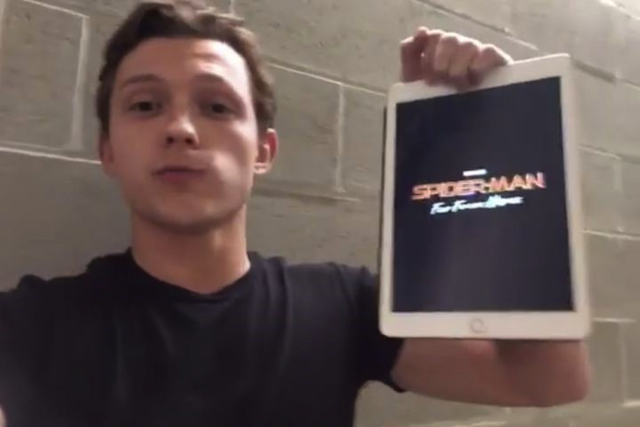 (Tom Holland/Instagram)
And there you have it! Spider-Man 2 can officially be known asSpider-Man: Far From Home. We don't know much else, like when the movie will be set or where Peter Parker will be that makes him so "far from home", but we do know that Jake Gyllenhaal will be joining the cast! The Hollywood Reporter announced that the Hollywood hunk is currently in talks to play classic villain Mysterio in the upcoming sequel.
So, that's all for now, we'll keep a close eye on Tom for any other spoilers he might forget to keep secret...
(Image via Mat Hayward/Getty Images)
- Kyla Killackey, YH Contributing Writer