ICYMI: Danny McBride, John Goodman, & Adam DeVine Get Righteous For New HBO Comedy!
Written by D.J. Rivera. Published: May 12 2019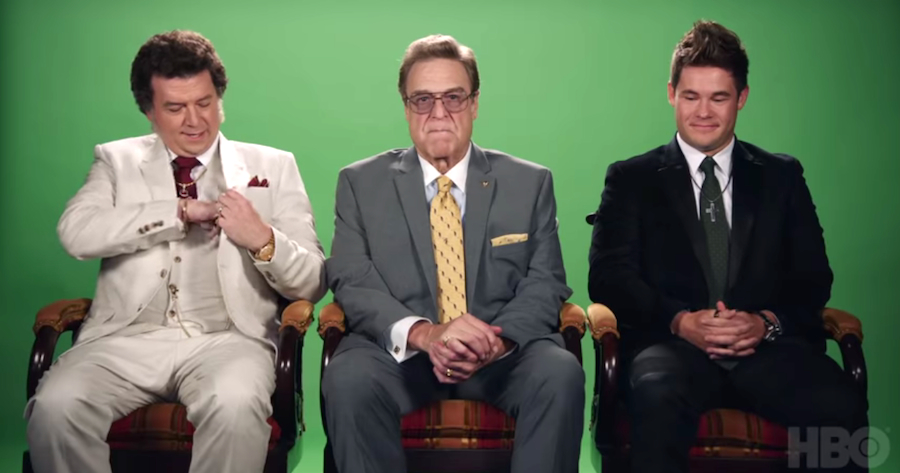 Praise the lord, I have some excellent news for everyone that loves to laugh and can afford pay channels. The notorious team behind two of HBO's most celebrated comedies, "Vice Principals" and "Eastbound & Down", are back, and they are definitely feeling the Holy Spirit on this one. The great comedic minds of Danny McBride,Jody Hill, and David Gordon Greenhave come together once again to bring premium cable viewers and those using their parents' HBO password to take on a completely new theme for their latest dark comedy endeavor. The evangelical world of organized religion, megachurches, and the wealthy that occupy their ranks will be the subject of the series coming later this summer. The plan here seems to be utilizing their standard for impressive visuals alongside a plethora of raunchy comedy to showcase just how excessive that particular lifestyle just might be. McBride, along with John Goodman andAdam DeVine, will be bringing the family that prays together loudly and proudly in "The Righteous Gemstones".
"The Righteous Gemstones" is the latest gift from the HBO gods bestowed upon us mortals to fill the void that will inevitably be left when "Game of Thrones" and "Veep" are no more. The series follows a world-famous televangelist family with a long tradition of deviance, greed, and charitable work. Goodman plays the patriarch of the Gemstone family, Eli, who leads his flock along with his sons and daughter. Eli has relentlessly created a massive global following from his ministry work to his highly-watched weekly TV show. However, in his golden years, he realizes he is not the force to be reckoned with that he once was but still expects undying loyalty from his kin. McBride plays his eldest son, Jessie, who believes he is the next in line to inherit the holy empire when his father passes. Jessie, the man who converts Satanists to their cause, is also attempting to expand their church for the modern audience along with his wife, Amber, who is an ex-journalist now devoted to the church, played by "Longmire"'s Cassidy Freeman. DeVine plays his younger brother, Kelvin, andEdi Patterson from "Vice Principals" plays their sister, Judy. Lord have mercy, that is one heck of a cast in what is sure to be another HBO classic.
I'll be honest, if you told me there was a weekly gathering where you could see Goodman, DeVine, and McBride get into crazy shenanigans in a ridiculously wealthy environment, I would be first in line for such a sacred event. No doubt the laughter and loveable characters will resonate well with audiences, both connecting people as well as bringing them unimaginable joy. "The Righteous Gemstones" feels like it will be not only a true blessing but also another great entry from some gifted showrunners. So for those seeking spiritual enlightenment, a true sense of purpose, and a message from a greater power... this is probably the last thing you need to be getting yourself involved with. But, if you are looking to see the guy from "Workaholics" and a silver-foxed Kenny Powers provide spiritual guidance with the dad from "Roseanne" at the helm, then your prayers have been answered. I have a righteous feeling that this one will have everyone watching truly feeling the Holy Spirit and laughing uncontrollably at the same time. Hallelujah, I can't wait for that first Gemstone sermon.
"The Righteous Gemstones" will premiere on HBO sometime in August.