ICYMI: Cynthia Ervos Becomes One of History's Greatest Heroes in New 'Harriet' Trailer!
10-19-2019 by D.J. Rivera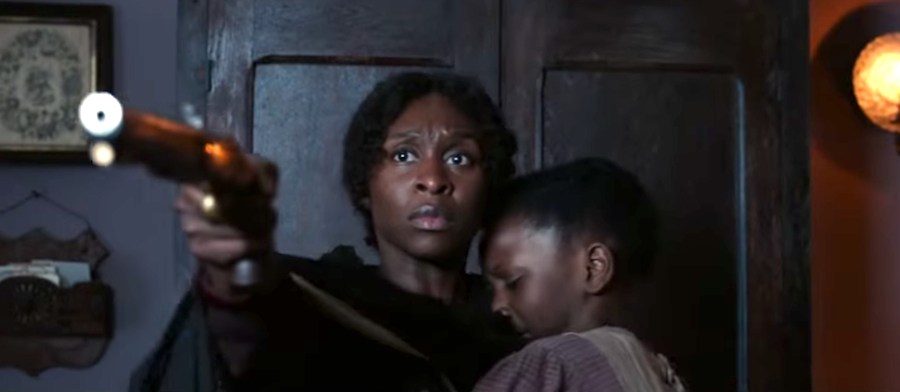 ( © Universal Pictures)  
It's that time of year again when the world of cinema gears up for its traditional Awards Season with a slew of star-studded cinematic affairs coming out in waves for audiences to enjoy and voters to take note. This year, there seems to be no shortage of greatness entering the fold for this year's robust competition. Astounding titles like Ad Astra, Once Upon a Time... in Hollywood, and Midsommar have already released with hype-worthy motion pictures still on the way like The Irishman, Marriage Story, and Ford v. Ferrari. Another reliable candidate bound for prestigious accolades and legendary glory is from the folks over at Focus Features who have released a new trailer for its powerful biopic, Harriet.
Harriet looks to bring the legendary abolitionist Harriet Tubman's brave story to life and prove that she is much more than just a face on the $20 bill. The film is directed by Eve's Bayou filmmaker Kasi Lemmons, who paints a brilliant picture of the woman born into slavery that defied the odds and freed so many slaves from captivity. The story revolves around the thrilling and inspirational tale of the famous American freedom fighter's great escape and transformation into one of history's greatest heroes. Never before has Tubman's courage, tenacity, and ingenuity been magnificently illustrated on the big screen than it took to be in the motion picture Harriet. 
After premiering at the Toronto International Film Festival to rave reviews, it has resonated well with audiences that have witnessed it throughout its Fall festival circuit run, and a lot of that has to do with the career-defining performance from Cynthia Erivo. After killing it in breakout roles in both Bad Times at the El Royale and Widows, Erivo has been steadily climbing the ranks in the industry. Now she solidifies her next-level acting abilities with her exemplary performance of the historical icon. Some significant outlets are even predicting Erivo's performance as the Civil War hero to make her a frontrunner in the race for the Best Actress award at the Oscars. This news is very intriguing, given the fact that she is only an Oscar away from becoming an EGOT recipient. She's won an Emmy, Grammy, and a Tony Award (all for her work in the Broadway production of The Color Purple) and is only missing a coveted Academy Award that could be achieved after voters get a look at her brilliant portrayal of the infamous Underground Railroad conductor.
Harriet also stars Tony and Grammy Award-winner Leslie Odom Jr as William Still, a writer and abolitionist who connects Tubman with the Underground Railroad. The highly-anticipated film receiving great reviews also features a pair of multiple Grammy Award-winners. Janelle Monáe plays Marie Buchanon, who is a proprietor as well as a friend of Tubman, and Jennifer Nettles, who plays a character named Eliza. Joe Alwyn from Ang Lee's Billy Lynn's Long Halftime Walk will play Harriet's slave owner, Gideon Brodess, in the film. Rounding out this impressive list of performers are "The Wire" and "Treme" actor Clarke Peters, who plays Harriet's father Ben Ross, and Vanessa Ben Calloway, who is playing Tubman's mother, Rit Green. With a cast like this, along with the surgical direction and game-changing performance, this impactful film looks to live up to the hype and offer audiences an epic biopic an icon like Harriet Tubman deserves.
Harriet opens in theaters on November 1, 2019.