ICYMI: Coach Ted Lasso Returns With Apple TV+ Series Starring & Written By Jason Sudeikis!
10-27-2019 by D.J. Rivera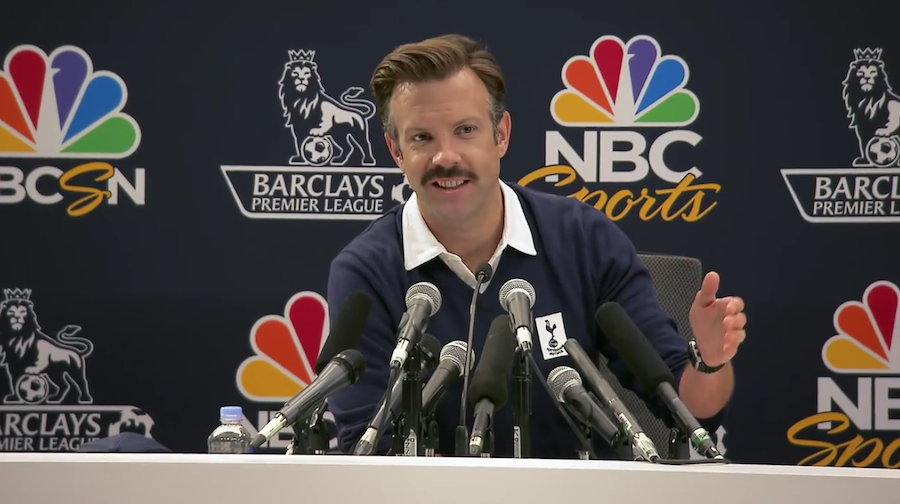 ( © NBC Sports Network)  
Over the years, Jason Sudeikis has brought so many hilarious characters to life. But now he is bringing back a prevalent persona that fans may have missed. It's been announced that the "SNL" alum will star in and write a series for Apple's upcoming streaming platform Apple TV+. The series will revolve around the comedic character created for NBC sports named Ted Lasso. 
Lasso became popular back in 2013, and while he feels like he came right out of "Saturday Night Live" sketch, that is simply not the case here. Sudeikis played the part for some funny interludes between sports reporting on NBC. And apparently, those few videos were enough to secure the idealistic all-American football coach his own show. 
As seen in the videos, Lasso is a football coach who isn't the sharpest knife in the drawer. He was somehow hired to manage, of all things, an English football club even though he has no previous experience or basic knowledge of the sport at all. The coach is a fish out of water in this foreign environment and goes through side-splitting shenanigans in his attempts to become better acquainted with his new position. A sport with ties and no playoffs seems like the perfect place for Lasso, and he feels very welcomed with his new nickname, "Wanker". The guy has the positivity of Leslie Knope and is as oblivious as Mr. Magoo, which, with Sudeikis at the helm, should provide for one hilarious season. 
Along with writing and acting, Sudeikis will be executive producing the series with Bill Lawrence, who has worked on shows like "Scrubs" and"Spin City". Both Sudeikis and Lawrence wrote the pilot together as well. While this plot seems a little flimsy, the people making it happen shouldn't be the only reason to get excited about this series. So far, Apple TV+ has put boatloads of money into its original content, making its $4.99 a month subscription fee very tantalizing. Their lineup, consisting of "The Morning Show", "See", "Servant", and "For All Mankind", all look they are on the same level as Netflix or HBO. With that being said, it's hard to imagine a world where a show about Ted Lasso doesn't earn a spot in the Hall of Fame, metaphorically speaking of course.