ICYMI: Classic Nick Game Show "Double Dare" Making a Comeback!
Written by Diego Pineda. Published: April 29 2018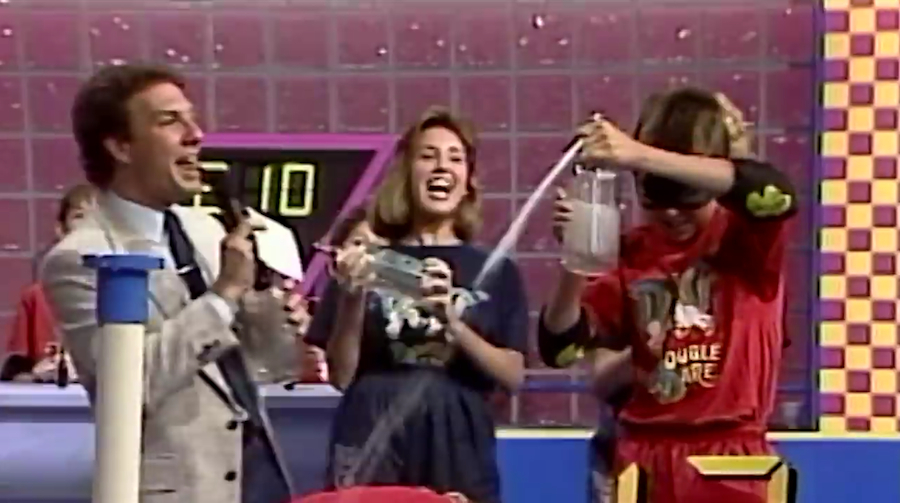 Sharpen your trivia skills and get ready to get messy with the return of "Double Dare"! It's true, the Nickelodeon show all the kids wished to be contestants on is returning 32 years after it first aired in 1986.
And if you think this reboot will be completely different now that it will be taking place in 2018, well you are wrong, because the show will be bringing back its iconic trivia segments and challenges. Yes, this does mean that the human hamster wheel, the gigantic mouth, and the dreaded "Double Dare" nose will be back!
"Double Dare" was a game show where two teams competed by answering trivia questions and performing physical challenges in order to win cash and other prizes. The team that would win would have an opportunity to do the obstacle course, which made contestants go through objects like a giant gumball machine, a peanut butter and jelly sandwich, and a sundae glider, to win the final prize.
This Nickelodeon reboot comes at a time when many networks are making spin-offs of classic shows. Nickelodeon has also announced thereboot of "Clarissa Explains it All"and is one of the first to reboot a game show! The network has ordered 40 episodes this summer. Appearances from past stars of the show as well as stars of today will battle it out in the "Double Dare" stage. The show will most likely bring new challenges and segments while keeping some of the classic ones. We can't wait to learn more about the show and who will be on it! Marc Summers was the show's original host -- will he also make a comeback?
"Double Dare" was such a hit in the '80s and '90s that other versions of the show were created in the following years such as "Family Double Dare", "Super Sloppy Double Dare", and "Double Dare 2000" whereJason Harris was the host. Following its 30th anniversary, "Double Dare" even had a special reunion episode in 2016 during Comic-Con, which YH had the pleasure to participate in!
We are very happy that the old and new audience of the show will get to experience the fun that is "Double Dare". The reboot is set to air this Summer in Nickelodeon. Stay tuned for more info on the dates and talent!
(Image via Nickelodeon)
- Diego Pineda, YH Contributing Writer