ICYMI: 'Aladdin' Is Coming and The Genie Is BLUE!
Written by Kyla Killackey. Published: February 16 2019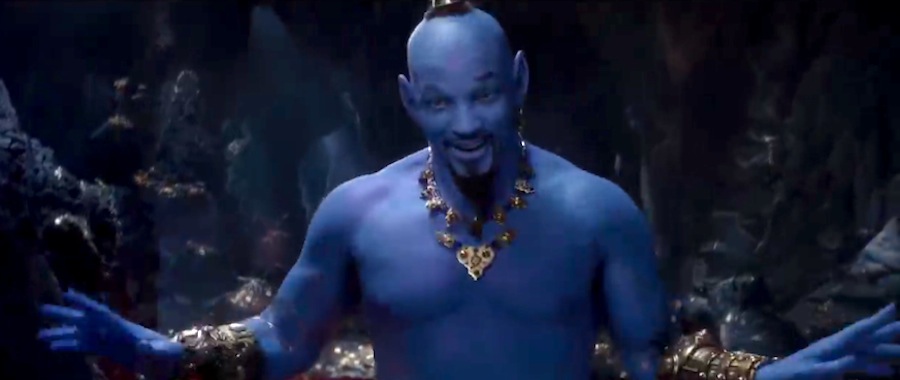 Oh hello there. Disney fans, please gather round, we got our first REAL look at the new live-action Aladdin and there are Some Things To Report.
It was a short look but a look nonetheless. First off, we got an introduction to all of our favorite (and least favorite) characters, from creepy (but hot??) Jafar (Marwan Kenzari) with his sidekick lago and evil magical staff, to our main man Aladdin (Mena Massoud) and his sweater-wearing sidekick Abu. There was not much speaking going on, but we do know that Jafar wants the lamp and Aladdin does not know what he's getting himself into. We're gunna need a magic carpet ASAP.
We also got a glimpse at the STUNNING Princess Jasmine (Naomi Scott) walking down some steps like she owns the world, followed by her tiger Raju, who is my personal favorite. They are in for quite a ride.
The trailer also took us over the epic landscape of Agrabah, full of colorful people and elephants dancing in the street. Quite the party seems to be happening, and I would like to be invited. And last, but certainly not least, we got to see the Genie for the first time. And I can officially confirm, he is blue. And thick..? I don't know if Will Smith really beefed up for this role or if they gave him the Alita treatment, but he is looking huge… and kinda scary.
Let's hope he's nicer once we get to meet him in person. Aladdin is coming to theatres May 24, it's really a shame we don't get any wishes to get us there faster!
(Image via Walt Disney Pictures)
- Kyla Killackey, YH Contributing Writer