How To Travel With ONLY a Carry-On Bag!
07-28-2022 by Hayden Roberts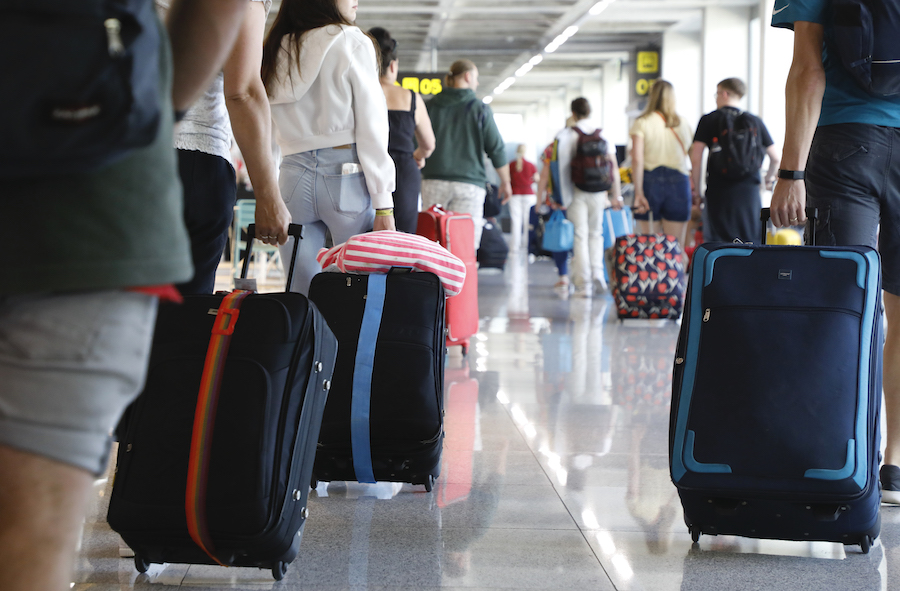 ( © Clara Margais/picture alliance via Getty Images)  
If you plan on traveling this Summer (or any other time of the year, really), you've probably spent some time fantasizing about the outfits you'll wear, the pictures you'll take, and the food you'll eat. As your vacation date draws closer, your excitement grows and grows, until… you have to pack.
Oftentimes, the worst part of any trip happens before it even starts. The process of packing is no fun. What should you bring? What do you leave behind? Do you really need 10 pairs of underwear for a 5-day trip? Although you are absolutely certain that you'll need every piece of clothing that you packed, ultimately you end up leaving half of your items untouched in the suitcase.
Packing is stressful, but it doesn't need to be. Traveling is much more enjoyable when you can focus on your journey instead of your luggage. I used to obsess over packing. I would struggle to drag my 2 oversized suitcases (plus a carry-on and personal item) through the airport. However, a friend of mine who often travels with only a carry-on bag recently shared some of her packing secrets with me. Now I am going to share them with you!
Here are some tips for how to travel with only a carry-on bag!
1. Only the Essentials
In order to be successful in your packing endeavors, you've got to be selective with what you bring along. Most airlines require carry-on luggage to be no more than 9 inches x 14 inches x 22 inches. 
First, pick out your undergarments -- Socks, underwear, and bras are necessities. However, be conscious of how many days you will be gone and don't overpack these items.
When selecting clothing items, a capsule wardrobe is your best bet. Select items that can be worn for multiple ways. Basics are a must. Think to yourself, "Will I wear this more than once?" If the answer is no, it's probably best to leave that item behind. While you may love your crazy red plaid pants, a pair of jeans or black pants are much more versatile.
Shoes can be tricky to pack when it comes to a carry-on. In my opinion, it's best to bring a comfortable pair of walking shoes or sneakers and a pair of sandals. While your shoe choices are entirely up to you, aim to pack no more than 3 pairs total. Shoes take up valuable luggage space!
2. Wear What You Can On The Plane
In order to maximize your suitcase space, you should be strategic in the clothes you wear while traveling. For instance, I always wear my bulkiest pair of shoes when traveling. Yes, it's incredibly difficult to wrangle Dr. Martens off while going through airport security; however, the precious space that large boots would take up in a suitcase makes the struggle worth it. Furthermore, wear your jackets, sweatshirts, and long pants while on the plane. Not only will this free up suitcase space, but it's often chilly on flights!
3. The Liquid Predicament
Liquids are by far the trickiest thing to pack in carry-on luggage. TSA regulations state that each liquid container may carry no more than 3.4 ounces. In addition to this, all of your liquid containers must fit inside of a single quart-sized bag. Thus, all liquids including toothpaste, contact solution, sunscreen, face wash, moisturizer, lotion, perfume, and so much more must all fit in one bag. Oh, and don't forget that food items such as peanut butter and nutella count as liquids too!
In order to pack your liquids successfully, you will need to buy some small travel containers. Include in your bag the liquids that are absolutely necessary for you to travel. Although it isn't ideal, things such as lotion and sunscreen can be left behind if necessary and bought at your travel location.
A truly great tip that I picked up from a friend requires you to buy a plastic contact case. Place face wash in the left side of the case and moisturizer in the right side. Although this may not seem like enough product to last you throughout your vacation, this one contact case has been able to last me a whole week. This trick is a must for space saving in your quart sized bag. Don't forget to mark the contact case so you don't confuse it with your actual contacts!
Lastly, place your liquids in a place that can easily be reached by TSA agents. It is pretty common for them to inspect a carry-on with multiple liquids bundled in one place. You don't want them to dig for it and ruin your perfect packing!
4. Learn the Ranger Roll
When attempting to shove all of your belongings into a carry-on, try the "ranger roll" strategy. This is a tactic that is often used in the military and it seriously works. Although you may think that rolling your clothes will cause wrinkles, the ranger roll should keep your clothes wrinkle-free if done on a flat, hard surface.
While I could try and explain the rolling process to you, I think it would simply be easier if you just watched for yourself.
Happy travels!