How To Revamp Your Wardrobe For The Winter!
Written by Jana Rosenberg. Published: November 23 2022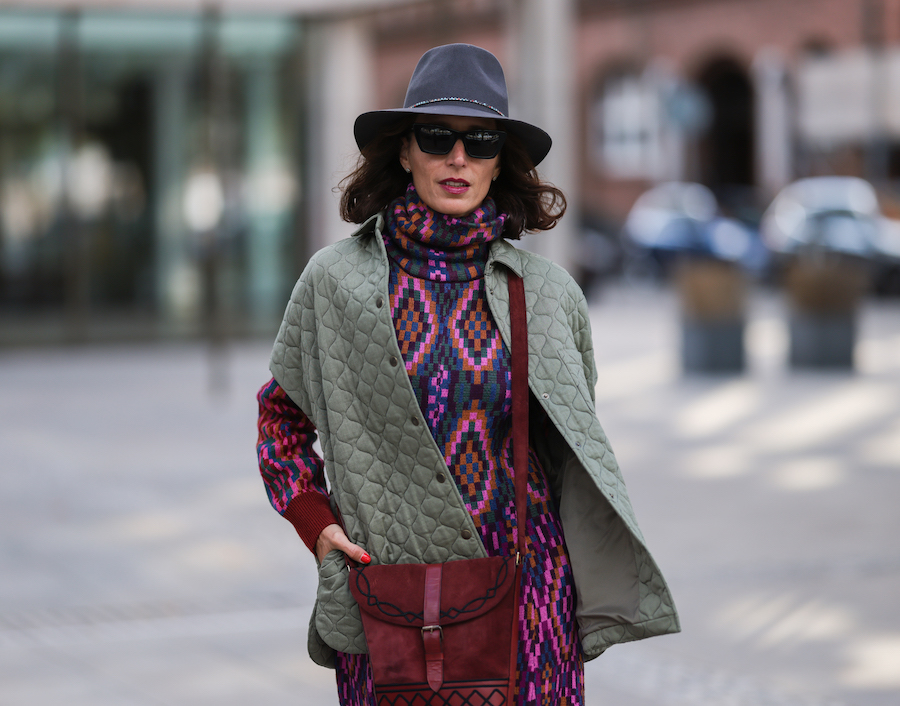 ( © Jeremy Moeller/Getty Images)
The Holidays are coming up, and the temperatures are going down, so you ladies know what that means -- time for a wardrobe revamp! This winter season, I have picked out 10 different looks PLUS 5 kinds of accessories that every girl's winter wardrobe NEEDS this season in order to stay in style with your favorite celebs.
WARNING: Will turn heads (… actually break necks) at all holiday parties!
1. Turtleneck Sweater Dress
To kick off this list is the ultimate style staple for this season's low temps. This kind of dress is fashionable, classy and comfortable. You can dress it up with a pair of thigh-high boots or dress it down with a pair of low-top Converse or a pair of leggings, depending on the length. You can find a dress like this in any warm fall color and wear it for any kind of day, evening, or event. 
2. Thigh-High Suede Boots
This brings me to number two on the winter wardrobe must-have list – thigh-highs! These boots have become the ultimate shoe to wear this season. As cute at they look with your turtleneck sweater dress, they look equally as cute with a pair of skinny jeans and shirt of your choice for a more casual-chic look. No matter what designer you get these boots from, they are guaranteed to look top-of-the-line.
3. Flannels
For me, flannels are a part of my wardrobe year-round. They are simple, yet the perfect piece of clothing to add spunk to just about any outfit. During the warmer seasons, I like to accessorize with them and tie around my waist. But for winter, they're great to actually wear – especially the ones that made with thicker material. This way, you're in style but keeping warm at the same time. #WinWinStyleSituation
4. Suede High-Wasted Skirt
Suede has been taking over stores everywhere, and while not everyonemay be a huge fan (like myself), a lot of people are and absolutelyslaying the look. Suede high-wasted skirts are super in right now. Pair it with some tights or boots of your choice and you're an instant fashionista. Plus, find one with buttons down the middle to add some extra flare to the look.
5. Oversized Sweaters
These have never really left the winter wardrobe must-have list, hence the reason they land smack-dab in the middle. Oversized sweaters are comfortable yet chic. They go great with a tight pair of skinnies or leather leggings (which I will be getting to later…) and a cute pair of booties. Add some chunky jewelry and BAM, one of the most reliable go-to outfits to rock not only this winter but even winters to come. PLUS, they're great for eating all of the yummy holiday you food you want. #HelloThanksgiving
6. Flare High-Wasted Jeans
Talk about "Sisterhood of the Traveling Pants" – these babies are a MUST HAVE! They make any body type look good with the right kind of shoes and top. They may have been popular back in the '60s and '70s, but today they are back on the scene pushing the need for skinny jeans aside. They are flattering, fitting, and fun and look best with a wedge or booty-heel.
7. Leather Leggings
Obviously, in black, you can never go wrong with a pair of leather leggings. Pleather or not, these babies are both edgy and chic and go with any kind of top and shoes. You can dress them up or dress them down depending on the occasion. A good pair of black leather leggings and the right kind of accessories to go along will always seal the deal. 
8. Army Green Jacket
This is something your wallet may not be too fond of, but your closet will LOVE. This chunky green jacket is warm, stylish, and can truly go with just about anything. You can pair this coat with anything from a turtleneck sweater dress to skinny jeans and an oversized sweater. It's the perfect finish for most of your winter outfits!
9. True Grit Jacket
These pull-over jackets just gave warm and cozy a whole new meaning. The big fluffy material comes in multiple different shades, and it is perfect for crispy-cold walks outside or to the movies on a chilly night. You may not break necks in this, but you will definitely be turning heads as it one of the warmest and comfiest additions you could ever add to your wardrobe. 
10. Sweater Beanie
Beanies have slowly been on the come-up from the last couple of winters, but this winter they are hitting an all time peak in the fashion world. You can wear a beanie to class on a cold winter day or even for a lunch or dinner date on the town with a friend and accompanied by a cute outfit.
Accessorize Too…
Every good outfit needs accessories to go along. Whether it's the color of your nails or the scarf around your neck, accessories can make or break any outfit. Get it right this winter with these 5 must-have items to accessorize your look!
1. Army Green Nail Polish
This color has been so underrated for so long and it's finally on the rise this season. Not does it make a great color for a big jacket, but it also makes a great color for nails. It's a great fall and holiday color and goes great with outfits of just about any color as well. 
2. Matte Raspberry Lipstick
Lip color has become a very important aspect of looks for women. Certain colors work best for certain seasons, but for the holiday season, a good matte raspberry is the perfect one. While you have to find the right shade for your skin tone, this color is sure to make a statement no matter where you go. 
3. Chunky Infinity Scarf
Scarfs are such a great way to finish of outfits in the winter. They are both warm and cute, and if you stick to a plain print, you can put them with a wide variety of outfits.
4. Black Bag
Black is the ultimate color, always, when it comes to style. However, in the winter, it is the ultimate go-to. Pairing a black bag with a winter outfit, whether it's a casual outfit for the day or a fancy outfit for the night, is the perfect way to finish off a nice, warm look. 
5. Shimmer Eye Shadow
While the darker and warmer colors cover your body, spice it up on the eyes with a nice shimmery peach shade. It's perfect for the holidays and goes great with any outfit, casual or dressy. Not only that, but it gives more of a natural look that the family loves to see!
6. Gold Jewelry
'Tis the season for GOLD! Gold is a cheerful color that draws everyone's attention. It's bold and spices up any outfit in your wardrobe. I never thought I'd say this, but ditch the diamonds this season and #GoForGold. You won't regret it. 
Do your wardrobe a favor this season and incorporate all of these looks and accessories into your holiday wish lists so that you and your closet are ready to conquer the coldest part of the year. Get warm and welcome eyes you've never welcomed before… if you know what I mean.
Happy Holidays and happy shopping, fashionistas!