How To Decorate For Fall On a Budget!
Written by Ariel Byrns. Published: November 02 2022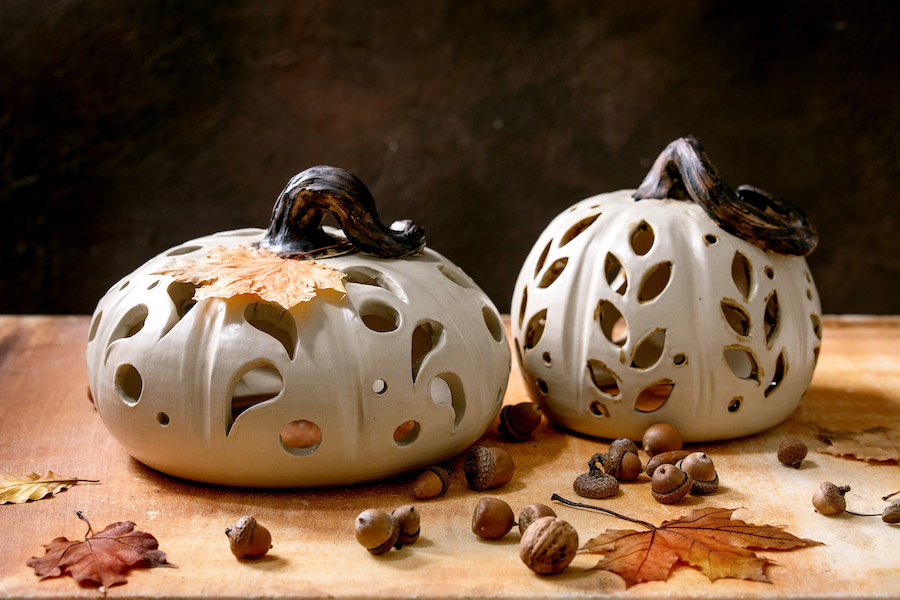 While we love seeing the gourd-geous and thanksgiveable decorations that stores release each year in anticipation of Fall, our bank accounts don't share the same sentiment. Decorating for the holidays can be expensive, especially if you're just starting your decor collection. If you're looking to spice up your space without fearing for your savings, try these three decorating techniques! 
1. Natural Decor
Instead of decorating your space with store-bought goodies, try decorating with things from outside that represent the season. This includes items such as leaves, acorns, pinecones, corn stalks, squashes, and pumpkins. The best part about this design style is, not only the fact that it is free, but it also prompts you to get outside and enjoy the crisp weather. Whether it be growing these items or foraging for them, the process of curating your collection will be a memorable Fall activity in itself! Some crafts that you could make with your found objects include: a pinecone garland, pressed leaf art, a DIY besom made using a branch and some twigs, and some dried flowers that can be hung up around your room to transform it into a witchy potion shop. This decor style allows for endless creativity. Don't forget to carve your pumpkins as a gourd-geous finishing touch!
2. Classic Decor
When we say classic, we mean it's time to take out the plastic pumpkins, the kitschy garland, and the orange and purple colored lights. Some may call these design elements cheesy, but we think they are so nostalgic and bring us back to childhood! Places such as the Dollar Tree, Dollar General, and 5 Below usually sell this variety of decoration. Many would be surprised to find out that these stores have large holiday sections, but it isn't all that spell-shocking; after all, these stores specialize in making products affordable and accessible to everyone. Aside from the aforementioned pieces, these stores also typically offer wooden wall hangings, door signs, wall decals, themed trinket dishes, and crafts centered around each holiday. While you're on your outing to the store, don't forget the candy!
3. Vintage Decor
Vintage style has come back in trend, not just in fashion but also in interior design! What better way to participate in the trend by decorating for your favorite holiday using pieces from the old renditions of it. However, instead of buying the new vintage-inspired pieces, we think going more authentic by acquiring actual vintage pieces is much more fun and will make your space look Fall-tastic! While vintage usually has the connotation of being expensive, this does not have to be the case. Going to secondhand stores such as Goodwill and the Salvation Army can yield great results as long as you are willing to dig through the aisles to find the best gems. During the holiday season, these stores usually have entire sections of curated decor for each holiday, and often they accumulate the decorations donated throughout the year and put them all out at the beginning of the season. This means that your Fall decor shopping is not only going to be easy and affordable, but the goods you purchase will also be entirely unique and fulfill your craving for vintage decor. Plus, shopping at thrift stores means you are shopping sustainably and giving a second life to a piece that otherwise would go to the landfill, how great would that be?!