Home Cooking With Iron Chef Cat Cora!
Written by Katie Marzullo. Published: July 08 2013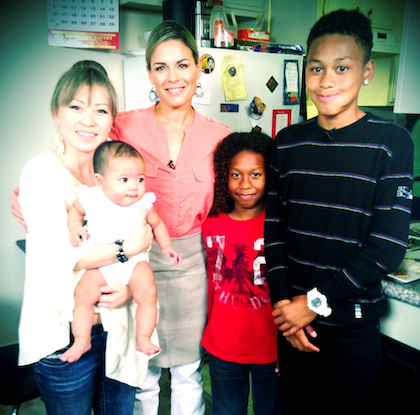 Not many people can say that they got a home-cooked meal personally prepared for them by an Iron Chef.
Not many except for Jamie Cha, a single working mother of three who was recently paid a surprise visit by none other thanCat Cora to get some helpful hints on how to whip up a dinner for four that's not only delicious but nutritious too! Times are tough, y'all, and those of us who can't afford personal chefs or to hit up Whole Foods on the reg need to figure out how to stretch that food dollar. It's even harder with three other bellies to fill. Cat to the rescue!
For those who don't know or don't watch Food Network nearly as much as I do, Ms. Cora is a world-renowned chef, having been bestowed upon her the title of Iron Chef, which basically means she is one of the best food-rustlers on the planet. Raised in a Greek community in her hometown of Jackson, Mississippi, the "Iron Chef America" regular fuses down-home Southern hospitality with the flavors of her ethnic background. And being that she is a busy mother of 4 herself, she could certainly relate to Jamie's desire to get a great meal on the table with little time to spare!
I had the pleasure of tagging along for this extra yummy pad-crashing, and even got to help out Cat in the kitchen (be still, my heart!) where she showed Jamie how to quickly roast a whole chicken, put together a simple salad, and even have time for a delectable dessert! All while using ingredients you can find at the local supermarket for $20-$30 total. I snuck a taste of each course when no one was looking, and I have to say, (a) it's been my dream for years to taste a meal prepared by an Iron Chef, and (b) I was not disappointed! The chicken was flavorful and juicy, even though she only used a handful of ingredients and only cooked it for about 30 minutes, and the dessert was addictive.
Good news is, ANYONE can make these dishes for themselves, and the even better news is, one whole roasted chicken can keep a family fed for an entire week. Leftover meat can be used in sandwiches or tacos or whatever, and you can boil the carcass to make a mean chicken stock for soups or just to freeze to have on hand! Just a couple little tips there from Amateur Home Chef Kate Marzullo…
Check out all 3 recipes in full below, followed by the video of Cat and Jamie in the kitchen. Allez cuisine!
Classic Greek Roasted Chicken with Lemon and Herbs
Kotopoulo Psito (Serves 4)
Ingredients
- 1 chicken (3.2 lbs.) preferably free range
- 1 TBS plus 1-1⁄2 tsps extra virgin live oil, plusextra for greasing
- 1 lemon, halved
- 1 tsp kosher salt
- 1⁄2 tsp freshly ground black pepper
- 1 TBS roughly chopped mixed herbs such as marjoram, rosemary, thyme, and sage
Directions
1. Preheat the oven to 400F.
2. Remove the giblets and the neck from the body cavity of the chicken.
3. Trim the tips of the wings and the skin at both ends of the bird. Rinse inside and outside, and pat dry with paper towels.
4. Rub the chicken on all sides with the olive oil, then squeeze the lemon over the chicken. Rub in the salt, pepper, and herb mixture on the outside of the chicken, and then place a pinch of each in the cavity along with the juiced halves of the lemon.
5. Place in a lightly oiled roasting pan and roast, uncovered, until the juices run clear from a leg when pierced in the thickest part, about 45 minutes. Let the chicken rest for 10 minutes before carving.
Strawberry and Avocado Salad
Ingredients
- 10 strawberries, sliced
- 1 avocado, peeled and diced small
- 1 cup of rocket, mizuna, or arugula
- 1/4 cup of hazelnuts, toasted and rough chopped
- 1⁄2 cup gorgonzola, crumbled (or other cheese of your choice)
- 1⁄2 cup of roasted shallot dressing (see below)
Roast Shallot Vinegar
- 1/4 cup champagne vinegar
- 3/4 cup olive oil
- 2 oven roasted shallots
- 1 clove garlic, minced,
- 1 bunch thyme, minced
- 1⁄2 teaspoon salt
- 1⁄4 teaspoon pepper
In a blender, combine roasted shallots, garlic and champagne vinegar and liquefy. Then emulsify slowly with pure olive oil. To finish, fold in thyme and salt and pepper to taste.
Yields 1-1⁄2 cups.
Directions
In a mixing bowl, toss together the strawberries, avocado, arugula, cheese and dressing. Mix well and place on a serving plate. Top with toasted hazelnuts and serve.
Chocolate Budino
Makes 12 small cakes or one 9-inch round cake
Ingredients
- 1⁄2 pound high-quality bittersweet chocolate
- 3 large eggs, plus 3 large yolks
- 3 tablespoons all-purpose flour
- 1⁄2 cup sugar
- 12 TBS (1-1⁄2 sticks) unsalted butter, softened
Directions
1. Preheat the oven to 350° F.
2. Grease or spray two 12-cup muffin tins with vegetable or canola oil. (You can also use just one tin and bake the batter in two batches.) Wipe out excess oil with a paper towel. Set the tin aside.
3. Melt softened butter in a large bowl set over a saucepan of hot water (bain marie or double boiler) over very low heat. As the butter is melting, grate the chocolate or chop it into small shards with a chef's knife or a serrated knife. (It's easiest if you begin at a corner, particularly if the chocolate is very thick. Take it slowly and keep your fingers safe.) Once the butter has melted, place the chopped chocolate in the bain marie and allow the chocolate to melt slowly, stirring until the mixture is smooth and the chocolate is completely incorporated. Remove the bowl from the hot water and set aside.
4. In a separate bowl, gently whisk the whole eggs, egg yolks, sugar, and flour. Mix until all of the ingredients are well incorporated.
5. Slowly temper the sugar/egg mixture into the chocolate/butter mixture, stirring vigorously until well combined.
6. Spoon the batter into the prepared muffin tins, filling each cup three-quarters full. 7. Bake for 11 to 12 minutes for mini muffin tins, 18-20 minutes for full cake. The edges will have just begun to pull away from the pan, and the top of each budino should still look moist and shiny at the center.
8. Remove tins from the oven and allow them to cool for 10 minutes. While the tins are still warm, place a baking sheet over the top of each muffin tin and invert it. Carefully lift the muffin tin to release cakes. Transfer the cakes to a serving platter or individual dessert plates. They're at their best if served warm, but are also delicious at room temperature served with crème anglaise, whipped cream, and/or fresh berries.
Find out more about Cat's latest endeavors on her Official Website and follow her on Twitter!
- Katie Marzullo, YH Staff Editor