4 Reasons You Should Be Tuning in to ABC's "American Crime"!
Written by Nicole Koch. Published: March 23 2015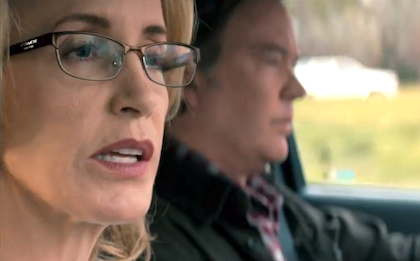 Well, I've already started going through "How to Get Away With Murder" withdrawals since the season ended a few weeks ago. But thankgoodness, ABC thought ahead and provided us crime show addicts with another amazing series to keep us busy until it returns! Here are four reasons why you should definitely tune into "American Crime" every Thursday night at 10pm:
1. The creator is crazy talented.
His name isJohn Ridley -- yes, THE John Ridley who won an Academy Award for Best Adapted Screenplay for 12 Years a Slave. He's written other screenplays such as 2002'sUndercover Brother, 1997's Cold Around the Heart, and 1999's Three Kings, which was nominated for a WGA Award! He's also a novelist, and has written seven books. Dude's got a gift!
2. The cast and characters are intensely diverse.
The cast includes a mix of veteran actors and up-and-coming young talent who deliver super raw performances. Felicity Huffman,Timothy Hutton, W. Earl Brown, and Penelope Ann Miller are just SOME of the actors who make appearances. The characters are all racially diverse and come from different social backgrounds, making it an intense but real-world story.
3. The storyline is gritty and racially charged.
The show centers around a brutal attack of a young couple in Modesto, California (NorCal Pride, what's up!). Matt Skokie, a war vet, is murdered, and his wife, Gwen, is left unconscious. The crime affects the entire community, causing suspense between socioeconomic and racial lines. Sounds amazing, right? It dives head-first into stereotypes and real-world drama we see on our American streets every single day. Who's the murderer? And why are there so many secrets?!
4. It's not too late to start watching
It's only three episodes in, so you totally have time to catch up. It's still in the introductory stage, where background information and secrets are coming  out! So get on it! However, if you're a binge-watcher, then I guess you still have about seven to eight weeks before you have to plop your happy butt down on the couch to watch.
So, did that convince you?! I hope it did, because you're totally missing out already. Be sure to watch the trailer below for more convincing:
(Screenshot via YouTube)
- Nicole Koch, YH Staff