Highlights From The 80th Annual Golden Globes Nominations!
Written by Katie Marzullo. Published: December 12 2022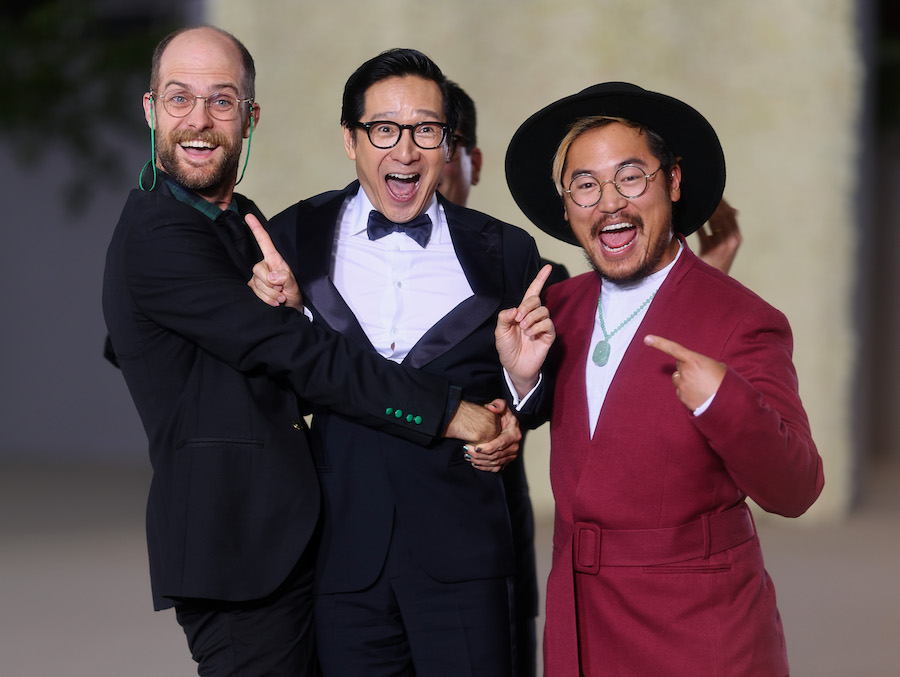 The year may be ending, but Awards Season is just getting started, and with the announcement of this year's Golden Globes, we not only get our first real glimpse of the Oscar race, but we also get a sense of what we might be seeing at next year's Emmy Awards (while providing a last shot for some after this year's Emmys).
So without any further babbling, let's break down some of the most interesting tidbits!
TELEVISION:
- The "Game of Thrones" franchise makes its first big return to awards competition thanks to the new spinoff/prequel "House of the Dragon", which makes an appearance at the Globes albeit a very low-key one. While nominated for Best Drama Series, as expected, only one of the many brilliant actors in the show, Emma D'Arcy, was nominated (for Best Lead Actress in a Drama Series). Yes, no Matt Smith, no Olivia Cooke, no Milly Alcock, not evenPaddy Considine, who consistently ate and left no crumbs every episode, was recognized. While it's true that even "Game of Thrones" never made a very big splash at the Globes during its run (with only 8 total nominations and one win), I am nonetheless surprised since this series really came hard on the performance front. I guess we'll have to wait until next year's Emmys to see this series really make its mark. (Also perhaps worth noting that "HotD"'s biggest competition this year, Amazon's "The Lord of the Rings: The Rings of Power" received zero nominations...)
- Another show that was praised across the board but got a rather "whomp-whomp" reception from the HFPA was Lucasfilm's "Andor", coming away with a measly – though very well-deserved! – one nomination, for Diego Luna as Best Actor in a Drama Series. The Star Wars franchise has had some observable trouble over the years of breaking into the major award shows, and like "HoTD" I truly thought "Andor" would be the breakthrough, but no such luck. Again, we'll have to see what next year's Emmys bring for this show. Lucasfilm's other big series from this year, "Obi-Wan Kenobi", was shut out completely, as was Marvel's "Moon Knight".
- Speaking of shut out completely, I am none too pleased to see absolutely no love for AMC's "Interview with the Vampire", especially nothing for its two outstanding leads, Jacob Anderson andSam Reid. Objectively one of the best new shows with some of the best performances of the year, and it pulls a goose egg?? Shenanigans!
- "The Crown" made a characteristically decent showing in the nomination lists this morning, being recognized for Best Drama Series (natch), but only Imelda Staunton, Jonathan Pryce, and Elizabeth Debicki making the acting categories. To be fair, Debicki was really the only performance worth remembering this season (I said what I said!).
- "Abbott Elementary", which made quite an impact at their first Emmys a few months ago, leads the pack of all television shows with 5 total nominations – which doesn't seem like a lot, but with a packed race, it's still nothing to sneeze at. Although series creator and star Quinta Brunson won an Emmy for Best Writing but lost out on Best Actress, she'll have a chance to pull off a Globes win this year.
- But Quinta will have some heavy competition to contend with, not the least of which last year's winner Jean Smart ("Hacks"). She's also up against past nominee Kaley Cuoco("The Flight Attendant") as well as two exciting newbies:Selena Gomez, who is FINALLY recognized alongside her legendary co-stars for "Only Murders In The Building, andJenna Ortega, whose performance as the titular "Wednesday" still has the masses buzzing.
- Netflix's divisive mini-series "Dahmer – Monster: The Jeffrey Dahmer Story" made just about everyone uncomfortable but nonetheless walked away with 4 nominations this morning, including acting nods forEvan Peters (as Dahmer), Richard Jenkins (as Dahmer's dad), and Niecy Nash(as the largely fictionalized next-door neighbor). The series itself was also nominated, but alongside the likes of "The White Lotus" and "The Dropout", its chances are low (but not zero).
FILM:
- The Brenaissance continues on schedule as, to no one's surprise,Brendan Fraser received a nomination for his role in the just-released The Whale. This comes after Fraser announced that, even if he was nominated, he would not attend the ceremony due to the sordid history he has with the event – and honestly we don't blame him, even though we hope he wins! He'll have some stiff competition, though, primarily from the likes of Austin Butler (Elvis), whose nomination also comes expectedly.
- Another big comeback story we love to see in these lists is none other thanKe Huy Quan, who is up for Best Supporting Actor in a Motion Picture for his role in Everything Everywhere All At Once. Quan, who is best known for his childhood roles inThe Goonies and Indiana Jones and the Temple of Doom, is perhaps an even bigger comeback story than Brendan Fraser, having waited out his big return for DECADES. The movie comes away with 6 nominations total, including Best Motion Picture Musical or Comedy, Best Director (Dan Kwan &Daniel Scheinert), Best Screenplay (DK & DS), Best Supporting Actress (Jamie Lee Curtis – her 8th nod), and, of course, the GOAT herself, Michelle Yeoh for Best Actress.
- The award for most nominations of any film, though, goes to the Irish dramedyThe Banshees of Inisherin, a film that was heavily promoted by its stars but seen by nobody I know. The two leadsColin Farrell and Brendan Gleeson, both picked up nominations, though only Farrell is in the Lead category while Gleeson is relegated to Supporting along with co-star Barry Keoghan. Kerry Condon also picked up a nom for Supporting Actress whileMartin McDonagh and Carter Burwell are nominated for Screenplay & Director and Score, respectively. The movie is nominated for Best Motion Picture Musical or Comedy as well, obviously. It's up against the likes ofEverything Everywhere All At Once and Glass Onion, though, so it has some work to do.
- As we expected, the still-to-be-released and (very) long-awaitedAvatar sequel, The Way of Water, squeaked into the nomination lists, though only in the Best Picture Drama and Best Director categories. We can expect the same at the Oscars next year plus a whole slew of technical awards.
- The Best Director category will see a battle between some major heavyweights, including James Cameron andSteven Spielberg, who both make triumphant returns after a hiatus. Will they perhaps split the vote and hand over the trophy to Elvis's Baz Luhrmann, or will the team of Kwan & Sheinert blow them all out of the water?
- The Best Original Song category is stacking up to be a mini-Grammys event, with Rihanna ("Lift Me Up" from Wakanda Forever), Taylor Swift ("Carolina" fromWhere The Crawdads Sing), and Lady Gaga("Hold My Hand" from Top Gun: Maverick) all having entries up to win.
- Speaking ofTop Gun, the universally loved sequel got its flowers with a nom for Best Motion Picture Drama, but none of its cast were recognized, including Tom Cruise. This is perhaps not surprising since Cruise famously returned his previous Golden Globe trophies in a show of solidarity against the HFPA's notorious lack of diversity.
- After being outrageously snubbed last year despite appearing in roughly 82 films, Adam Driver finally makes a return to the Globes, nominated for his role in the soon-to-be-released White Noise. Consolation prize? Perhaps. He's up against the likes of Daniel Craig, Ralph Fiennes, and Colin Farrell, though, so he might just have to be honored just to be nominated (again).
- And speaking of snubs... the HFPA gave a big fat stinking "nope" toJordan Peele's NOPE, and I need a moment...
- The Best Actress in a Drama category sees the very expected appearance ofAna de Armas for her transcendent role asMarilyn Monroe in the controversial Blonde, but she has some extremely strong competition, sharing the category with the likes ofMichelle Williams, Viola Davis,Cate Blanchett, and Olivia Colman, who have a combined 33 Globes nominations and 9 wins between them! No pressure! But as I have ranted about before, Hollywood loves a cosplay, so she might actually pull off the upset. Fun fact, Williams's first Golden Globe win was for also playing Marilyn Monroe!
Check out the full list of nominees here. The 80th Annual Golden Globes will take place on January 10, 2023 on NBC and Peacock with hostJerrod Carmichael.