HIDDEN ON STREAMING: "StartUp"
Written by D.J. Rivera. Published: November 30 2018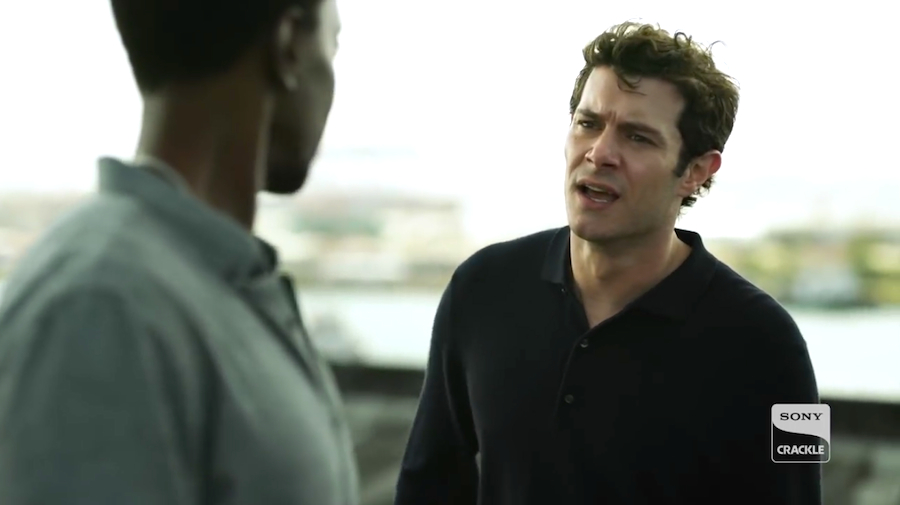 I don't know about everybody else, but I am always on the lookout for the next show to sit back with and binge away. While network TV does get a few hits, for me it is all about the streamers. I thrive on being the guy that always knows the next hit before anyone else does, and I think I just found another solid entry. If you are looking for that next addictive binge-worthy series that has something no other show has, then Crackle's gritty crime drama "StartUp" is exactly what you have been looking for.
The series, brought to life by writer and director Ben Ketai, gives audiences a look into the future of technology and its effects on organized crime. The premise revolves around cryptocurrency and the Dark Web. A desperate banker, a Haitian-American gang lord, and a Cuban-American hacker are forced to work together to unwittingly create their version of the American Dream -- a decentralized currency that can be utilized solely on a cell phone. Their brilliant idea can't get traditional financing, so it gets funded by dirty money. Their cyber-criminal ordeals eventually lead them to create a neutral Internet called Araknet. This Dark Web network keeps the government out and allows for total privacy. The Crackle series takes place in beautiful Miami, which has a stellar cast consisting of stars Adam Brody, Edi Gathegi, Addison Timlin, and Otmara Marrero.
"StartUp" has seen some serious star power since its debut. Actor Martin Freeman played a corrupt FBI agent in the first 2 seasons, portraying one of his most badass characters to date. Phil Rask isn't someone you want to cross, and Freeman kills it in his dominating performance as the crooked lawman. Freeman continued into the second season, which saw the arrival of Ron Perlman, who plays Wes, the financier who runs his outfit with an iron fist and doesn't do well with individuals who mess with his money. And in the show's third season, the hit Crackle series welcomes actress Mira Sorvino, who guest stars as a mysterious NSA agent.
I don't know much about cryptocurrency, and I am way too scared to check out the Dark Web, so this show definitely gives audiences a glimpse into the dark corners of the internet and what could possibly be the future of currency. It is pretty cool how grounded the story stays with enough references to actual tech innovations to help familiarize you with what is going on. I'm not saying you'll be a cyber wiz by the time you marathon all 3 seasons, but you'll definitely be 2 steps ahead of the person that hasn't seen the show. All in all, this show has many things to offer, including a compelling story, solid cast, and not to mention it's completely FREE to stream on the Sony Crackle App. No need to waste your Bitcoin fortune on this one, I mean it is not everyday you can get something this good for free...
All 3 Seasons of "Startup" are now available on Sony Crackle.
(Image via Sony Pictures)
- D.J. Rivera, YH Contributing Writer