HIDDEN ON STREAMING: "She-Ra and the Princesses of Power!"
07-27-2020 by María Calvo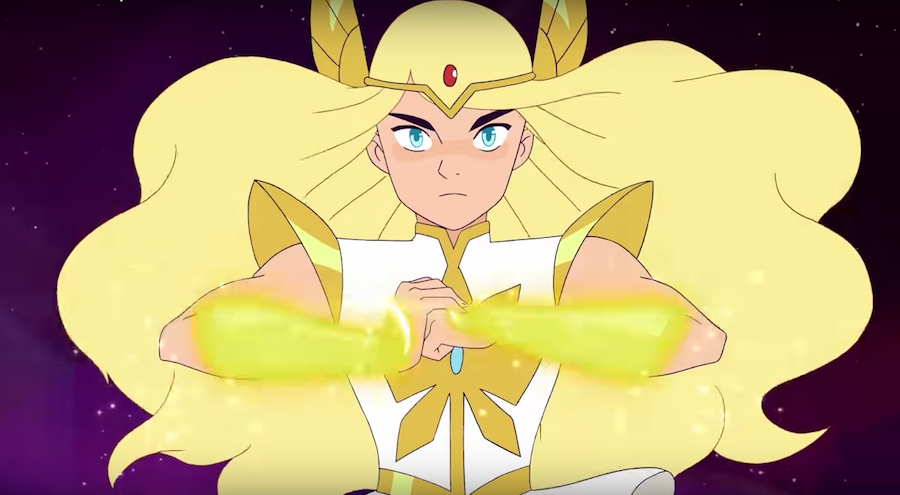 ( © DreamWorks/Netflix)  
Now that the series is officially over, there are no excuses: you need to watch Netflix's animated reboot "She-Ra and the Princesses of Power" ASAP!

The reboot of the classic '80s show has been the definition of AMAZING: the complex characters, emotional moments, and redemption arcs led us to a brilliant, unforgettable story that has left us pretty much speechless! Oh, and did I mention that it's extremely LGBTQ-positive?
The story begins with Adora, a young Horde soldier who has spent all her life training in the terrifying "Fright Zone" alongside her best friend Catra. But when she finds an ancient sword in the woods, she'll start questioning whether the Horde's intentions for her planet are well-meaning. Luckily, her new friends Glimmer and Bow are there to lend a helping hand! As she joins the princess rebellion and learns more about her powers, she will have to make a choice: how far is she going to go to fulfil her destiny and save Etheria?
Played byAimee Carrero ("Elena of Avalor", "The Americans"), Adora has a long journey ahead of her. As she discovers the truth about She-Ra's legacy and her own identity, she'll need to face her once-time bestie Catra on the battlefield and several deadly rebel missions. In fact, their relationship might be one of the most fascinating aspects of the entire show!
But one of the show's biggest strengths are its plot-twists: every season, our heroes face newer, more dangerous challenges that keep you at the edge of your seat 24/7!
We said that this is a LGBTQ-friendly show and we meant it. No queer-baiting here: there are genuinely a lot of LGTBQ representations on and off of the screen. Noelle Stevenson, the series showrunner, made sure that this was a safe place for everyone, regardless of their sexual orientation, where differences are celebrated instead of being kept in the dark. We don't want to spoil anything (although we're dying to!), but getting to the last season really pays off.

Plus, there is a lot of diversity regarding body shapes, skin color, and neuro-divergence -- nothing like its predecessor! Beauty is portrayed in many ways, not to mention themes of compassion, forgiveness, and redemption, something that is honestly very refreshing and welcomed these days.
And if this enough to make you give it a chance, then let me say this and I'll be on my way: the artistry and animation are beyond outstanding!
To sum up: we need more shows like "She-Ra: Princesses of Power", so don't forget to check out all 5 seasons on Netflix!