HIDDEN ON STREAMING: 'Deathgasm' (2015)
Written by Kevin Donaldson. Published: September 21 2016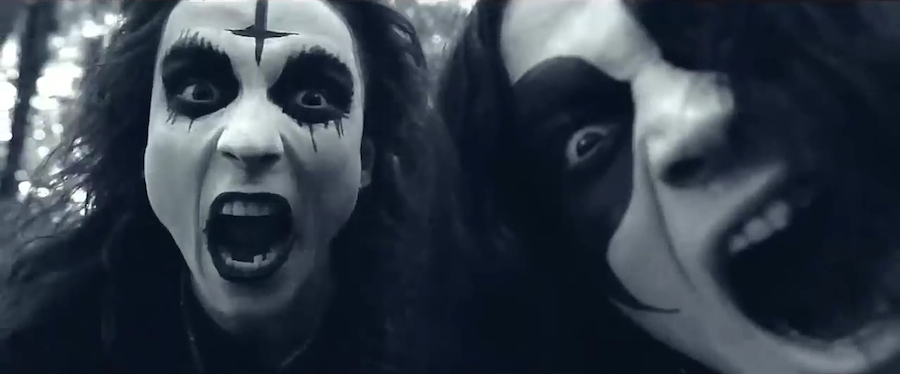 Let's just go ahead and call it Halloween Season, shall we? Sure, why not. And just in time for the holiday, have I got a spooky Hidden on Streaming for you, kiddies! AHAHAHAHA! [<-- supposed to be read as a witch cackle]
The movie we're talking about today is an indepedent New Zealand collaboration by a VFX artist, colorist, and other post-effect stuff on such movies as The Hobbit series,Prometheus, The Avengers, and a few other Marvel flicks… wait, those guys can direct? The man in question,Jason Lei Howden, ca not only just direct, but he can actually write too, which came as a huge surprise when I recently saw his 2015 directorial effort called Deathgasmon Netflix!
This recommendation actually came from my stepdad, who got my best friend from childhood and I to watch it with him when I went home for a visit recently. I will preface this by saying that, when it comes to movies and TV -- especially comedy -- my stepdad has darn good taste. The thing is, though, you never truly know with Netflix. I've had my successes with great hidden movies, but I've had plenty of failures too, so I always enter a Netflix suggestion with a level of skepticism. Once Deathgasm started, however, I was completely sold that this would be a fun movie, and it certainly is.
I've realized now that I haven't even said what it's about! Here it is in a nutshell, tricks and treats.. To clear things up first,Deathgasm takes place in New Zealand. Not Australia and certainly not England, like my friend initially thought, but I'll give him that one since the daytime scenes are mostly shot during overcast weather. The main character, Brodie, is taken away from his mother, who has recently gone on a meth binge and is not deemed fit to continue to raise her metal-loving teenage son, so he moves in with his religious Aunt and Uncle who believe him to be the devil, and his wicked cousin who teases and bullies him relentlessly. At school, he pines over the lovely Medina, who happens to be sort of romantically entangled with Brodie's cousin, but at the end of the day, he's just a nerd who can only make friends with the D&D-loving sect. His life changes when he meets a burnout high school-dropout bassist (and my favorite character of the movie) named Zakk at the record store with his own troubled parental-inflicted past. The two forge a friendship and begin a band.
Finding a fictional burnout metal band mate to steal a limited edition album from him, the boys actually find a blood hymn that some local Satanists are after. The kids eventually play it, believing it could be a big hit for their band, but things get too intense for them and they can't finish. It's only when Brodie finds an even more selfish reason to play it -- believing it will evoke a power in him that will get him the girl and stop getting bullied by his cousin -- that it ends up raising the dead and bringing about the coming of an Anti-Christ-type figure. I won't spoil anymore for you here, but things get quite gory in the tradition of another New Zealand splatter flick, Peter Jackon's Dead Alive.
I seem to have forgotten to mention… Deathgasm is a comedy, but its plot is quite horrifying if shot a different way, so, as you can guess, it's a horror-comedy! Plus, add in some metal twinge to it with shoutouts to actual bands like Cannibal Corpse. Some of the gore and spectacular special effects, which definitely draw influences from the classic splatter flickEvil Dead, could be seen as frightening to kids and certain squeamish adults, but this flick is definitely not one for the kids. In the U.S., this would be a hard R, but boys 13 and up would probably like it quite a bit as well.
So what're you waiting for? Oh, right, a trailer! Well, before that goes up, I'll urge you one last time to see this movie. Halloween is right around the corner and this is also a directorial debut of somebody that Hollywood needs to call ASAP. Howden made a lot with seemingly little budget for a film. I can't find the exact amount online, but I know he won a "Make My Horror Movie" contest in 2013 and was awarded $200,000 in New Zealand dollars to do so. Who knows how much, if any, more money was raised for this, but it's put together quite nicely. Heck, it's even got an 86% on Rotten Tomatoes.Secret Life of Pets doesn't even have that!
(Image via YouTube)
- Kevin Donaldson, YH Contributing Writer