HAPPY PASSOVER! Explaining the Seder Dinner
03-25-2013 by Katie Marzullo
As I'm sure y'all know, this week is the Jewish holiday of Passover, and you have probably seen countless postings on your Facebooks and Twitters from friends about attending a Seder dinner. For those of you of the non-Jewish persuasion -- like me -- you might be wondering what exactly this is. I'm curious myself. Let's find out together, shall we?
So, the Seder is actually a feast that marks the beginning of Passover.
A feast? Sounds good, do go on!
Oh, but this is not your casual sit-down dinner. It's a highly detailed ritual that has been observed over countless centuries and remains one of the most widely celebrated of the Jewish holidays all over the world.
Both the table and the participants are dressed in their very best. The family gathers for the retelling of the Jewish liberation from slavery and Exodus from Egypt. Basically, this holiday is a celebration of freedom -- something we can all get behind, right?
So where does the feast part come in?
The foods served at the Seder are all symbolic and are served on a special Seder Plate. They are:MarorandChazeret(bitter herbs such as horseradish root or romaine lettuce),Charoset(a paste made of fruit and nuts),Karpas(non-bitter veggies like celery or potatoes),Zeroa(roasted leg of lamb), andBeitzah(a roasted whole egg). The foods are eaten individually at different points in the Seder ceremony.
But it's not just for the Jewish peeps either! Part of the tradition is to invite outsiders to the meal to share the experience with them. Even some Christian sects have incorporated the Seder into their own observances. Even President Obama holds Passover Seders at the White House.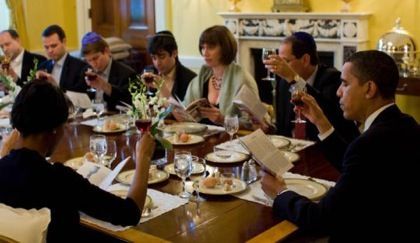 The celebs have gotten into the holiday spirit as well. Joan and Melissa Rivers plan to get their Seder on this year, as will musician Matisyahu, though he admits that the holiday is "not particularly easy" for him. You might spot comedian Jerry Stiller at the annual Downtown Seder in NYC, One Direction's Harry Styles plans to take a few days off to spend time with his family for the holiday, and Brat Packer Judd Nelson makes a mean matzo ball soup. Yum!
So, to all our Jewish readers out there -- HAPPY PASSOVER! And please invite me to your next Seder!
(Photos via WENN)
- Katie Marzullo, YH Staff Editor