5 Halloween Playlist Essentials!
10-29-2020 by Andi Ortiz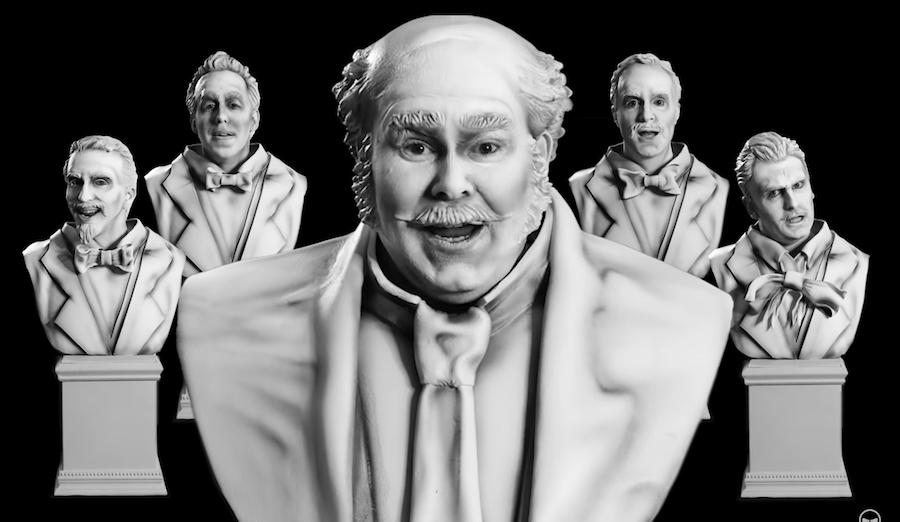 ( © VoicePlay/YouTube)  
Happy Spooky Season, y'all!
To be fair, all of 2020 has been fairly spooky – to put it very gently – but we've officially entered the fun kind of spooky that we can actually enjoy! It's the time for carving pumpkins, watching scary movies, and feasting on pumpkin- shaped Reese's peanut butter cups (because we can all admit they're the best Reese's cups).

It's also just about time for "Spooky Scary Skeletons" to make its way back onto our TikTok feeds and our Halloween playlists.
For as awesome as the "Spooky Scary Skeletons" remixes are, though, the song is not the only one that should be on your Halloween playlist. Be sure to add these others!
1. "Grim Grinning Ghosts"
Like "Spooky Scary Skeletons", "Grim Grinning Ghosts" is a Disney classic that has been around for years as part of The Haunted Mansion. It's also one of those songs that, with the right arrangement, can be dangerously catchy.
Our recommendation? VoicePlay's version of "Grim Grinning Ghosts". Not only did they add a much-needed bounce to the tune, they got creative with the video.
2. "I Put A Spell On You"
Despite what most people might think, "I Put A Spell On You" is actually an incredibly old song. It was first released back in 1956, but today's generations almost exclusively know the tune from Hocus Pocus.

Sadly,Bette Midler's rendition isn't available for streaming yet (but we have our hopes). In the meantime, a perfect version of "I Put A Spell On You" to add to your playlist this year comes fromVoctave, with the help of Rachel Potter. Together, they teamed up to create a mashup of "I Put A Spell On You" and "Poor Unfortunate Souls" from The Little Mermaid and IT. WORKS.
3. "Day-O (Banana Boat Song)"
Technically, this isn't specifically a Halloween song. But it was used inBeetlejuice, so we're going to go ahead and count it – especially because, if you put this on at a (socially-distanced) party, every single person will stop dead and sing along.
Sorry not sorry for putting this in your head for the rest of the day.
4. "Feed My Frankenstein"
School's out! Not for Summer, just for Fall break. Still, it's the perfect time to bust out Alice Cooper's "Feed My Frankenstein".
It's the perfect song for an at-home dance party over Zoom. You can't help but head bang to this song, and too often it flies under the Halloween playlist radar.
5. "Double Trouble"
Okay, we'll be the first to admit that this song probably doesn't make it onto the Halloween Zoom Party playlist. But it should make it onto your Halloween Mood Music playlist – you know, the one you blast at home when you're trying to find some semblance of productivity during the day?

It's surprisingly catchy, and just spooky enough to set the vibe without totally distracting you. Then, once you've finished your work, you can just go binge the Harry Potter movies like you know you want to! It's a Halloween necessity.
Happy Halloween!