Got $20,000? Be a Part of the "Game of Thrones" Body Count!
Written by Katie Marzullo. Published: June 06 2014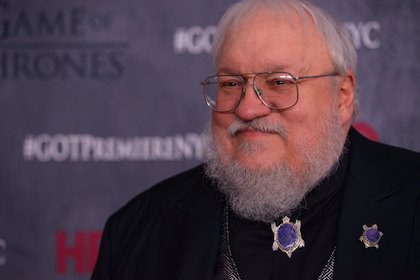 If you are a "Game of Thrones" fan, then you have no doubt developed a thick shell over your heart, not unlike a callous formed over years of hard labor. Only this callous has grown due to the unspeakably numerous times your heart has been broken by watching characters for whom you have grown quite fond get slaughtered right before your very eyes. As we were reminded yet again this past Sunday, NO ONE is safe in George R.R. Martin's world.
Yep, cruel death is a fact of life in Westeros, but the one bright side of meeting a shocking and grisly end is that you ironically achieve a degree of immortality. At this point, it's almost become a mark of honor to be on the business end of Martin's poison pen.
And now, YOU can have the opportunity to experience a horrible yet creative demise care of the author himself! By proxy, of course.
It's no secret that Martin loves him some wolves – they're all over the place in his A Song of Ice and Fire books. So, it's therefore no surprise that the author is all about their preservation in real-life, and as such he is a fervent supporter of the Wild Spirit Wolf Sanctuary in Santa Fe, New Mexico. He wants you to get involved too, and he's enticing you with the opportunity of a lifetime – for the right price.
By donating a paltry $20,000, you can make a cameo appearance in one of Martin's next installments of the books on which the HBO show is based (he's currently working on number six). As the contest page on Prizeo states: "There is one male character and one female character available. You can choose your character's station in the world (lordling, knight, peasant, whore, lady, maester, septon, anything) and you will certainly meet a grisly death!"
If that's a little too rich for your (inevitably spilt) blood, then there are other ways you can contribute and receive rewards: $15,000 will get you a breakfast with Martin himself, and $7,500 will get you into the "Game of Thrones" Season 5 premiere OR Martin's signature hat (hmmm, a premiere, or a hat…?). If you're on more of a budget, you can shell out $600 for a signed "Game of Thrones" cookbook, or $25 to get an e-thank you card from Martin. Some of the proceeds will also go to The Food Depot of Santa Fe in addition to the wolf sanctuary.
Here's a video of Martin himself showing off some of these adorable and majestic canines and describing another cool perk for your generous dollaz:
As of this writing, Martin has already raised $199,000 of his $200,000 goal, and there are still 59 days left in the campaign, so any contributions after today will just be icing on the cake. So if you wanna piece of the action, then go go go, before The Mountain crushes your skull!!!
Catch "Game of Thrones" this Sunday night on HBO (at your own risk), and also check out our recent interview with star Sophie Turner, who actually adopted one of the wolves from the show!
(Photo via Ivan Nikolov/WENN)
- Katie Marzullo, YH Staff Editor