Get Your 'Paranormal Activity' Fix with Spin-Off Flick!
Written by Katie Marzullo. Published: December 05 2013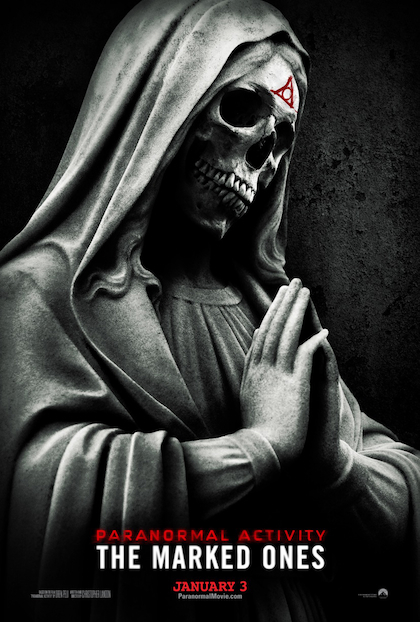 (Photo © Paramount Pictures)
YIKES!
If you're like me, then you probably noticed something missing this past Halloween – namely, a new Paranormal Activity movie. For the past 4 years, the found-footage film franchise created byOren Peli has been duly keeping us up at night for days on end. I stopped going to see them in the theatre after the first one cost me a week's worth of sleep and will only watch the sequels on TV in the comfort of my own home… in broad daylight.
There is indeed a 5th installment on its way, but not until Halloween of next year. In the meantime, though, we can still get our fix just after the new year, as a spin-off film, Paranormal Activity: The Marked Ones, is slated to hit theatres on January 3.
Written byPA2-4 scribe Christopher Landon, the only plot details we have at this point is the very vague logline: "After being 'marked', Jesse (Andrew Jacobs) begins to be pursued by mysterious forces while his family and friends try to save him." From what I understand, this film definitely ties in with the storyline of the other Paranormal Activity films, so I can only assume that this "force" is the same one that terrorized Katie (Katie Featherston) and her family throughout the other movies. And judging by the teaser trailer (below), the creep factor is being kicked up to 11 here. No more creaking doors or ominous footsteps coming from downstairs – we have full-on furniture explosions, window shatterings, freaky cult shrines, and, of course, terrifying children. Good thing I watched it in the afternoon.
Check it out for yourself below!
- Katie Marzullo, YH Staff Editor