Get Ready for "Miley: Unplugged"!
Written by Skyler Wahl. Published: January 29 2014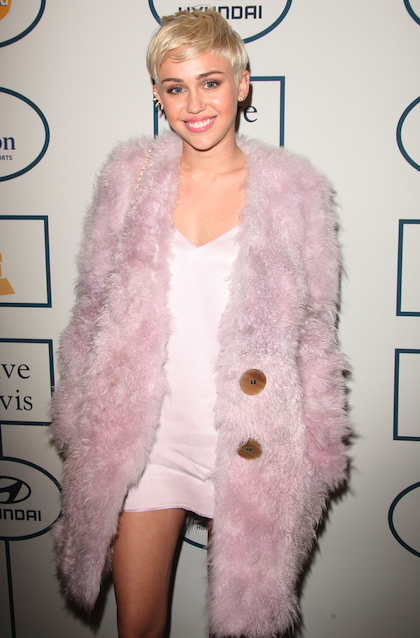 The release of Miley Cyrus's "Adore You" music video showed our Tennessee-born star under the covers looking coyly into a handheld camera. Tonight, you'll see that she made "the climb" (see what I did there?) out of her bed for the taping of her very own "MTV Unplugged" special.
Yesterday, I watched as Miley took to her country-themed stage to perform some of her latest tracks off her lastest album, BANGERZ. And just as her album title suggests, every song is a banger.
Before the show started, I sat waiting patiently for the untamable Miley Cyrus, amongst approximately 100 supporters. "Smilers", dedicated fans from the years of "Hannah Montana", sat side-by-side talking about the songs they hoped would be performed. Scattered throughout the audience sat father Billy Ray, mommaTish, sister Brandi, as well as our songbird's manager Larry Rudolph,Chelsea Handler, and "Scandal" stars Darby Stanchfield and Guillermo Díaz.
As the "MTV Unplugged" series suggests, artists perform stripped-down renditions of their songs in front of a live audience; Miley traded in the hip-hop and pop beats for more country-charged sounds. Admitting that, while she couldn't bring her audience to Nashville, she could do her best to bring Nashville to her audience as her stage was decorated with bales of hay, wagon wheels, and an old timey piano.
The audience welcomed the band to the stage, but gone were the dancing teddy bears and projector kittens. Instead, Miley's onstage company consisted of a busty woman quite tall in stature, a fuzzy brown horse (the two-person horse costume), and a dwarf in a conical bra.
Never one to be shy, Miley's first outfit was one for the books. Sporting some new locks – a short blonde wig with a bob cut, to be exact – Miley skipped onto the stage wearing a skintight pink and white candy-striped onesie, a white bedazzled cowboy hat, and matching bedazzled boots.
Guns a-blazin', Miley came out to perform her first song of the night, "4x4", a hip-hop and country-influenced song that requires both singing and rapping. Interacting with her friends on stage, Miley nailed this song vocally, all while twerking against the front side of her faux horse friend.
Just like Miley's energy, her vocals were through the roof, country dancing across the stage to the crowd's excitement before leaving the stage for round two.
When Miley returned, she'd left behind her wig and onesie in favor of her now-signature platinum pixie-cut, a pair of ripped up sparkly denim jeans, and matching denim jacket over her bikini top. She looked fresh, in shape, and ready for more as the album's title track, "(SMS) BANGERZ", started bumping. One of Miley's many stand-out qualities is her vocal ability, and singing some fan favorites off her new album, in addition to a some exciting cover songs, made "Miley: Unplugged" unbelievably entertaining. 
For the final song, Miley began by singing, "Don't tell me to stop / Tell the rain not to drop..." – a cover of Madonna's "Don't Tell Me" from 2000. Now, being an artist built on breaking boundaries, pushing limits, and taking chances, it isn't surprising that Miley adores Madonna. The living legend paved the way for many of today's reigning popstars, including Miley herself. But after that second line, Miley looked off to the side, and from the crowd arose Mother Madge herself to finish the opening verse, "Tell the wind not to blow / 'Cause you said so..."
The dynamic duo shared the spotlight as the song transitioned into a mash-up of Miley's best-selling single to date, "We Can't Stop." It was a moment I never wanted to stop.
"Miley Cyrus: Unplugged" airs tonight (January 20) at 9pm. Be sure to tune in as MTV's 2013 Artist of the Year takes the stage for a performance you won't want to miss!
(Photo via FayesVision/WENN)
- Skyler Wahl, YH Staff