'Frozen' + "Once Upon a Time" = Epic Television
Written by Sarah Osman. Published: July 24 2014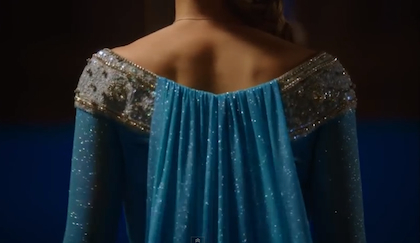 The town of Storybrooke from the hit show "Once Upon a Time" is about to be hit with a blizzard! At the end of Season 3, we were teased with the introduction of Elsa, AKA The Snow Queen, as she sashayed towards the sleepy town. Over the last few months, we've finally learned who is playing Elsa (Georgina Haig, "Fringe") and we got our first look at her this past week. In recent photos from the set, Haig is serving us some Ice Queen Realness -- she dons a gorgeous blue gown and Elsa's signature braid. While she looks fabulous, the more pressing question is, how will Elsa, as well as Anna (newcomerElizabeth Lail), Kristoff (Scott Michael Foster, "Greek"), and the soon-to-be-cast Prince Hans tie into the existing world of "Once Upon a Time"?
ShowrunnersEdward Kitsis and Adam Horowitzrecently revealed what to expect from the newest inhabitants of Storybrooke. First of all, the new characters will not serve as a sequel to the original Frozen, nor will this be a glorified retelling. The writers promise to honor the original spirit of our favorite sisters, so don't expect Anna to suddenly become coordinated. Sadly, if you were disappointed that Elsa did not find true love, don't expect to see it happen anytime soon here either -- Elsa's plotline will focus on her loneliness and her relationship with her sister (ah, if she's lonely, she should get to meet somebody!).
Similar to last year's arc in Neverland, the Frozen plotline will be limited (however, like Captain Hook, who has stuck around for quite some time, Elsa or Anna might too). We will also get to see "Once Upon a Time"'s interpretation of Arrendale (hopefully it's a bit more exciting than Neverland). And finally, don't expect to Elsa to be too much of villain; the characters will come across an actual ice queen, who is even too much for Rumplestiltskin (Robert Carlyle) to handle! Rumor has it that "Lost" starElizabeth Mitchell may be filling her shoes.
Sadly, I have some disappointing news for Olaf fans -- he will not pop up in Storybrooke. He is currently too busy enjoying summer.
Are you excited for the season premiere of "Once Upon a Time" on September 28?
(Screenshot via YouTube)
- Sarah Osman, YH Staff