Florence + the Machine Teams With Artist David LaChapelle for "Spectrum"
Written by Katie Marzullo. Published: May 30 2012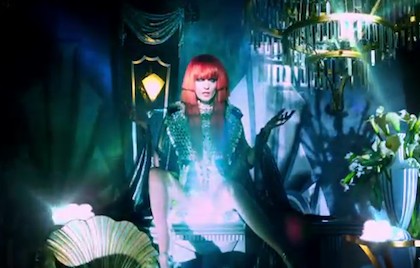 What do you get when you combine Florence + the Machine andDavid LaChapelle?
Genius. Genius is what you get.
Let's face it, it's been a good week for new music videos from some of my favorite artists. Now the cherry on the sundae arrives with a new offering from the incomparable Flo & the Mac! "Spectrum" is the 5th single off of F+TM's smash hit album, Ceremonials, and this time around Florence Welch has handed off the directorial reigns to none other than the visionary artist and photographer, Mr. LaChapelle.
And his influence is immediately apparent. Every shot in this video looks like a photograph or a painting… a series of tableaux, if you will. We open on Florence, looking somewhat like a character from "Jem" and sitting on a glowing throne… Or, at least, I hope it's the throne that's glowing… (knowing LaChapelle, anything is possible, ahem) We then jump around to different settings, like a great big photo shoot. It's ethereal, it's visceral, it's compelling… everything you would expect from a collaboration of these two amazing artists!
Check out "Spectrum" below:
(Image via florencemachine/YouTube)
- Katie Marzullo, YH Staff Editor