First Look at 'Fantastic Beasts' Sequel Yields Interesting Clues!
Written by Katie Marzullo. Published: November 16 2017
Accio excitement!
One year from today, Warner Bros. is dropping the 2nd movie of their 5-part(!) franchise devoted to the Harry Potter spinoff/prequel,Fantastic Beasts And Where To Find Them, and now we have a better idea of what to expect!
Early this morning, WB tweeted out, vis-à-vis the Fantastic Beasts official Twitter account, a first-look photo of the cast, new & returning, along with the title of the film, which will be Fantastic Beasts And Where To Find Them: The Crimes of Grindelwald. Check it out below!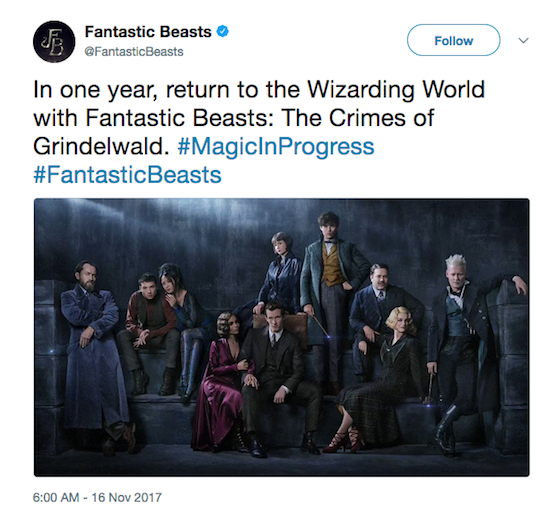 Now, even though this is only a photo, it already yields some interesting insights into this movie. First, I am for one super excited to seeDan Fogler returning as the well-intentioned-yet-bumbling muggle (or No-Maj, as they're called in America) bake shop owner Jacob Kowalski; if you recall the ending of the first movie, he allowed himself to have his memory erased by a magical Obliviate rain so as to preserve the secrets of his new wizard pals. This caused quite some angst considering he had recently struck up a bit of a romance with the delightful Legilimens Queenie Goldstein (Alison Sudol)… sigh, I ship it so hard! Even though he had his memory erased, Queenie still apparently visited his bakery on the reg… Now, here he is in this photo, standing behind Queenie, so clearly he will be involved in these new adventures and hopefully his relationship with Queenie will be resurrected!
Ezra Miller also appears in this photo, which is pretty intriguing considering his character Credence Barebone was presumed to have been killed at the end of the first film. Having been discovered as an Obscurial, he was seemingly destroyed by a group of Aurors and members of the Magical Congress of the United States (MACUSA). Buuuut apparently a "piece" of him escaped, noticed only by Newt Scamander. It will be interesting to see how he plays a part in this new chapter.
But perhaps most significantly, we get our first peek at Jude Law as a young(er) Professor Dumbledore. Now, although it was barely touched upon in the movies, Dumbledore's tumultuous relationship with Gellert Grindelwald was unveiled a little bit in the Harry Potter books. What we know is that they were extremely close friends (probably lovers) but their relationship fractured when Grindelwald started exhibiting some troubling "pure blood" tendencies. Grindelwald went on to essentially become the Voldemort of his era, and we got a taste of his dastardly deeds in the first Fantastic Beasts movie. Having been "in disguise" as American Auror Percival Graves (played byColin Farrell) for the majority of the first film, his true identity (played by Johnny Depp) was discovered at the end, and will most likely retain that form through the majority of the new movie which bares his name. Here's hoping Percival was a real dude, though, and that Grindelwald was merely impersonating him by way of Polyjuice Potion (like Barty Crouch Jr. did with Mad Eye Moody in Harry Potter and the Goblet of Fire) so that we can see more of Graves!
At any rate, what I am most curious about in regards to this movie is, will Dumbledore's relationship with Grindelwald be addressed? And if do, how far will they take it? J.K. Rowling caused a huge hubbub when she casually revealed that Dumbledore is gay, even though it was never mentioned directly in the books. Will this new movie go where the Harry Potter series couldn't/wouldn't? Or will they play it safe and merely hint at it so as to avoid "controversy"? We'll see in a year!
Other newbies in this group pic include: Claudia Kim as Maledictus (third from left), who has "a blood curse that destines her ultimately to transform into a beast"; Zoe Kravitz (fourth from left) as Leta Lestrange, whom we found out in the first movie was a former flame of Newt's (and a member of the family the dastardly Bellatrix Lestrange would one day marry into, so there's a good chance this Leta chick is bad news); and Callum Turner as Theseus Scamander (center), Newt's older brother and big-wig with the Ministry of Magic and also engaged to Leta (awkwaaarrrd!). Eddie Redwayne returns as Newt Scamander, of course, as doesKatherine Waterson as Tina Goldstein, the American Auror and new love interest for Newt. With the return of Tina, Queenie, and Jacob, it seems likely that Newt's new adventures will take him back to America, where, hopefully, we can learn more about the wizarding world in the United States!
Fantastic Beasts And Where To Find Them: The Crimes of Grindelwald opens on November 16, 2018.
(Image via Mario Mitsis/WENN)
- Katie Marzullo, YH Staff Editor