First Glimpse of Paul Rudd as Marvel's 'Ant-Man'!
Written by Kevin Donaldson. Published: January 09 2015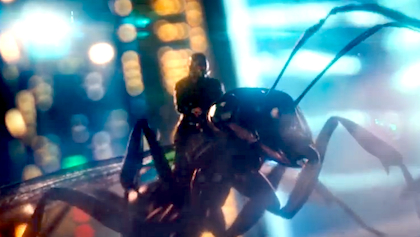 What did I tell you? What did I tell you, folks? A new trend is sweeping Hollywood that involves the release of teaser trailers with instructions on when and how to see the full-length trailer. First it was Jurassic World, then it was Terminator: Genisys. And now,Ant-Man, starring funnyman Paul Rudd, released an 18-second teaser trailer telling us that the full-length trailer would be aired during the premiere of ABC's new Marvel series "Agent Cater" starring Hayley Atwell. Let's take a look first at Ant-Man's teaser trailer:
It could've easily been two seconds shorter! What's going on, Marvel? Anyway, if you happened to miss "Agent Carter" on Tuesday... first off,shame on you. Second, we've got you covered with the full-length trailer. That is really why you're here, after all:
Whoa, they even tapped Michael Douglas into this one for dramatic effect. It seems like a good balance since Rudd comes out swinging with lines like "Huh" and "One question: Is it too late to change the name?" As the title sweeps in directly afterwards, we see that it is, in fact, too late to change the name, Mr. Rudd, but I honestly could never see you wanting to be in a superhero movie where you couldn't bring in some chuckles. I've got to say, these days it looks like less serious superhero movies work pretty well, given that Ant-Man seems like it could have a similar kind of humor as the smash hit Guardians of the Galaxy.
Speaking ofGotG, what you may not know is that Ant-Man is actually one of the original members of the Avengers. Fans like A Song of Ice and Fire author George R. R. Martinhave expressed enjoyment from the first Avengers movie installment but also voiced their desire to have seen Ant-Man make an appearance. Since you only have to wait until July of this year to see Paul Rudd as Ant-Man, maybe we'll get some clues for an Ant-Man / Avengers crossover, just like many are anxious to see if the Guardians of the Galaxy will cross over with the Avengers, like they do in the comic books.
Now that you've seen the Ant-Man trailer here, go out and watch "Agent Carter" on-demand, on your cousin's Hulu account, or some place else that you know you can watch it!
(Screenshot via YouTube)
- Kevin Donaldson, YH Staff