Finding the New in the Old at the 2016 Emmy Awards!
Written by Katie Marzullo. Published: September 19 2016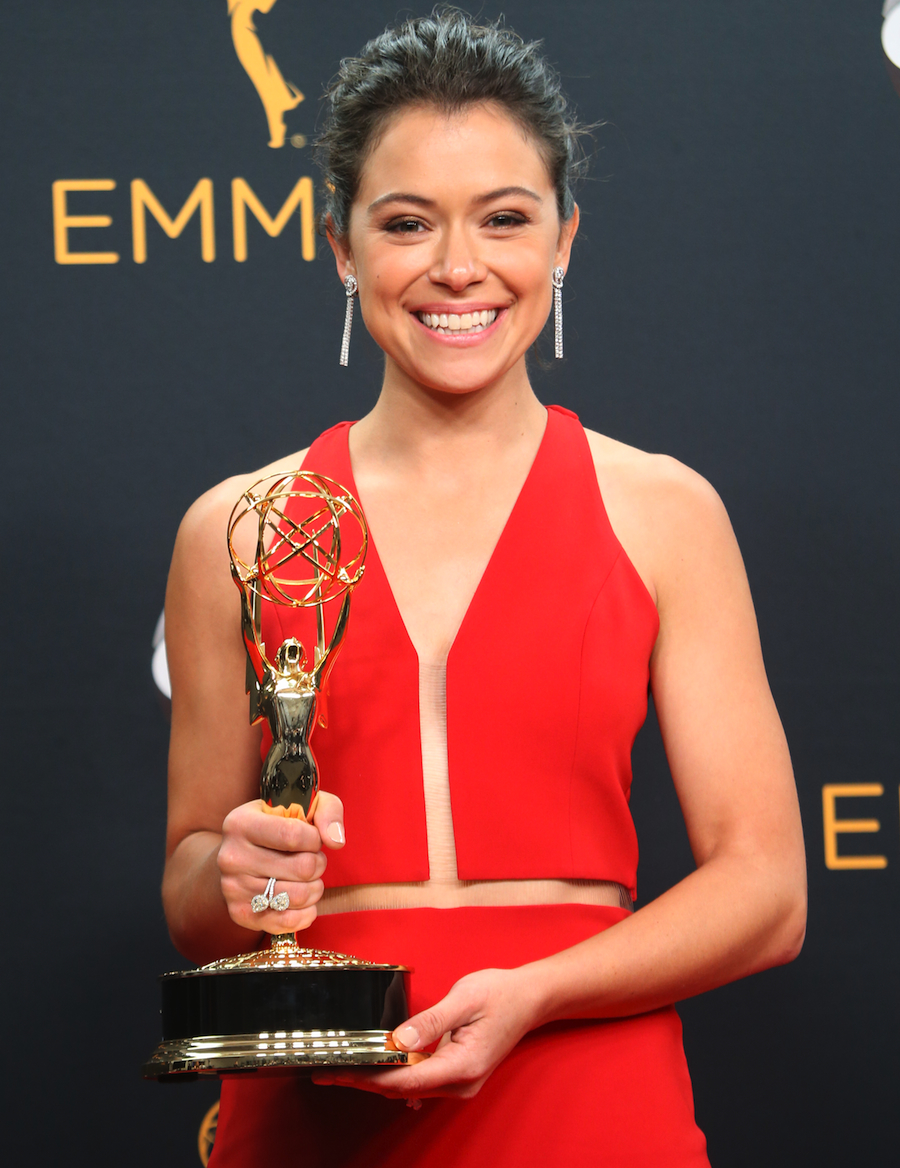 If you're like me, then you might have come away from last night's 68th annual Primetime Emmy Awards with a slight case of déjà vu…
To check and see if my hunch was valid, I revisited my coverage from last year's Emmysonly to discover that, yes, I wasn't imagining things when I felt like I was watching a re-run…
Both the tone and the winners of last night's broadcast bore a striking resemblance to last year's, what with Jeffrey Tambor, Julia Louis-Dreyfus, "Veep",Regina King, "Game of Thrones", Maggie Smith, and Jill Solloway all pulling off repeats from their victories last year. Inspirational speeches calling for more diversity and revolution abounded. Andy Samberg did silly things. Yes, it was all very familiar.
But fret not, as there were some very happy new tidings this year as well! To boot:
- FINALLY, after years of constant snubs and only 2 measly nominations for her phenomenal (not to mention exhausting) work on "Orphan Black",Tatiana Maslany was at last given the recognition she deserves, taking home Outstanding Lead Actress in a Drama Series!
- My personal dream came true (vicariously) when Ben Mendelsohn, whom I have been championing for a while now, won Outstanding Supporting Actor in a Drama Series for "Bloodline".
-Rami Malek rode the wave of "Mr. Robot"'s Golden Globes success earlier this year to Emmy glory, winning Outstanding Lead Actor in a Drama Series. Unfortunately, the show itself was unable to parlay its Globes win into an Emmy victory, but due to the delayed premiere date of Season 7 of "Game of Thrones", they won't be eligible for the 2017 Emmys, so "Mr. Robot" might have its day yet!
- FX's "American Crime Story: The People Vs O.J. Simpson" had the biggest night, earning 5 honors including Lead Actress in a Miniseries or Movie (Sarah Paulson), Lead Actor in a Miniseries or Movie (Courtney B. Vance), Supporting Actor in a Limited Series or Movie (Sterling K. Brown), Writing, and Limited Series. It was a bittersweet victory, though, as we had to stop for a moment and realize that this series would not even exist if two innocent people hadn't been murdered… But I digress.
- Aziz Ansari's insanely smart and funny Netflix series, "Master of None", received some love in the form of Outstanding Writing for a Comedy Series, which was not only well-deserved but also important both for minority writers and for giving recognition to this little-known show!
- TV veteranLouie Anderson, who has been in the biz for decades and even has a couple of Daytime Emmys from the '90s on this mantle, nabbed himself a coveted Primtime Emmy last night for Supporting Actor in a Comedy Series… in which he plays a woman on FX's "Baskets". No, not a trans character like Jeffrey Tambor – a legit woman.
- The phenomenal Kate McKinnon took home Supporting Actress in a Comedy Series for her brilliant and utterly transcendent work on "Saturday Night Live". Alls I'm saying is, #GIRLCRUSH…
For a full list of winners, click here. Here's hoping for more surprises next year!
(Photo via FayesVision/WENN)
- Katie Marzullo, YH Staff Editor