Exclusive Look Into Upcoming Holiday Musical 'Journey to Bethlehem'!
Written by Skylar Zachian. Published: October 28 2023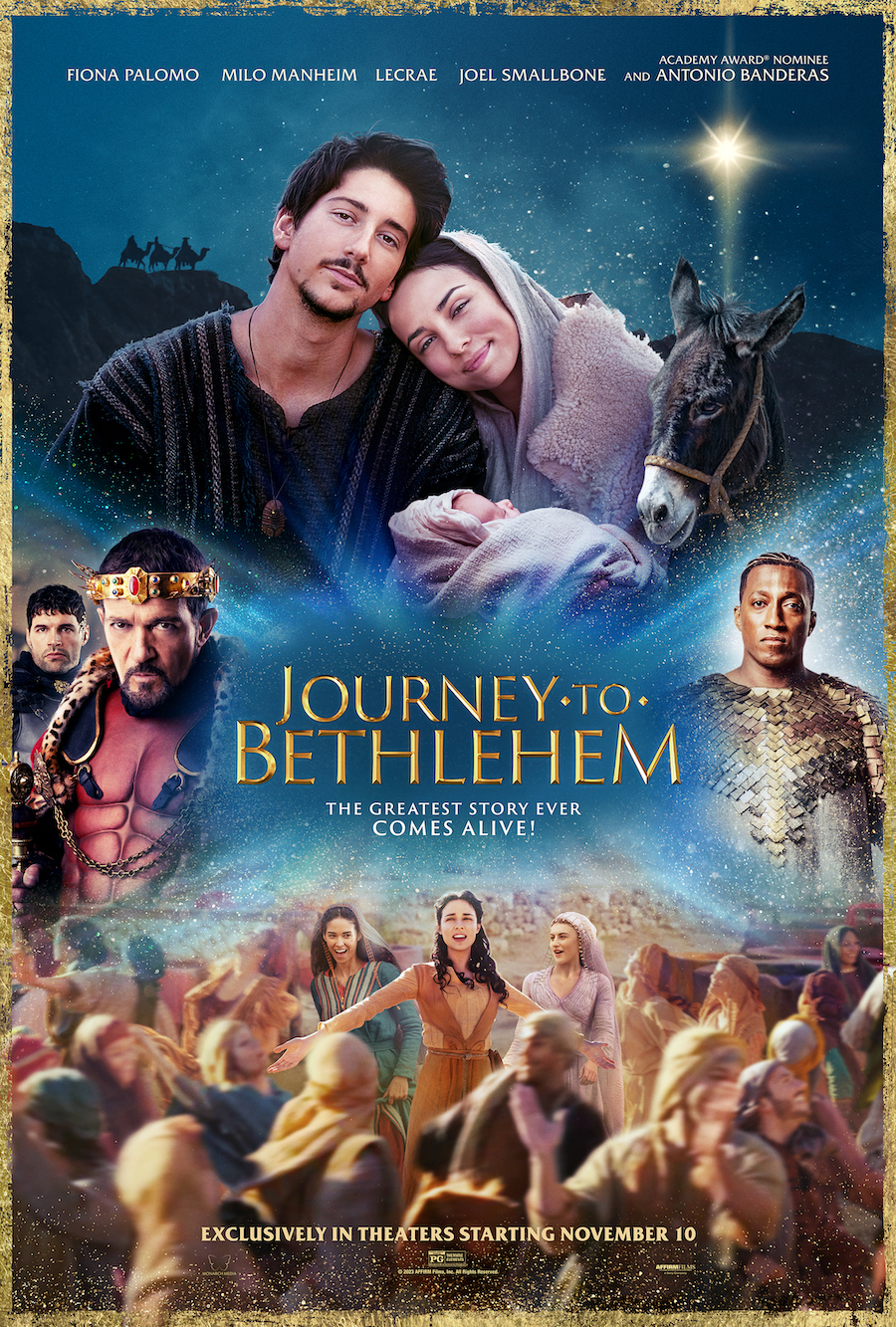 (Photo © AFFIRM Films and Monarch Media)
Looking for a new holiday musical to watch with friends and family this season? Look no further!
Around 17 years ago, TV, movie, and music producer Adam Anders was in the same boat. When he couldn't find anything new to watch, he quickly realized that nobody had brought Mary and Joseph's journey to life through a musical and got to planning how to make this vision into a reality. He kept this concept in his back pocket for years until the Pandemic gave him the perfect opportunity to revisit it. Committing to making this his directorial debut, Anders created Journey to Bethlehem, a musical starring Fiona Palomo as Mary, Milo Manheim as Joseph, and Antonio Banderas as vain and jealous King Herod. The movie also features Joel Smallbone as Antipater, the King's son, andLacrae as the archangel Gabriel. The film comes out in theaters on November 10th and we are here to tell you everything there is to know about it before you run to get your tickets!
First, allow us to introduce you to Fiona Palamo, who plays Mary. You may recognize her from Season 3 of "Outer Banks" or the movieControl Z. In this film, she takes on the role of a character whose belief and inner strength carry her through an incredible responsibility. Speaking to Anders, he revealed that coming across Fiona's audition was an extremely memorable moment. He explains, "We saw a couple hundred at least. I lost track of how many Marys were submitted. At 3 in the morning, I was in Madrid, we were a few weeks from starting, and we didn't have Mary... it was full panic mode! I couldn't sleep. I got an email from casting in L.A… Fiona Palomo, her audition blew me away! I watched it, like, 10 times in a row. She was this combination of strong, kind, and humble at the same time." He wrote an email to Sony in the middle of the night explaining that he found Mary, and they let him cast her without a callback. 
Alongside Mary is Joseph, played by Milo Manheim, who we know and love from the ZOMBIES franchise, Prom Pact, "School Spirits", and more. If you're anything like us and have been hooked on Milo's dancing since he was named runner-up on Season 27 of "Dancing with the Stars", you'll be very excited to see his moves in a different light inJourney to Bethlehem. When it came to casting him, Anders noted that Milo was the first of 6 Josephs lined up to do a chemistry read with Fiona. After hearing the way Milo said a particular line from the movie, Anders excitedly explains, "I wrote 'he is Joseph' and circled it on my pad… and they had amazing chemistry, even on Zoom!"
(© AFFIRM Films and Monarch Media)
Want a sneak peak into Fiona and Milo's chemistry? Check out this clip of them talking about their roles:
Can't get enough of this dynamic duo? Watch the official music video for one of their shared songs in the movie, "Can We Make This Work":
Now, you probably want to hear all about how Antonio Banderas — whose projects span The Mask of Zorro, Uncharted,Puss in Boots, Indiana Jones and the Dial of Destiny, and much more — was cast as the villain. Banderas had been at the top of Anders's list for 3 years because he needed someone with an extremely strong singing voice (since Herod's song in the movie is very difficult to sing) and "someone who could play that kind of unhinged, crazy rockstar king that we wanted." Buckle up, because the story of how they got Antonio on board is a crazy one! When Antonio's manager showed him the script and Herod's song, he loved it but worried that he would not be able to sing the song. Anders needed to convince Banderas that he could sing it. He found out that Antonio was in Madrid directing and starring in the show Company and thought, "Well, that's convenient, since I'm in Madrid! I don't believe in those coincidences. This is meant to be. I'm going to get this guy." He went to the show multiple times before he had the chance to speak to Banderas, who ended up saying, "I like you, talk to my manager." Anders was extremely glad that this worked out, because he believes that Antonio Banderas "was meant to play this role. He embraced it completely. We hit it off creatively and had an awesome time working together."
(© AFFIRM Films and Monarch Media)
In fact, everyone involved in this movie loved making it. Anders explains, "There's just a lot of love for this film, and there was a lot of love between all of us. I can't remember a cast and crew that had more fun and more unity making a movie than we did." 
SinceJourney to Bethlehem is a musical, much of the story revolves around music. What should you expect from this music? While the overall feeling of the film is cohesive, each character has their own sound. Anders explains, "The love story of Mary and Joseph has a timeless, romantic, pop sound. The wise men are very fun and theatrical and are comic relief, so their songs lean that direction. Antipater and Herod, the villains, they're the rock stars. That's more rock-and-roll and just a completely different vibe than everything else." Among the movie's crew, Mary's big song "Mother to a Savior and King" is a favorite, both lyrically and emotionally.
Ready to take a deeper look into the characters and listen to some of the songs? Watch the full trailer below:
It might be a bit too early to pick a favorite character, but chances are you'll end up loving Fig the Donkey. All of the actors hold Fig particularly close to their hearts. Milo Manheim has even said that he needed to step up his game when working with Panda, the donkey who played Fig . According to Milo, the donkey "is just so real." Check out Milo's must-see interview with Fig here:
Another extremely cool detail about Journey to Bethlehem — almost as cool as Fig being played by a donkey named Panda — is that you can pause it at any time and the frame will look like a painting! According to Anders, the movie was stylistically very inspired by oil paintings. He explains, "My cinematographer and I went to museums in Madrid. Half the Prado Museum in Madrid has nativity scenes painted by the greatest artists of all time. That was a big inspiration for me. [Akira] Kurosawa is my favorite director, and he was a painter. You can freeze his movies and they look like paintings. That was a big goal for me, and I think my director of photography nailed it."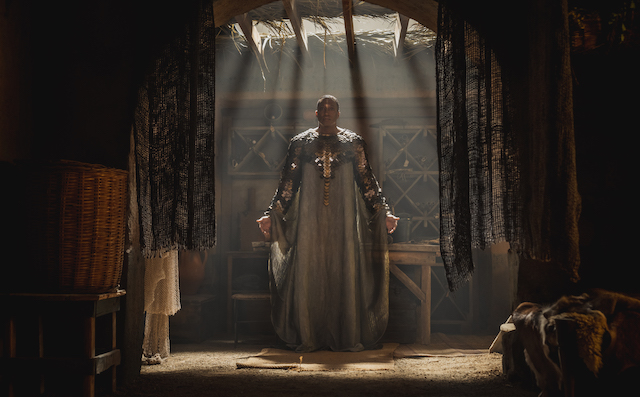 (© AFFIRM Films and Monarch Media)
Most importantly, this movie is designed for everyone. Anders thinks that "the younger audiences are going to love the comedy, the color. Whenever it got too serious, we would inject comedy. But it is very layered, there is a lot of depth to the movie that parents and grandparents will love. There's a lot of themes that I think are important for today's generation. Everyone in this movie sacrifices. They are selfless. There are some great themes in there. It's meant for everyone to enjoy." 
With its amazing cast, captivating music, and beautiful visuals, Journey to Bethlehem has all of the ingredients for a perfect musical for this holiday season and the years to come. Get excited, because November 10th is right around the corner!