Emmys '14: Fancy Maneuvering & Creative Categorizing Highlight This Year's Nominees!
Written by Katie Marzullo. Published: July 10 2014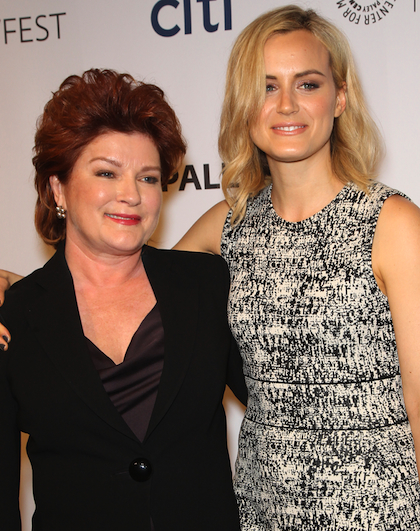 It's Summer, and in Television Land, that means one thing… Emmys Season!
This morning, the nominations for the 66th annual Primetime Emmy Awards were announced, and the results are more than a little interesting. With original web-only content gaining more and more momentum every year, it seems as though these shows are getting creative not only with their storylines but in how they present themselves to the Academy for Emmy consideration. To wit:
Netflix walks away with quite a handy 15 nominations between their two biggest shows, "House of Cards" and "Orange is the New Black". The former is pretty cut and dry – a political drama garnering nods for both its leads (Kevin Spacey and Robin Wright) as well as a spot for Outstanding Drama Series. "OITNB", on the other hand, has positioned itself as a Comedy, which… is stretching the truth a tad, but just enough to get it a nom for Outstanding Comedy Series. But the show's slick sleight of hand in the nomination department doesn't end there. With a fairly large ensemble cast that boasts not one weak link in the bunch (seriously, each and every actor on that show is BRILLIANT), how does the Academy possibly accommodate them all? Simple: give the two standout stars, Taylor Schilling andKate Mulgrew nods in the Best Actress and Best Supporting Actress categories, respectively, and then take three of the most memorable co-stars and relegate them to the Guest Actress in a Comedy Series category. Say WHUT?? Yep, Uzo Aduba (Suzanne "Crazy Eyes" Warren), Natasha Lyonne (Nicky Nichols), and Laverne Cox(Sophie Burset), all of whom are REGULAR cast members of the show, were able to get themselves on the ballot thanks to some very creative maneuvering. And ya know what? I am okay with this, because each one of those women is highly deserving!
Of course, honoring a webseries at the PRIMETIME Emmy Awards is, in itself, sort of stretch, considering that neither "House of Cards" nor "Orange Is The New Black" conform to any sort of traditional primetime television format, other than having a certain number of one-hour episodes per season. It's a strange new world we live in, folks…
And it's not just online series that are walking this fine line. Shows like "Downton Abbey", "Fargo", "Sherlock Holmes", and "American Horror Story" continue to push the boundaries between what constitutes a traditional series and a "mini-series". "AHS", for example, is an ongoing show, currently filming its fourth season, and yet, because each season is a different set of circumstances, they are considered stand-alone series and therefore fall into the Miniseries or Movie category. Clever. In the case of "Sherlock Holmes", there are only about 3 episodes per season, all feature-length, and even though there are multiple seasons, each one is considered its own mini-series, and even each individual episode is considered a "TV Movie" unto itself (both lead actors,Benedict Cumberbatch and Martin Freeman, are nominated, but the Academy was sure to note that they are specifically nominated for the 3rd episode of the 3rd season)… BLAH, it's enough to make your head spin!!!
Other tidbits of note include:
- Rookie comedy "Silicon Valley" finds itself up for Best Comedy Series, along with perennial faves "The Big Bang Theory", "Veep", "Louie", and 4-time champ "Modern Family". It may have to wait awhile, though, cuz this could be the year that "OITNB" upsets the mighty "Modern Family".
- No surprise here: "Breaking Bad", in its final year of elligibility, is up for 7 awards, including Best Drama Series, noms for its three main leads (Bryan Cranston, Aaron Paul, and Anna Gunn), and even nods to creator Vince Gilligan for his work writing and directing the final episode ("Felina"), and writing nod forMoira Walley-Beckett for the brilliant "Ozymandias".
- The race for Drama Series is a tight one, though, so as much as we'd like to see "Breaking Bad" repeat its victory from last year and go out with a bang, it'll have to fight off the likes of "House of Cards" and "True Detectives", two shows that have been giving audiences and critics alike multiple cinegasms over the past year.
- The same holds true for Cranston himself. He took home Best Actor in a Drama Series 3 years in a row (2008-2010), losing in 2012 toDamian Lewis ("Homeland") and to Jeff Daniels ("Newsroom") last year… Lewis is not on the ballot this year, and though Daniels is, they are both up againstWoody Harrelson and Matthew McConaughey, sharing lead duty for "True Detective", as well as Kevin Spacey. We were all sad to see "Breaking Bad" go, but it's entirely possible that their Emmy run will end not unlike Walter White himself at the conclusion of "Felina"…
- "Fargo" got a highly respectable 8 nominations, including nods for starsBilly Bob Thornton and Martin Freeman (both in the Lead Actor category), Supporting Actor Colin Hanks, and the amazing Allison Tolman (Supporting Actress).
- "American Horror Story" also picked up 8 nominations, with most of its lead cast getting recognized. I have a feeling that The Academy might be part of the coven… (j/k)
- "Game of Thrones" continues to prove it's more than just nerd fodder with a nothing-to-sniff-at 6 nominations, with Lannister sibsPeter Dinklage and Lena Headey up for their respective Supporting categories. Dinklage actually won the first year he was nominated for his role as Tyrion "The Imp" Lannister (in 2011) and has been nominated every year since. Unless voters go for the obvious and give Aaron Paul a dramatic send-off, Dinklage could very well get his second Emmy this year.
- Not much love for "Girls" this time around, although Lena Dunham and Adam Driver are both up for acting, but that's it. Nothing in the writing or directing categories.
- TV legendBob Newhart is up for Best Guest Actor in a Comedy Series for his appearance on "The Big Bang Theory", which is cute. Likewise, Robert Morse has been relegated to the Best Guest Actor in a Drama Series (even though he's a regular) on "Mad Men", but I think we all know what that was all about…
-Kate McKinnon, considered by many to beKristen Wiig's heir apparent and the next superstar to come out of the "SNL" machine, has been awarded for her mind-blowing work with a nomination in the Supporting Actress in a Comedy Series category. It would be pretty freaking awesome if she got it too, but she'd have to unseat 2-time champ Julie Bowen ("Modern Family") and the mighty Kate Mulgrew (who is great, but let's face it, Red is not a "comedic" character).
- In fact, the Academy might be experiencing a bit of MFF… "Modern Family Fatigue". Remember the days when virtually EVERY member of the cast would be included in the Supporting categories? Well, this year, only Bowen, Ty Burrell, and Jesse Tyler Ferguson got noms. No dice this year for 2-time winnerEric Stonestreet nor 4-time nominee Sofia Vergara.
But that's just the tip of the iceberg. See the full list of nominees here and tell us who you are excited about and/or who you think got the shaft!
The 66th Annual Primetime Emmy Awards, hosted by Seth Meyers, will air on August 25.
(Photo via FayesVision/WENN)
- Katie Marzullo, YH Staff Editor