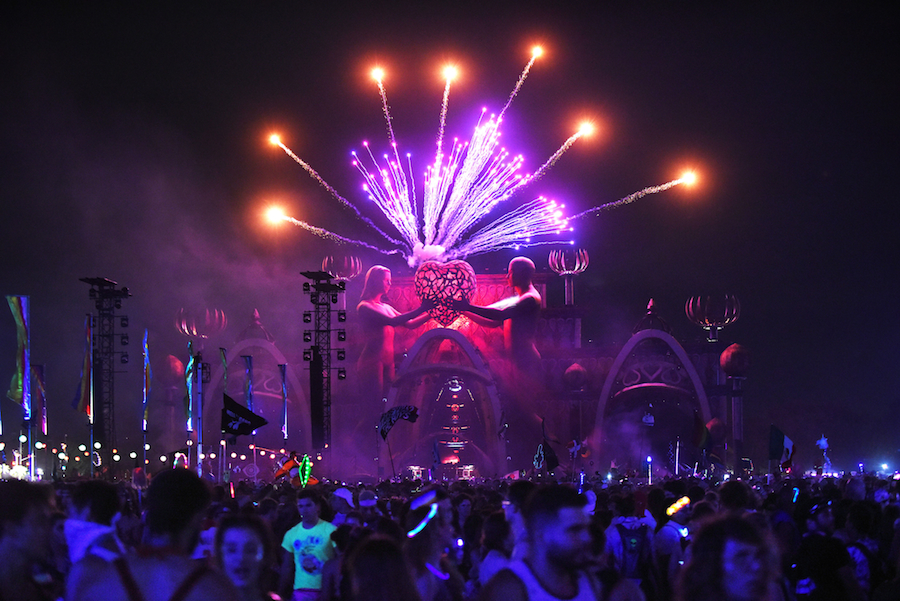 (Image © Paul Hennessy/NurPhoto/Getty Images)
Electric Daisy Carnival: 5 Things We Are Looking Forward To This Year!
Published: 05-15-2019
by David Mendez
In just a few days, Insomniac's world-renowned Electric Daisy Carnival will be kickng off the 23rd edition of the world's largest dance music festival, a celebration of life, love, art, and music Under the Electric Sky of Las Vegas, Nevada. If you have never been to EDC, it's what happens when the ultimate carnival collides with the world's best electronic music the world has to offer. It transforms 1,000 acres of the Las Vegas motor speedway into a neon wonderland, showcasing the top DJs in every sub-genre of electronic dance music, from mainstream acts like Diplo, Steve Aoki, and Martin Garrix to the underground up-and-comers like Svdden Death and ARTBAT. EDC has something for every type of dance music fanatic.

The energy circulating inside the festival grounds is sure to be as electric as ever, and with that being said, these are our 5 things we are looking forward to most at EDC 2019!

1. Camp EDC
Last year, Camp EDC was introduced to the festival, allowing attendees to camp on festival grounds with options to rent luxury tents fully equipped with beds and air conditiong or bring your own RV and glamp in style. Camp EDC is a whole other party that is happening, "from daytime pool parties, to curated guest speaker series, to group classes that exercise your mind, body, and spirit", Camp EDC is like inception -- a mini festival within the festival. This year, we are not only looking forward to partake in all the extracurricular EDC activities, but word has it the legend himself and man responsible for the festival, Pasquale Rotella, is camping all weekend long, which is sure to make for an epic party every night before and after the festival.
2. The Stages
Being the world's largest dance music festival, EDC does an incredible job of representing every subgenre of dance music known to man. Each stage at EDC contains its own theme and style, "a union of technology and nature, where elements mix to ignite the senses and inspire the imagination." Not only are we excited to see all the artists who will be blessing the stages, but we are also excited to see these massive, beautifully designed stages come to life to the sounds that distinguish them from one another.
Kinetic Field is the largest of the stages and is the unofficial main stage of EDC for its over-the-top production, never-ending flow of fireworks, and it's where the bigger mainstream artists of all genres usually perform. Cosmic Meadow is where you can find all your trap and dubstep needs, and what really separates this stage from the others is that it takes place on grass, which is a nice escape from the hot concrete most of the festival takes place on.
Circuit Grounds is an amazing display of light work and LED tech. This stage is where you want to be if you're looking to get in a trance or get lost in the lights with your refracted glasses, as it's known to host progressive trance music.
Set to a post-apocalyptic stage, Waste Land is for the hardcore 150BPM and up club. Be prepared to rage or get wasted, because the crowd is just as amped as the artists here.
If you're looking for a break from the hardcore, search no further than Neon Garden. It's a throwback stage where you can find the underground dance and techno music scene as well as catchy house music where you fans can vibe out to.
Bass Pod, as the name suggests, is all about the bass and it's where you can find all the dubstep and drum and bass sounds dance music has to offer.
The extravagant stages of EDC are sure to rock your world!
3. Art, Carnival, and Fireworks
Electric Daisy Carnival is truly a one-of-a-kind experience, a beautiful intersection of art, technology, and nature. From roaming art cars with surprise DJ sets pumping music out of giant stereos and space ships, to specially curated EDC immersive art installations and LED light shows, every aspect of the festival is there to create an electric feeling and vibe. We can't forget the carnival theme that is the basis of the entire festival. EDC is one giant playground full of amusement rides, Ferris wheels, ball pits, and swings -- just a few of the things you can enjoy when you want to let loose and be a kid. And with performers, dancers, aerialists, and circus people dressed in top-notch costumes creating a non-stop experience to set the vibe and mood to what EDC is all about, did we mention, over the course of the weekend, around 15,000 fireworks are shot off? With these EDC staples in place, it's hard not to be awe-inspired by the energy that bursts from every element and experience that EDC creates.

4. Idris Elba
People Magazine's 2018 Sexiest Man Alive is best known for his acting roles in "Luther" and Beast of No Nation, but as a life-long DJ and producer starting from the age of 14, Idris is playing double time as he parlays the success of his acting career into a bona fide name to watch in the world of electronic dance music. Fresh from raving reviews of his set at Coachella and his sensational Netflix show, "Turn Up Charlie", where he plays a struggling DJ-turned-nanny, Idris is going all in and doubling down on his side-hustle as a DJ and producer. To say we are excited to see and hear when he unleashes his U.K. house music at the Neon Garden Stage with Solardo would be an understatement.
5. Down Town EDC
New to Electric Daisy Carnival this year is Down Town EDC, a mini city within the festival grounds fully equipped with a punk rock bar, karaoke, disco nightclub, wedding chapel, and a drag queen bar. This looks to be the next big installment and future of EDC. Adventuring in to Down Town EDC will be another top-notch fan experience to take photos and create memories or to just get away and grab a drink to two. One thing's for sure, it will be a new exciting element that further separates EDC from any other festival in the world.
- David Mendez, YH Staff