Election Day Checklist: How To Make Voting Easy (and Fun)!
Written by Brooke Sharland. Published: November 05 2018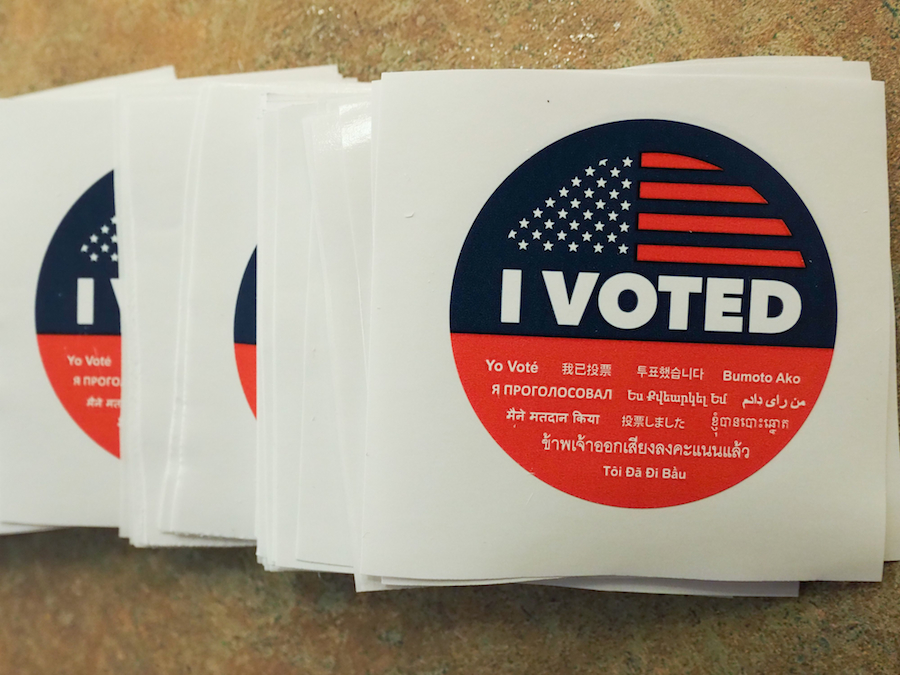 Okay, everyone. The Midterm Elections are tomorrow (November 6, in case you've lost your calendar) and y'all BETTER be voting. Remember that your voice matters, and even with all the chaos of our current political climate, we are lucky to live in a democracy that allows us to vote and have a voice. BUT, we know it's not that easy for everyone, and voting might seem a bit scary or intimidating. So, here's a list of things you can do to make voting tomorrow as easy (and as fun) as possible!
Are you registered to vote?
First, maaaaybe double check that you're registered to vote. You should be, and you should have checked this off the list WELL before Election Day, but let's just double-check beforehand so you don't show up to the polls and realize you're not registered. You can check here, and it'll take 30 seconds or less.
Check your registration deadlines
If, for some reason, you're not registered, you might still be okay in SOME states. Check out this list to see what states you can still register to vote in leading up to the election.
Do you know WHERE you're voting?
Next, let's find your local polling place so you know where to show up! You can search for your local polling place here.
Do you need an ID?
Before you leave, double-check to see if you're required to show an ID at your polling location. No one wants to show up without their ID and then have to turn around and go back home to get it! Every state has different rules about this, so check that out here.
Do you know HOW you're getting there?
Now that that's all taken care of, let's talk about HOW you're getting to the polls to cast your ballot. We're well aware that not everyone has access to their own car, especially young voters who will be voting for the first time in this election! SO. Let's talk options! Buses, subways, and carpooling with friends or family are all great ways to get to your destination to vote (plus they're better for the environment than everyone taking their own car). A number of cities are offering free public transportation on Election Day, so be sure to check with your local public transportation authority to see if your city has any free transportation options to get you to the polls!
Discounts, discounts, discounts!
If you're looking for more transportation options, Uber is offering $10 ride discounts for anyone heading to the polls. The discount is only for a single ride and can only be applied to the cheapest option available to you. So, you'll probably be in an Uber Pool, but HEY! It's a cheap alternative to get to the polls, and, like we said, carpooling is more environmentally-friendly. Who knows, maybe you'll make some friends in the Uber Pool that are also heading to the polls to vote! Take the pools to the polls, y'all. And, if you're STILL unsure of your local polling place, the app will have polling place locator. To take advantage of this awesome offer, make sure you have the most recent version of the app downloaded, and you'll find the Election Day promo code when the time comes. Apply it to your ride and BAM, you're good to go.
If you're more of a Lyft user, you're in luck too! On Election Day, Lyft is offering a promo code to get 50% off rides to get you to the polls. Like Uber, the app will also have a polling place locator. To get your Election Day promo code, go here and enter your zip code. Enter the promo code when you book your ride, and off to the polls you go!
Not only that, but Lyft is also offering FREE rides to the polls for people that live in underserved communities. AND they're planning on celebrating the Lyft drivers who complete these trips by "surprising select drivers across the country who give rides on November 6 with a special gift." So cool!! Definitely be sure to take advantage of these offers.
If you're not a car person, perhaps you'd like to take a bike? Or a scooter even? The Bike-sharing company Motivate will be giving out free rides on Election Day as well! The company currently operates a number of bike-sharing services in cities around the country. Go here to access your promo code for a free day pass. The scooter-sharing company Lime will also be offering a cheaper way to get to the polls. Download the Lime app, and on Election Day, use codeLIME2VOTE18 to get a free 30-minute trip. These are both great options if you're looking to get some fresh air and some exercise on your way to vote!
Now that you've arrived… dang. Are you stuck in a long line and hungry?
So, now you're (hopefully) at your polling location. YAY!! You're ready to exercise your right to vote like a boss when -- OH NO -- the line at the polling location is OUT THE DOOR. And you're starving! You were hoping to be in and out in 30 minutes or less, and now you'll miss dinner! Fear not. A non-profit group called Pizza to the Polls will be delivering FREE pizza to voters waiting in exceptionally long lines at their polling location. Head here to report your long line and location, and a yummy, hot pizza will hopefully be sent your way in no time. As stated on their website, "Waiting in line sucks. Waiting in line with pizza sucks a little less".
Do some research…
Now you're in line, sharing a delicious pizza with your fellow voters, and it's almost your turn to vote! Are you ready? Do you know who you're voting for? Maybe the nerves got to you and you're suddenly forgetting who you wanted to support and why!! Well, it can't hurt to whip out your phone to do some research while you're waiting in line. Go ahead and refresh your memory on all of the potential candidates and the issues they stand for, plus all the Propositions and Measures that will affect your community, that way, you're confident in your choices when you fill out that ballot.
IT'S TIME!
Alright, you're up! Breathe. Now get in there, cast your ballot, and walk out like the cool kid you KNOW you are. Grab an "I Voted" Sticker and wear it with PRIDE. Strut your stuff out of that polling location pretending you're in a scene from a movie -- hair blowing in the wind, moving in slow-mo like only the coolest of people do. Be proud of yourself, you just voted in the Midterms! This election is important to our country's history AND future, and YOU just helped make that happen, congratulations!
Get out there and rock the vote tomorrow. It may seem scary, especially if it's your first time voting! But I can promise you, there's nothing to fear. You don't wanna be that ONE guy who didn't vote, right? When you follow these steps, it's as easy as (pizza) pie. Now go out and participate in our democracy, it's fun!!
(Image via ROBYN BECK/AFP/Getty Images)
- Brooke Sharland, YH Contributing Writer